The 'Adiós' Interviews: Carl Jackson On Friend And Hero Glen Campbell
'Glen could sing the phone book,' Carl told us, 'and you'd want to buy it.'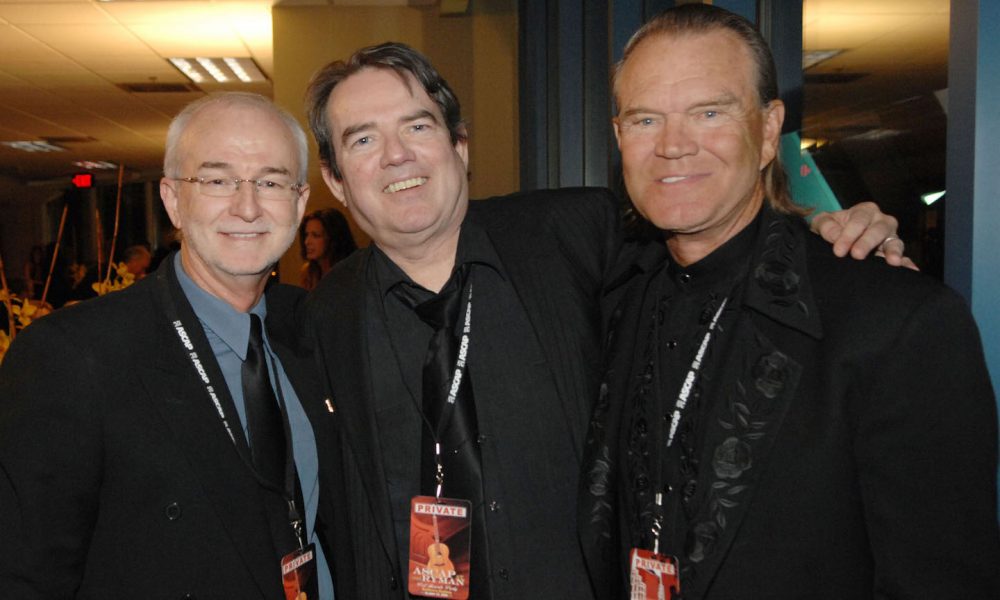 Carl Jackson, producer of Glen Campbell's final studio album Adiós, says he cried "happy and sad tears" when he listened to the finished record. It features vocals recorded by Campbell after the completion of his 2011-12 world tour and his diagnosis with Alzheimer's disease.
In this final part of our interview series, which featured Jackson in Part 1 and Glen's daughter and album contributor Ashley in Part 2, the producer and banjo player observed Campbell's remarkably vocal versatility. "Glen could sing the phone book," he told us after the record's release. "You've heard that many times, but he literally could and you'd want to buy it.
"Dickey Lee [co-writer of the song with Steve Duffy] called me the other day just thrilled we'd cut it. I wanted to do that because I was very aware of what Glen could do with a hardcore country song and hardcore country backing."
One song on the album, "Arkansas Farmboy," is a source of particular personal pleasure for Jackson, because he wrote it, as a young man, about Campbell's life. "I was so thrilled he was able to pull it off," he said. "I wrote the song when I was with him, so he was familiar with it. We actually did a demo on it years ago with Emmylou [Harris] singing, but it was never released. So I was thrilled to have him stand there singing about himself. He loved that tune when I gave it to him, I think it meant a lot to him."
Jackson, born in Louisville, Mississippi, joined Campbell's band as an 18-year-old in 1972, after a long stint with bluegrass outfit Jim and Jesse and the Virginia Boys. After watching Glen perform at the Ohio State Fair, he approached Campbell's banjo player of the time, Larry McNeely, and wound up the following evening being invited to meet the star.
'There sits my hero'
"Larry brought me into his dressing room trailer and we played a couple of things together…then he looked over at me and said 'Man, would you like to have this job?' And I said 'Well, yeah I guess so.' He says give me just a minute, so he goes over to Glen's dressing room and comes back and says 'Come with me,' and there sits my hero.
"I played him something," continued Jackson, who also played guitar. 'Of course I knew everything he'd ever done. The next thing he asked me was 'How much would you like to make?' I said 'A million bucks!' He said 'You got the job, we're going to Australia, get yourself a passport.'
'Twelve of the best years of my life'
"It was 12 years, and of course the friendship continued solidly after that. They were 12 of the best years of my life, and we never did a show that he didn't feature me. He treated me as well as anybody could ever be treated."
Listen to the best of Glen Campbell on Apple Music and Spotify.
Jackson continues to be active as a musician, often playing at Nashville's Station Inn in the band New Monday. They feature Larry Cordle, Val Storey, and other kindred spirits. But as he reviews this final statement by Campbell – which features four songs by longtime collaborator Jimmy Webb, including the moving title track that closes it – he admits to mixed emotions.
"Nobody could write a song better than Jimmy Webb, we're talking about the best," he observes. "I was pleased when Glen wanted to do those songs. But I listened to [the album] and I cried both happy and sad tears, there's no way around it." 
Buy or stream Adiós.