'Beauty and the Beast': How A Classic Tale Won Over A New Generation
Harold Ashman and Alan Menken's soundtrack continued Disney's renaissance, despite being written under tragic circumstances.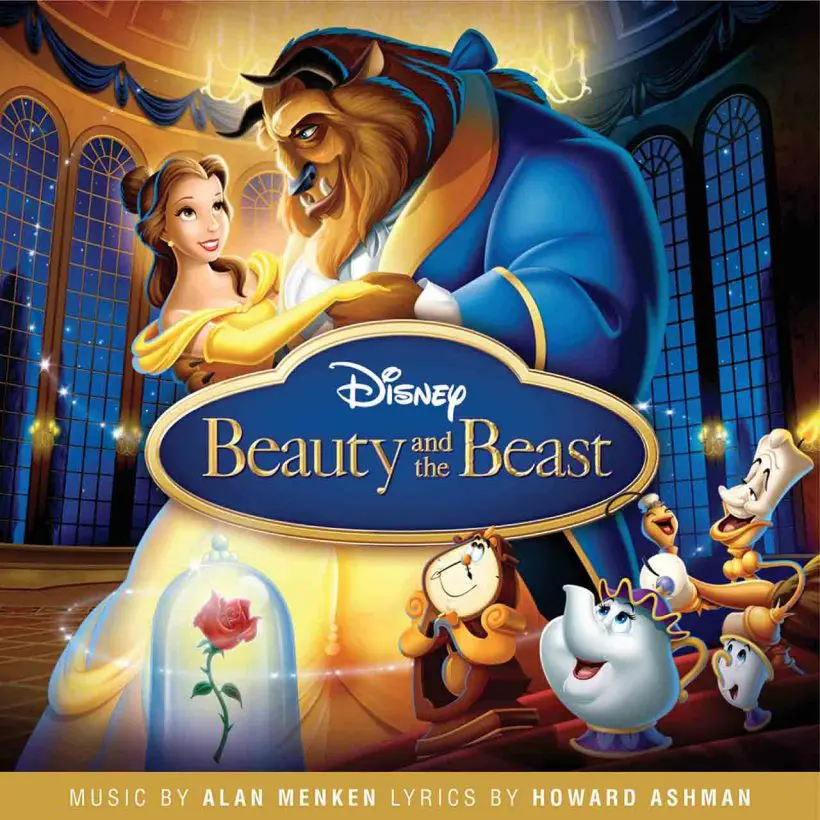 Disney's 1991 animated blockbuster Beauty and the Beast continued the studio's renaissance, which began at the end of the 80s with The Little Mermaid. The adaptation of Jeanne-Marie Leprince de Beaumont's 1756 fairy tale was a box office smash, becoming the first animated film to reach the $100 million mark in the United States and Canada and earning over $300 million worldwide during its initial release. It also became the first animated film to be nominated for the Best Picture Academy Award® and, in 2008, was chosen by the American Film Institute as one of the Top 10 US animated films of all time.
Amazingly, considering its eventual runaway success, the production of Disney's Beauty and the Beast had been stalled for decades. The story of the relationship between the Beast – a spoiled prince transformed into a monster by an enchantress – and Belle, a beautiful young woman imprisoned in his castle, was timeless, but Disney hadn't found a way to make it work. The project had been revived in the late 80s, but the original concept was very different. "There had been two previous unsuccessful attempts to adapt it, in the 1930s and 50s; my first draft wasn't a musical, was visually darker, and there were no talking objects," screenwriter Linda Woolverton told The Guardian in 2017. "The Little Mermaid changed everything. Musicals had fallen out of fashion, but Disney animation had been in a slump in the 1980s and needed something different. I flew to Florida to meet with [lyricist] Howard Ashman, and we hit it off instantly."
Listen to the Disney Princess playlist on Spotify or Apple Music now.
Turning to Ashman and his musical partner composer Alan Menken was an inspired choice. The duo's songs lit up The Little Mermaid, giving the movie a sparkle lacking in Disney's 80s output. The Broadway veterans worked with Woolverton to change the tone of the movie (it had originally been conceived of as a period drama). "We adapted the original French fairytale pretty liberally," Menken told The Guardian in 2017. "The creation of enchanted objects opened up the opportunity for songs such as 'Be Our Guest,' while Gaston [the movie's hulking brute of a villain] and his hangers-on allowed for the big tavern number."
Menken revealed the pair's inspirations to Soundtrack.net in 2010, "All Howard and I did was to tell the story, which is very romantic. The setting is timeless, and I just went to my gut, which is what I always do…. We worked with a palette of French and classical and Broadway music, and it was a culmination of a certain kind of emotion for us. Also, all these projects we do – whether it is The Little Mermaid or Beauty and the Beast, or Aladdin – are homages. This one is a homage to the most romantic parts of the Disney canon. Maybe I was channeling something special, I don't know, but it was clearly romantic and timeless, and I credit Howard with a lot of what we came up with."
The music of Beauty and the Beast
That sense of romance is most apparent in the scene setter "Belle," the twinkling "Something There," and the title track, possibly the only example in cinema history of a timeless ballad sung by a teapot. Mrs. Potts – the item of crockery in question – had been the head of the kitchen until the spoiled prince's behavior caused the entire castle to be enchanted. Mrs. Potts has seen Belle and the Beast develop feelings for one another and celebrates their blossoming romance by breaking into song as the unlikely pair slow dance in the castle ballroom. Mrs. Potts was voiced by a Hollywood great, Angela Lansbury, who was modest when discussing the song with CBC in 2017, "There were many other wonderful songs in the movie. But because it was a little teapot and she was such a romantic, I think that was the thing about Mrs. Potts. She just adored the idea of the romance between these two mismatched characters [laughs]. So from that point of view, it was a natural. But we didn't really understand it until the movie came out."
Beauty and the Beast (Remastered 2018)
Lansbury's kindly, unstudied performance gave the song an emotional impact key to its success, despite the actress initially being reluctant to sing it, insisting her voice wasn't up to the job. It went on to win Best Original Song at both the Golden Globe and Academy Awards, proving Lansbury wrong. The song was also recorded by Celine Dion and Peabo Bryson as a power ballad, a version that was a hit worldwide.
Another standout track was the showstopping "Be Our Guest," a rollicking Francophile vaudeville number led by the candelabra Lumière, formerly the castle's maître d'. It's a witty way of introducing Belle (and the audience) to the castle's cast of enchanted residents. The song came easily to Menken, "I remember I said to Howard, 'I'm going to give you a song which will just be the dummy… then I'll write something really good.' So I sang the tune to him 'ya da dum da da dum… ba ba ba ba ba ba …' and I said 'now I will write the real music'. Of course, after struggling, I couldn't improve on that dumb piece of music that I wrote initially, because it was just right and it got out of the way to let Howard's lyrics shine."
Be Our Guest (Remastered 2018)
"Gaston" is just as raucous – a barnstorming Broadway number that introduces the villain of the film. In the song, villagers massage the ego of the self-absorbed hunter after he is rejected by Belle. Menken later remembered being blown away by Ashman's wordplay, "'Gaston' is really tongue-in-cheek, a drinking song sung by basically a group of Neanderthal-level guys in praise of a complete lug-head. When we were writing that song, I could not contain my laughter. It was very funny material."
Howard Ashman
In hindsight, it's remarkable that Ashman was able to produce such brilliant work. As Menken told The Guardian in 2017, "What I didn't know when we started was that Howard's days were numbered. He had been diagnosed with AIDS. This would be the last project he was ever going to work on."
Ashman had broken the news to Menken after they had won the Academy Award for Best Original Song with The Little Mermaid's "Under The Sea." Menken remembered the moment in a 1991 Los Angeles Times interview, "When we were sitting at the banquet after the awards, he said we should talk. 'I don't want to talk about it now,' he said, 'but we should talk.' He also went to great pains that night to say to me that 'I want you to know that I'm very happy.' Which, for Howard, was quite a concession because he was hard to please… it was a very fulfilling thing for him. And then, two days later in New York, I went to his house and I had this impending feeling of dread, but it didn't sink in until he literally told me he (had tested) HIV positive and he was sick… And then the world kind of crumbled."
Beauty and the Beast's producer, Don Hahn, later revealed to Entertainment Weekly the lengths the filmmakers went to accommodate Ashman as the lyricist's condition worsened. "We set up in a Residence Inn [near Ashman's New York home]," remembered Hahn. "He was able to work on that music even though he had literally lost his voice and could hardly whisper, and he was able to produce these joyful lyrics for us."
Bill Condon, the director of Disney's 2017 live-action adaptation, believes that Ashman's lyrics were influenced by his illness. "It was [Ashman's] idea, not only to make it into a musical but also to make Beast one of the two central characters," Condon told Attitude. "Until then, it had mostly been Belle's story that they had been telling… Specifically for him, it was a metaphor for AIDS. He was cursed and this curse had brought sorrow on all those people who loved him and maybe there was a chance for a miracle and a way for the curse to be lifted. It was a very concrete thing that he was doing."
Howard Ashman died of AIDS-related complications at the age of 40 on March 15, 1991. Though he never saw the finished movie, he was able to watch an early version. At the end of Beauty and the Beast's credits, a message reads, "To our friend, Howard, who gave a mermaid her voice, and a beast his soul. We will be forever grateful. Howard Ashman: 1950–1991." It's a fitting tribute to a remarkable talent.
Listen to the Disney Princess playlist on Spotify or Apple Music now.