Best Christmas Gifts For Music Lovers: The Essential Holiday Shopping List
Forget some of the best releases to come out this year? We've got you covered. These are the must-have 2023 Christmas gifts for music lovers.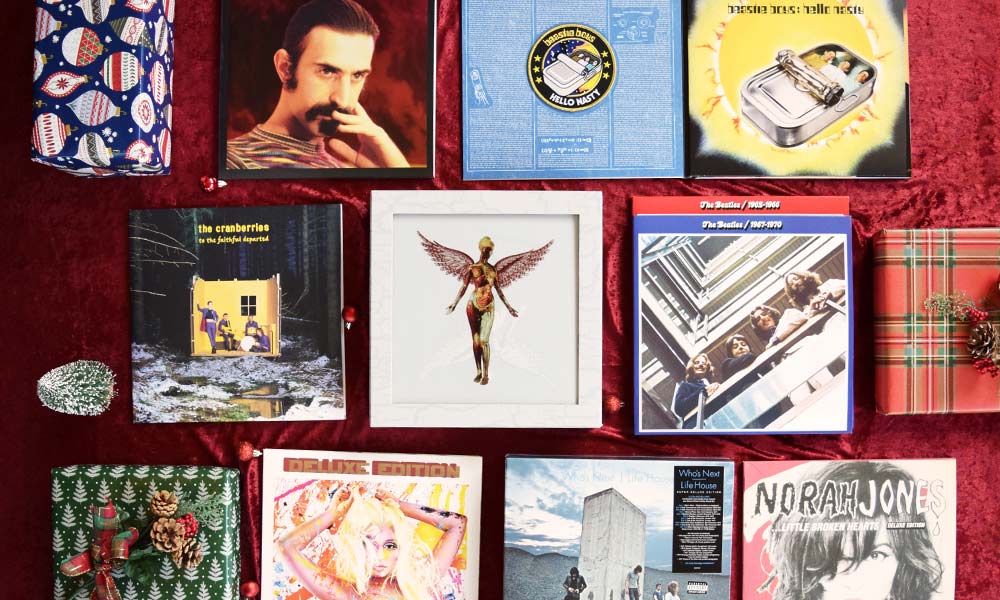 Whether you're buying for classic pop fans, a Gen Z pop stan, or the older die-hard rock fans in your life, 2023's best music-based Christmas gifts include something for lovers of all types of music.
Check out our picks for some of the best gifts this holiday season.
The Beatles – Blue and Red Compilations
These landmark compilations have introduced generations of fans to the incredible history of the most storied band in music. For its 50th anniversary, the Red collection has been expanded with 12 additional tracks added chronologically, including for the first time some of George Harrison's earliest songs and some classic Beatles versions of R&B and rock 'n' roll hits that were so influential on the band. The Blue collection has been expanded with 9 additional tracks, including "Blackbird", "Glass Onion" and the new song, "Now And Then".
Nirvana – In Utero
Celebrating In Utero's 30th, this 8LP Super Deluxe features 180-gram pressings of the album + 5 b-sides & bonus tracks newly remastered, 2 complete concerts from Los Angeles '93 & Seattle '94 plus 6 bonus live songs from the tour – 72 total tracks – 53 unreleased tracks.
Bonus items: an Angel-on-acrylic panel; 48-pg book with unreleased photos; new 20-pg fanzine; LA gig poster litho; 2 ticket stubs; replicas of the promo Angel mobile, 3 gig flyers, all-access tour laminate & 4 backstage passes.
The Black Crowes – The Southern Harmony And Musical Companion Super Deluxe Edition
This deluxe 4LP box set includes a reproduction of the original 60 page promotional hymn book featuring insights on the record and band's state of mind from both Chris and Rich Robinson. It also contains sheet music for the 9 Chris and Rich compositions. The project has been overseen by Chris and Rich Robinson and album producer George Draklouias. There are 14 unreleased recordings including 2 studio recordings, a live concert from February 1993, and the never heard before live in-studio performance recorded at the end of the Southern Harmony session along with b-sides and the original album, now remastered.
The Who – Who's Next / Life House Super Deluxe Edition
Who's Next / Life House Super Deluxe Edition contains 10-CDs all remastered from original tapes by long time Who engineer Jon Astley as well as a Blu-ray Audio disc with newly made Atmos & 5.1 surround mixes of the original album and 14 bonus tracks by Steven Wilson. The set features 155 tracks including 89 unreleased tracks & mixes and another 57 previously released tracks but with a fresh remix.
The Rolling Stones – Hackney Diamonds
Hackney Diamonds, the hugely anticipated new album by The Rolling Stones, marks the band's first studio album of original material since 2005. Featuring collaborations with Stevie Wonder, Lady Gaga, and many more.
Steve Miller Band – J50: The Evolution of the Joker Super Deluxe Edition
J50: The Evolution of The Joker, curated by Steve Miller, highlights 27 previously unreleased demos, live performances, studio outtakes and rehearsals from Miller's personal archive, including 8 never-before heard songs. Miller also provides narration guiding the "evolution" of the songs from The Joker. The box set features a lenticular cover, 60-page book with liner notes from both Steve Miller & Anthony DeCurtis, a reproduction of a vintage Joker iron-on, and a new Joker lithograph.
Aerosmith – Greatest Hits
For the first time ever, 44 tracks spanning their five-decade career on 180g black vinyl. Featuring "Dream On," "Walk This Way," "Sweet Emotion," "Crazy," "Cryin'," "I Don't Want To Miss A Thing" and many more.
Brian May & Friends – Star Fleet Project Sessions (40th Anniversary) Box Set
The first CD Star Fleet Project + Beyond features both the full-length and single versions of the title track full-length album versions of "Let Me Out" and "Blues Breaker," as well as interviews and live performances. The second CD, The Complete Sessions features 23 tracks newly mixed from the original analogue session tapes. The LP is presented in 180g transparent red vinyl. The box set also features a 7" black vinyl with an exclusive B-side. A badge and booklet featuring extensive liner notes complete the box set.
Willie Nelson – Vinyl LPs
This year, Willie Nelson has put out a variety of some of his best albums on vinyl. Click the link below to see if your favorite is included in this series.
Tom Waits – Vinyl LPs
This year, Tom Waits has put out his classic Island catalog out on vinyl once again. Click the link below to get Swordfishtrombones, Rain Dogs, and much more.
ABBA – The Visitors – Single Box (D2C Exclusive, Limited Edition)
This 7″ boxset includes four singles from the album, each with a b-side companion track. The set features 4 color discs (silver, orange, pink, blue) housed in a lift-off lid box. Individual sleeves incorporate classic band imagery from the original era.
Bob Marley – Catch A Fire 50th
Catch A Fire is the fifth studio album by Bob Marley and the Wailers and was included in Rolling Stone's 500 Greatest Albums of All Time. The 3LP+12" black vinyl package contains the studio album; Live at The Paris Theatre London (never officially released); an album of alternate, extended, and instrumental Jamaican versions of select tracks; and more.
Salt-N-Pepa – Very Necessary
Very Necessary is the fourth studio album by American hip hop group Salt-N-Pepa, first released in 1993. In celebration of its 30th Anniversary, this limited edition 2LP reissue will feature a collection of 4 bonus tracks and is being released on blue vinyl.
Frank Sinatra – Platinum (70th Capitol Collection) Limited Edition 4LP
Platinum celebrates in a beautiful 4LP set, the 70th anniversary of Frank Sinatra signing to Capitol Records, a moment that transformed his career and solidified his standing as one of the greatest interpretive singers of all time. From 1953 – 1962, Sinatra recorded more than three hundred songs for Capitol, the majority of them included on the landmark 'concept' albums Sinatra pioneered. It is arguably the finest body of recorded work in popular music.
Beastie Boys – Hello Nasty Deluxe Edition 4LP
Celebrating the 25th Anniversary of the Beastie Boys' multi-platinum Hello Nasty album, this limited-edition deluxe reissue is a rare version of the album that was released as a limited run in 2009. Long out-of-print and sought after by fans and collectors, it includes two bonus LPs with 21 bonus tracks (remixes, B-sides, and rarities). Pressed on 180g vinyl, this 4LP deluxe box set is housed in a hardcover slipcase and includes a removable sew-on patch.
Frank Zappa – Over-Nite Sensation (50th Anniversary)
To celebrate Over-Nite Sensation, there's a 4CD + 1 Blu-ray Audio Super Deluxe showcasing 88 total tracks with 57 unreleased tracks & mixes. Featuring the 2012 remaster of the original album by Bob Ludwig along with additional masters, highlights and mix outtakes from the original 1973 sessions mastered by John Polito. The package also features unseen photos from the album cover shoot along with liner notes and essays by Mark Smotroff and Vaultmeister Joe Travers.
Shania Twain – Come On Over Diamond Edition 180g Black 2LP
Come On Over is the top-selling country album and the highest-sold album by a female artist of all time. In celebration of the album's 25th anniversary and over 40M global sales, the US version of the album has been remastered from the original tapes for the first time ever. Now available on 180g black vinyl.
Elton John – Honky Château Limited Edition LP
Released in May 1972, Honky Château is the fifth studio album by Elton John, which includes singles "Rocket Man" and "Honky Cat." Named after the eighteenth-century Château d'Herouville outside Paris where it was recorded, this 50th anniversary edition contains the original album pressed for the first time on limited edition gold vinyl.
Nicki Minaj – Pink Friday Roman Reloaded Deluxe 3LP
The follow-up to Nicki Minaj's debut album, Pink Friday Roman Reloaded features the mega hits "Beez In The Trap" and "Starships." This 3LP reissue is on standard black vinyl Trifold gatefold with matte coating, with bonus material on vinyl for the first time, including "High School." This package is presented on standard black vinyl.
Taylor Swift – 1989 (Taylor's Version) Vinyl
The latest edition in Taylor Swift's re-recording campaign, this is the vinyl version of the beloved 1989. It includes five previously unreleased songs from The Vault and one bonus track.
The Cranberries – To The Faithful Departed
Originally released in 1996, To The Faithful Departed has sold over six million copies worldwide and became the band's highest-charting album on the U.S. Billboard Top 200. The 3CD set contains unreleased outtakes and early mixes of the studio album, 12 rare live tracks recorded on the "Free to Decide" tour, an extensive album booklet, and the original 1LP album remastered. Available as a 3CD set.
Dire Straits – Live 1978-1992
This exciting Dire Straits package contains newly remastered versions of Alchemy and On the Night, both of which are currently unavailable on vinyl, as well as a variety of other live shows.