Best Christmas Gifts For Music Lovers: This Year's Must-Have Clothing And Merch
From tour merch for fans who missed out, to winter-warmer gear and some truly unique items, these are the must-have 2019 Christmas gifts for music lovers.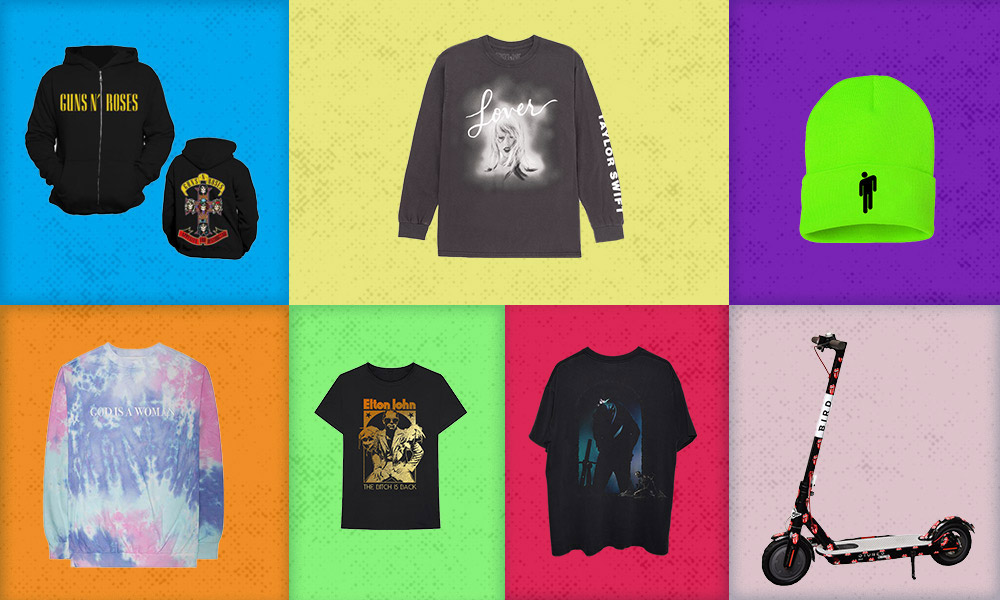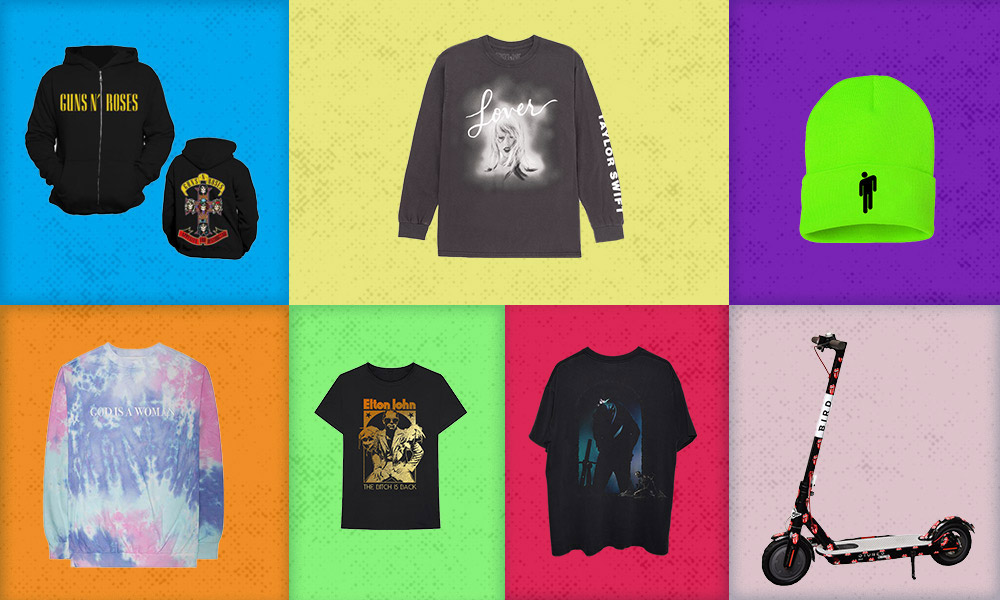 Whether you're buying for devoted Arianators, hyperactive Little Monsters or the older die-hard rock fans in your life, 2019's best music-based Christmas gifts include something for lovers of all types of music. From Rolling Stones-branded electric scooters to Taylor Swift blankets and Beatles-themed lava lamps that'll transform your room into a hipster's Swinging 60s den, there's something for all the family this year.
Ariana Grande
God is a woman tie-dye crewneck
2018's hit album sweetener contained Ariana Grande's memorable hit single 'God is a Woman'. This comfortable crewneck sweater has a unique blue-and-pink tie-dye design and the album's tracklist printed across its back.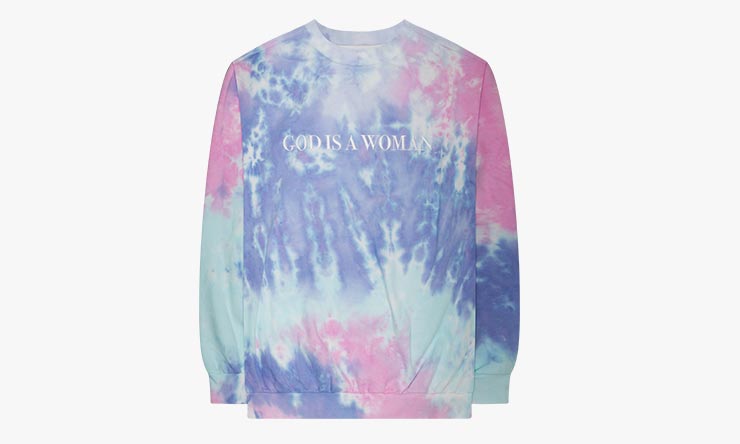 thank u, next dad hat
An infectiously slick single penned in the wake of the singer's break-up with Pete Davidson, 'thank u, next' was an instant success for Ariana Grande. The track title is embroidered on the front of this casual black "dad" hat.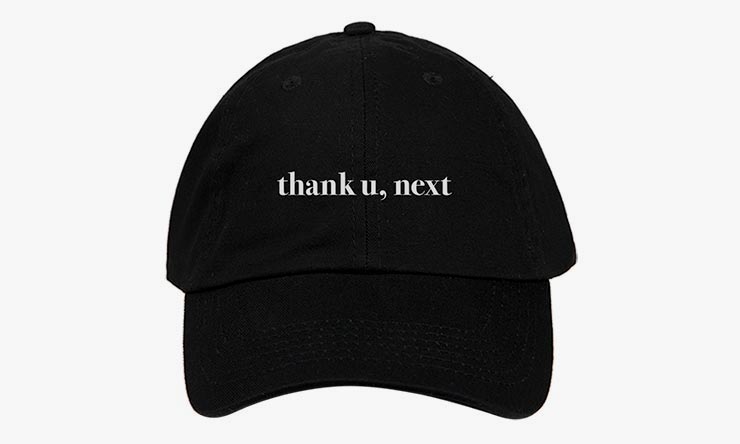 Space T-shirt
Ariana Grande is truly out of this world. The 'No Tears Left to Cry' singer made waves with her knockout performance at Lollapalooza – an appearance which is celebrated with this black, vintage tee. The shirt's front pictures a launching space shuttle while the back lists dates from her sell-out Sweetener tour.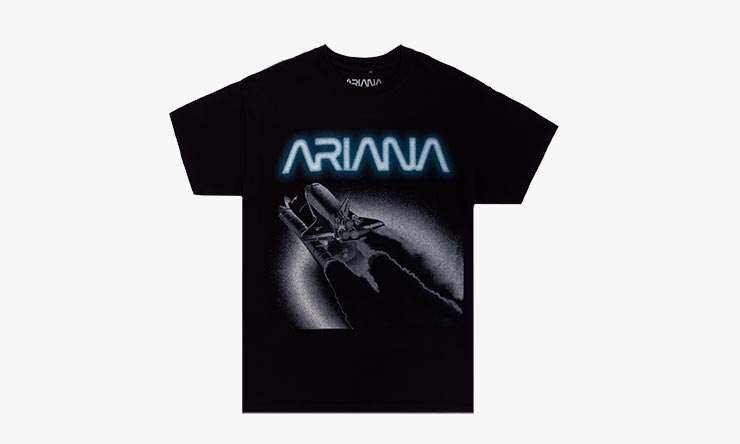 More great Ariana Grande Christmas gifts can be found here.
The Beatles
Sgt Pepper's Lonely Hearts Club Band denim jacket
The Beatles changed the course of music history in 1967, with the release of Sgt Pepper's Lonely Hearts Club Band. These timelessly cool denim jackets feature the iconic Sgt Pepper logo on the back – a perfect tribute to one of the group's crowning achievements.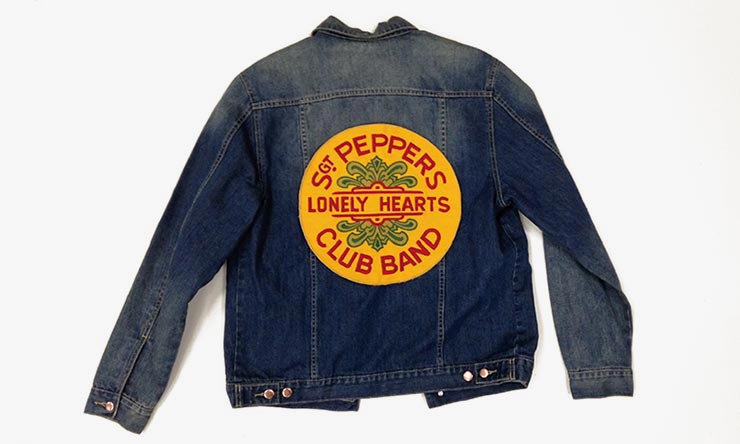 Sea Of Holes lava lamp
This trippy lava lamp is inspired by The Beatles' hit 'Yellow Submarine' and the colourful, psychedelic film that followed it. With a small Beatles image on the base of the lamp, this groovy piece of decor is a wonderfully nostalgic throwback, in more ways than one.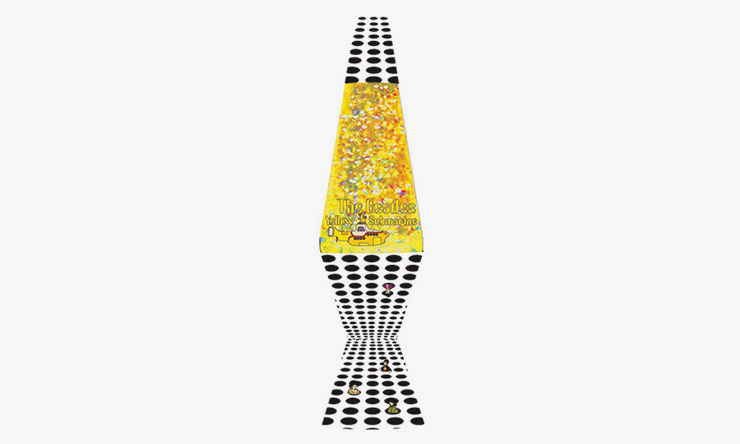 More great Beatles Christmas gifts can be found here.
Billie Eilish
Neon green beanie
Billie Eilish personally plays a large part in the design process of her merchandise line, and this cool neon green beanie hat bears all the hallmarks of her signature style. With the ' bad guy' singer's instantly recognisable slouching stick figure logo, this simple hat adds a splash of eye-catching colour to any casual outfit.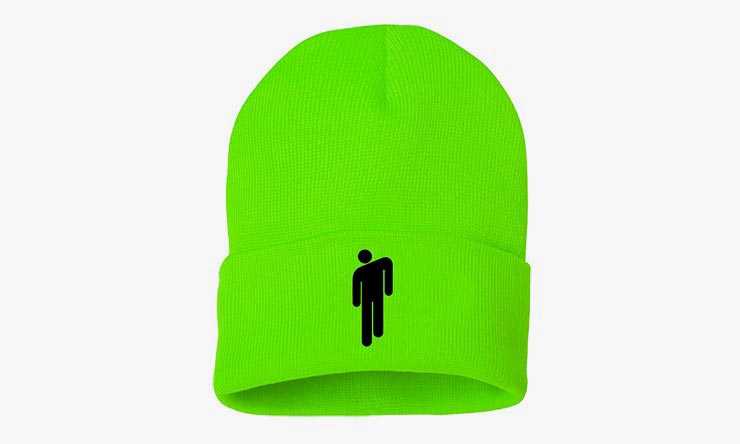 Monogram hoodie
Produced as part of Eilish's personal clothing line, known as Blōhsh, this comfortable white hoodie has a printed "BE" monogram on its front. Exactly the sort of clothing that Eilish would wear on-stage, it is only available for a limited time.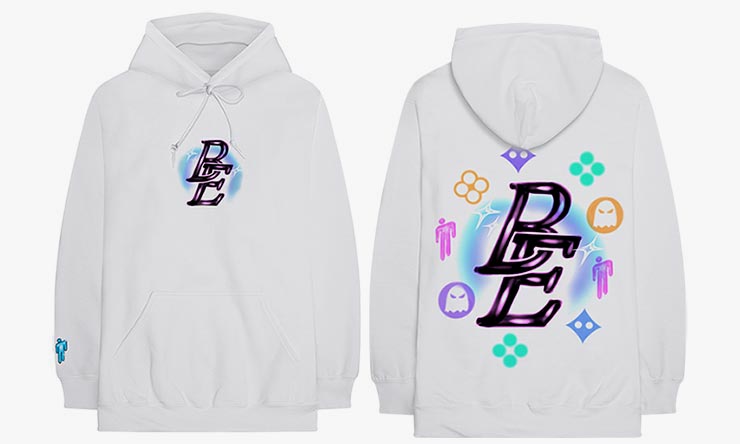 BE glow-in-the-dark T-shirt
Described as "janky" by Eilish herself, her branded clothing line often features the image of a leaning stick figure. This logo is placed on the front of this soft black T-shirt, and is made of glow-in-the-dark material – perfect for standing out among the crowd at a gig.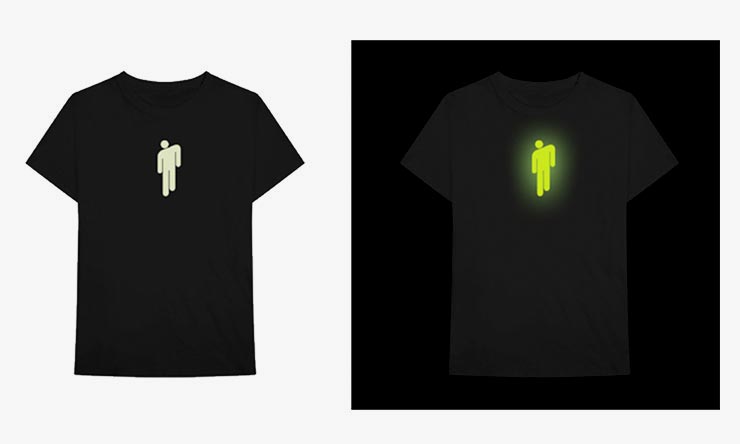 More great Billie Eilish Christmas gifts can be found here.
Bob Marley
Rastaman sunset T-shirt
Bob Marley And The Wailers' 1976 album, Rastaman Vibration, forms the basis for the design of this cool black T-shirt. The Rastafarian colours of green, yellow and red add a vibrant border to a monochrome print of Marley himself, nodding towards the reggae legend's cultural heritage.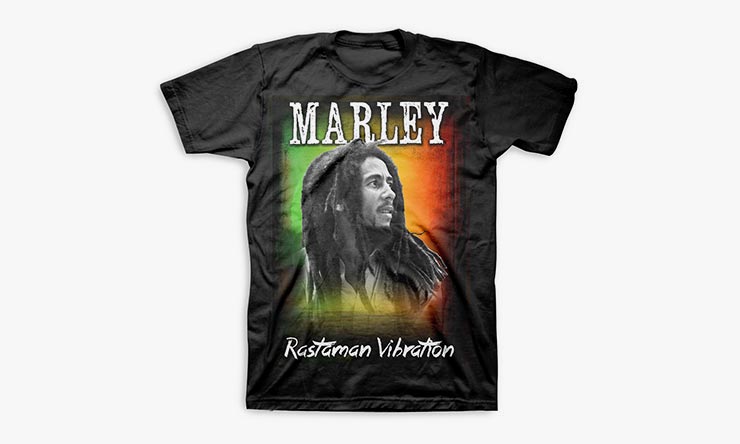 Soccer 77 T-shirt
As well as being a legendary music icon, Bob Marley was an ardent soccer fan. This soft T-shirt honours his love of the sport with a printed image of Marley kicking a ball around, divided into three stylish panels.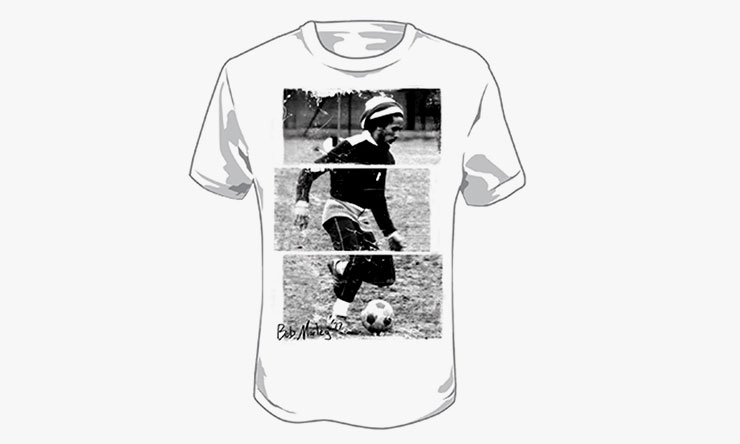 Raglan piping track jacket
Also inspired by Marley's Association Football fanaticism, this comfy black jacket sports a soccer-ball badge and the colours of the Rastafarian flag. This is that rare piece of exercise gear that pays tribute to the work and life of a seminal music icon.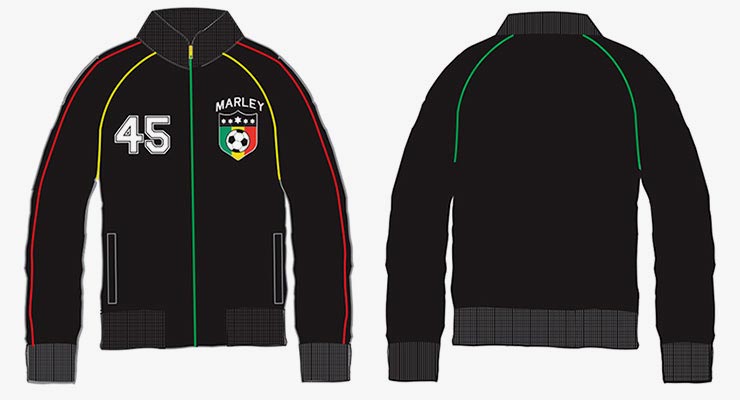 More great Bob Marley Christmas gifts can be found here.
Elton John
Vintage Goodbye Yellow Brick Road T-shirt
Elton John's beloved 1973 album, Goodbye Yellow Brick Road, serves as the inspiration for this soft, vintage T-shirt. The black tee features a print based on the famous album artwork.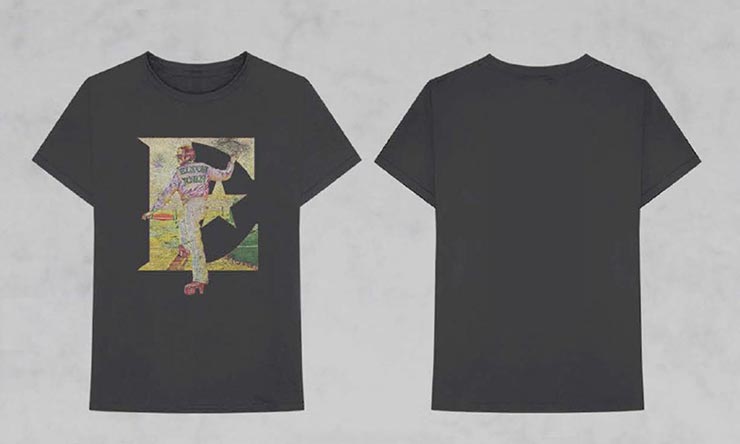 'The Bitch Is Back' T-shirt
'The Bitch is Back', released in 1978, remains one of John's most beloved songs, and is celebrated in the design of this smart black T-shirt. A gold foil image of the pop star adorns the tee's front, along with the snappy song title.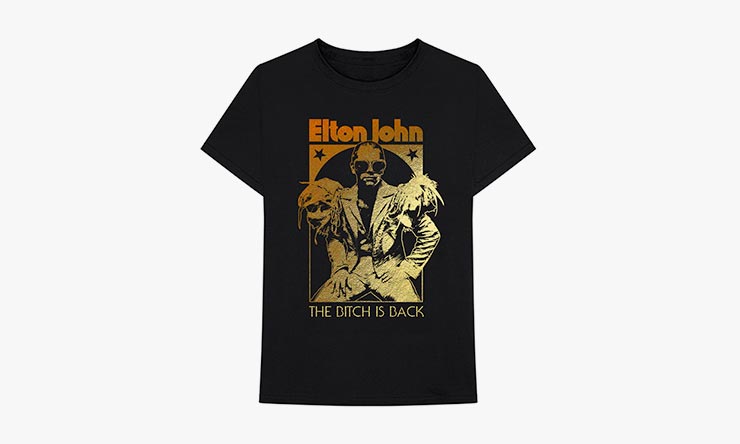 Neon tour hoodie
Elton John may be on his Farewell Yellow Brick Road tour, but there are enough dates to ensure that he won't be saying goodbye any time soon. With his Diamonds logo on the front and the tour's Goodbye Yellow Brick Road-inspired image on the back, this hoodie will forever remain a reminder of the icon's final victory lap.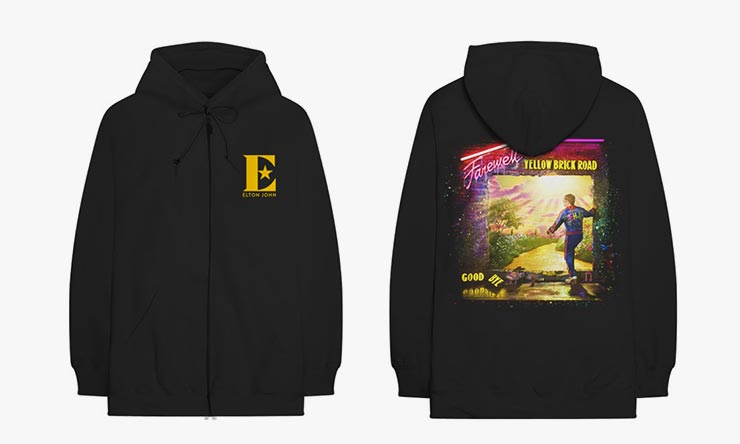 Blue star light-up glasses
Elton John became nearly as well-known for his extravagant on-stage dress sense as his thumpingly well-written pop tunes, wearing all manner of glitzy costumes when performing. Certain to cause a stir at parties, these blue light-up star-shaped glasses would look right at home on the 'Crocodile Rock' singer's face.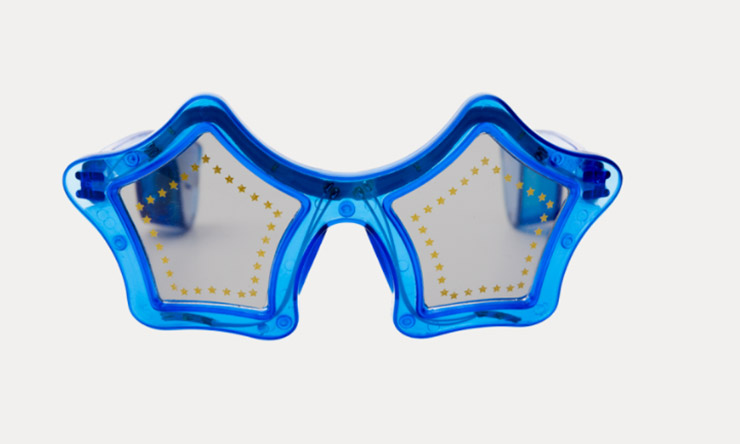 More great Elton John Christmas gifts can be found here.
Guns N' Roses
Cross zip hoodie
Guns N' Roses took the world by storm when they released their iconic 1987 debut album, Appetite For Destruction. The record's famous cover art is printed onto the back of this comfortable black zip-up hoodie, which also boasts the band's logo across its front.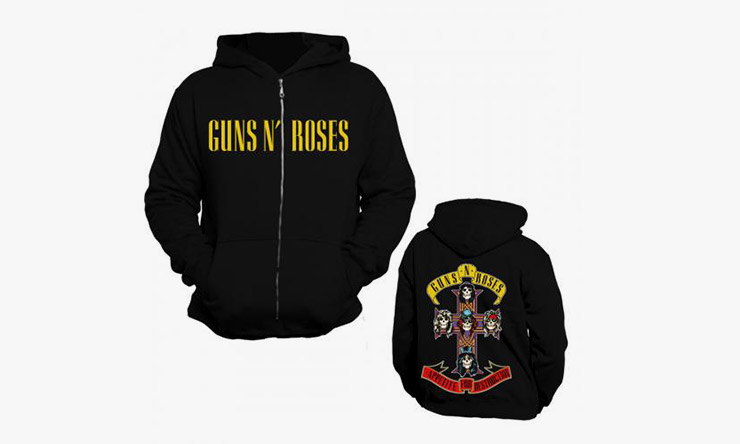 1987 OG bullet seal T-shirt
The illustration of two sideways-facing firearms, tied together by roses, is indelibly linked to the image of Guns N' Roses. This soft, black tee has that design on the front, and the words "GUNS N' ROSES WAS HERE" in graffiti-style text on the back.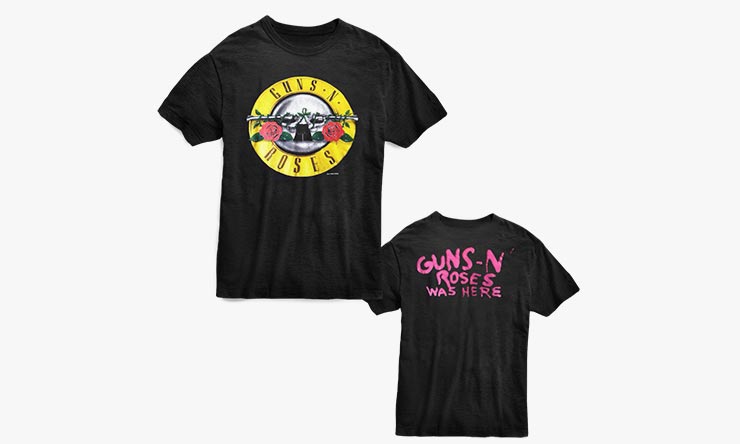 POP ROCKS figures
Vinyl Funko Pop figurines are the collectible trend that never seems to get old. The cute, large-headed toys have been designed to resemble characters from all walks of pop culture, from Buffy The Vampire Slayer to Indiana Jones. A special line of GNR-themed Funko Pops are now available, giving you the chance to have a pint-sized Axl Rose, Slash or Duff McKagan of your very own.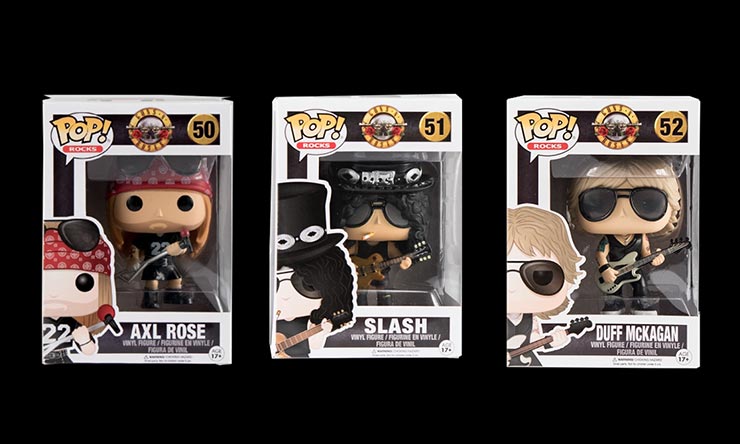 More great Guns N' Roses Christmas gifts can be found here.
Imagine Dragons
Origins lotus hoodie
Origins, the fourth studio album from Nevada-based rock band Imagine Dragons, had a captivating album cover, with a small pink lotus flower seen floating at the bottom of the artwork. This elegant hoodie is inspired by the album's lotus imagery and offers a three-toned emblem on its front and two lotuses printed across its back.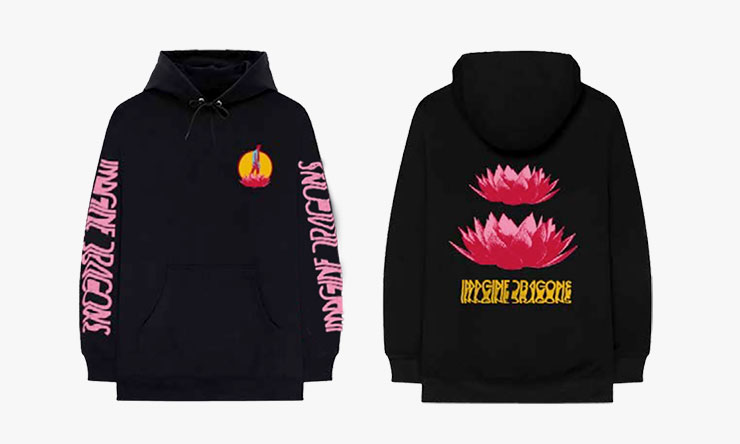 Origins lotus inverted long-sleeved T-shirt
This comfy white hoodie also draws from the artwork for Imagine Dragons' 2018 hit record. Reworking the album artwork into a stylish pink graphic, the sweater also features the band's name in large print on its arms.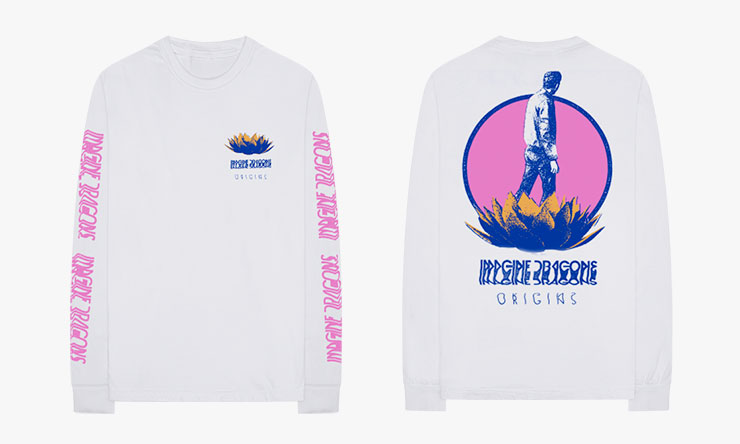 More great Imagine Dragons Christmas gifts can be found here.
KISS
KISSmas tee
It's Christmas, and it's time to rock! This T-shirt gives the iconic KISS logo a festive re-working. The band's familiar lettering is filled with warm, sparkly Christmas colours and a Santa hat hangs from one of the letters.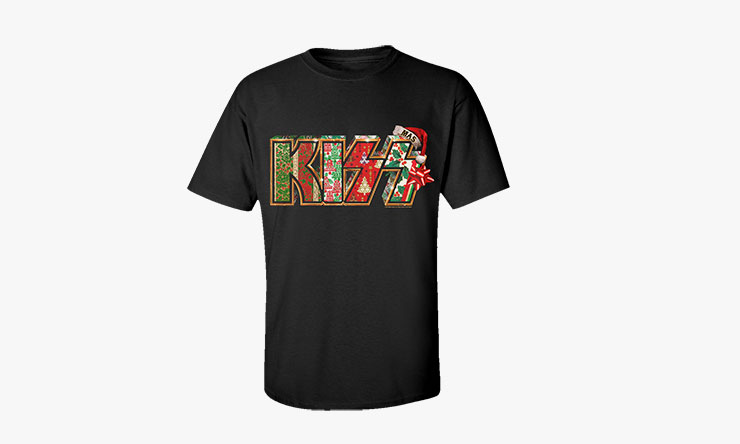 Merry KISSmas crewneck
Just because you like to rock, doesn't mean you're averse to a pun. This KISS-themed Christmas crewneck caters to rock fans and wordplay enthusiasts both. Wishing you a merry "KISSmas", the iconic band logo is still immediately recognisable on the front of this non-traditional black holiday sweater.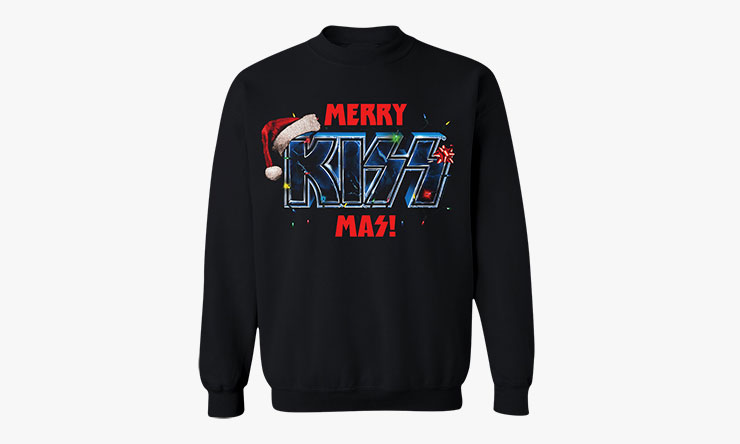 More great KISS Christmas gifts can be found here.
Lady Gaga
Enigma Las Vegas photo long-sleeved tee
Lady Gaga's Las Vegas Enigma residency came hot on the heels of her A Star Is Born success and is celebrated with this striking long-sleeve crewneck. A stunning neon picture of the singer covers the shirt's front, while the Enigma tour logo and the phrase "Live in Las Vegas" are printed on the sleeves.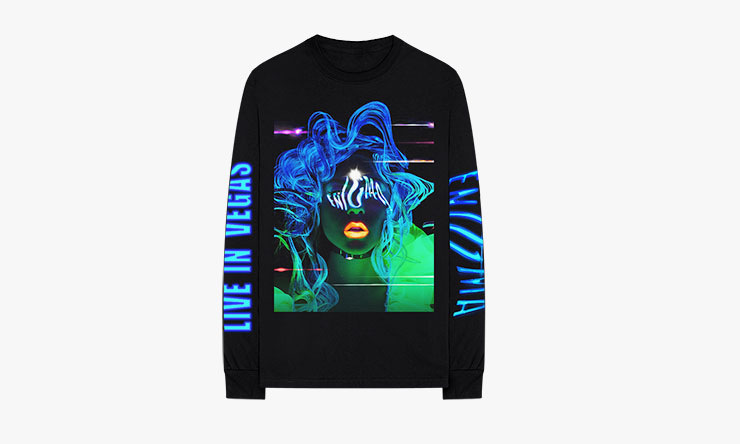 Enigma logo tee
This eye-catching green T-shirt was also released to tie-in in with Lady Gaga's recent Las Vegas residency. A wavy pink Enigma tour logo is printed on the front of the comfortable tee.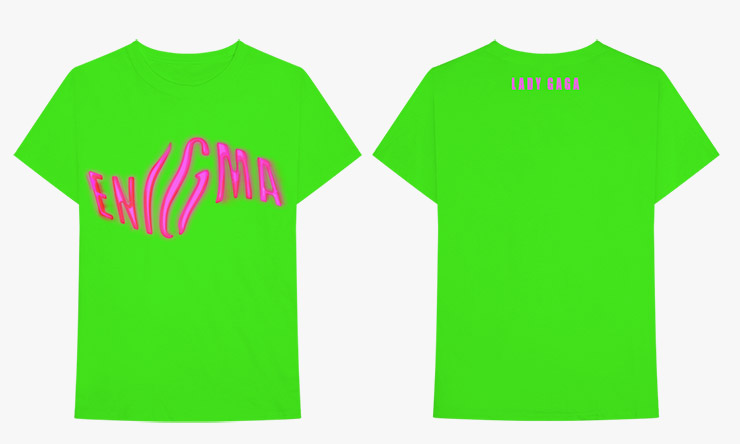 More great Lady Gaga Christmas gifts can be found here.
Post Malone
Hollywood's Bleeding sticker pack
This pack of die-cut stickers are inspired by the album artwork for Post Malone's 2019 album, Hollywood's Bleeding. Released in September, it became the pop giant's second No.1 record, following on from the success of Beerbongs & Bentleys.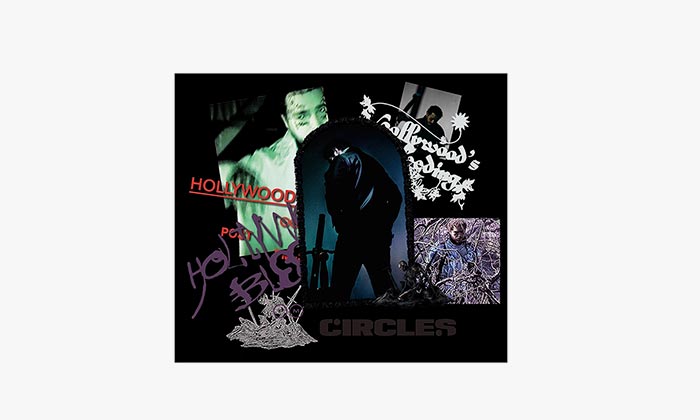 Tombstone long-sleeved T-shirt
This morbid black T-shirt has a red-outlined tombstone design printed on its back. There are phrases from Hollywood's Bleeding printed on the tombstone, and the shirt also features the words, "Sorry that you can't get over me…" on its right sleeve.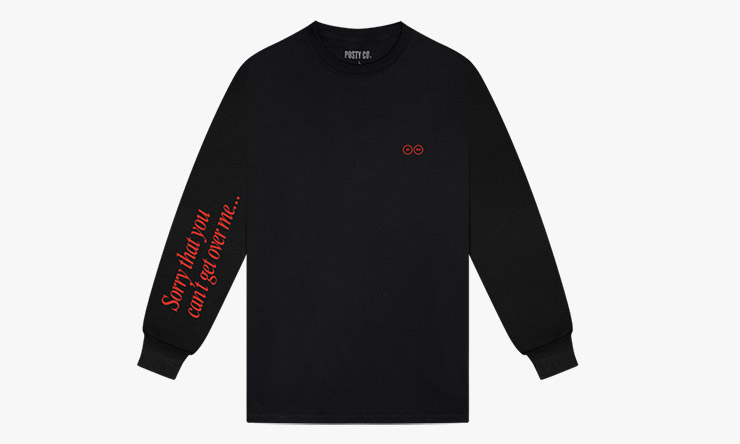 Hollywood's Bleeding cover T-shirt
Hollywood's Bleeding spawned six hit singles earlier this year, and was thought by many Post Malone fans to be his finest work yet. These 100 per cent cotton T-shirts have the album artwork printed on their soft black material, along with some small text about the record.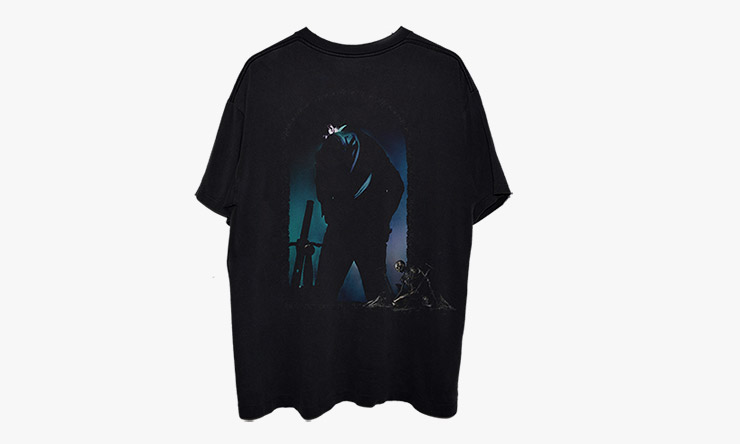 More great Post Malone Christmas gifts can be found here.
The Rolling Stones
Bird electric scooter
For the Stones fan who has everything, this special piece of merch is a must: an electric scooter, peppered with the band's iconic tongue-and-lips logo. Produced to coincide with their recent No Filter US tour dates, these black micro-vehicles mean you can show off your love for the Stones while whizzing around town.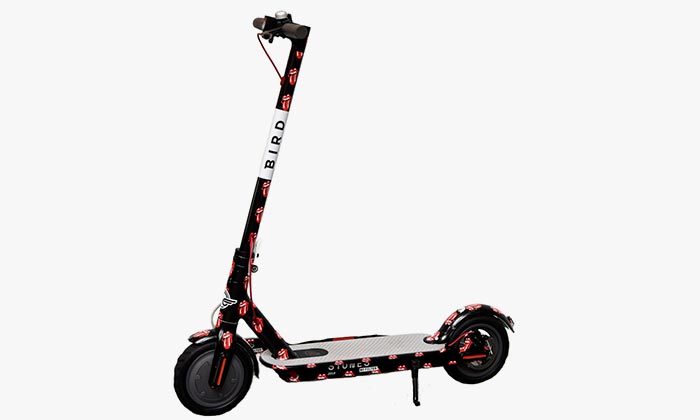 No Filter tie-dye pullover hoodie
The US No Filter leg also gave birth to this smart piece of Rolling Stones merch: a pullover hoodie with a tie-dyed design in the red, white and blue of the Stars'n'Stripes. The band's iconic logo is prominently placed in the centre of the chest.
US tour 1978 tee
After years of increasingly elaborate stage productions, The Rolling Stones tried something a bit different with their 1978 US tour. Promoting their album Some Girls, the band stripped back the stagecraft and focused on the music. This casual white T-shirt was originally designed for that classic tour, and places the band's logo front-and-centre. Each item is individually "stressed", too, for that truly vintage look.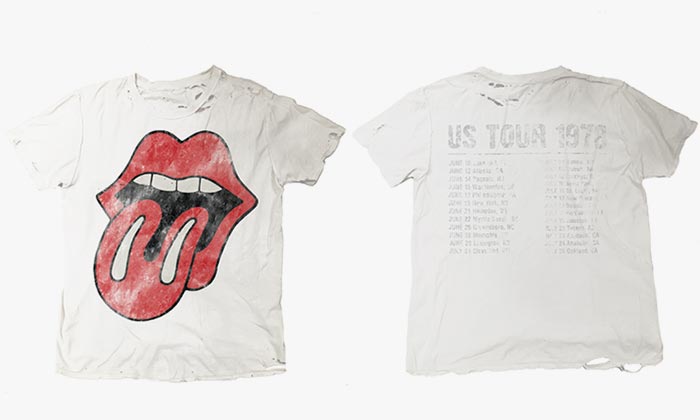 More great Rolling Stones Christmas gifts can be found here.
Shawn Mendes
Tan floral winter hoodie
This subtle and elegant hoodie is made from a soft, pastel-coloured material, and has Shawn Mendes' name printed alongside a delicate flower design. It is part of the singer's 'Winter 2019' merchandise selection.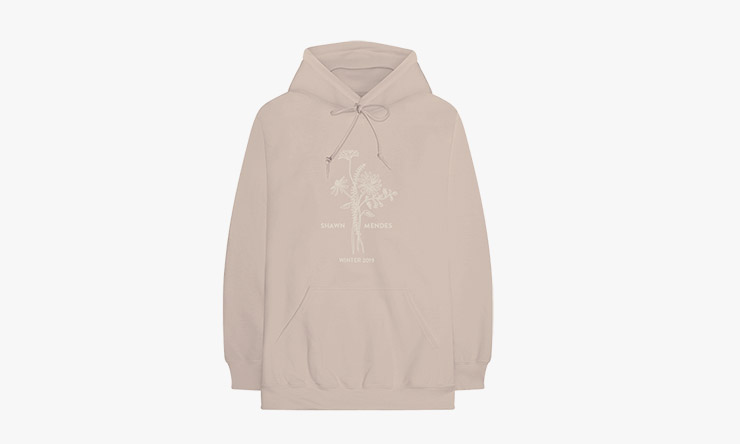 Purple orchid tee
Orchids hold a special significance for Shawn Mendes: he even sports a tattoo of some of the flowers inside a lightbulb. This elegant T-shirt puts the best-selling musician's name alongside a subtle orchid badge.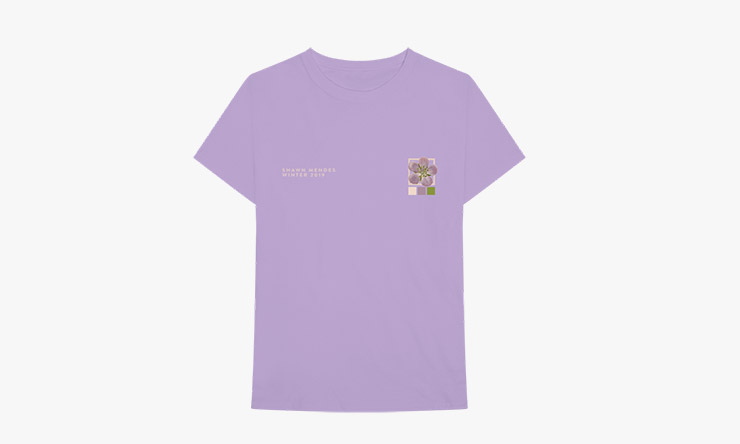 More great Shawn Mendes Christmas gifts can be found here.
Taylor Swift
Mineral wash Lover album cover long-sleeved tee
The album artwork for Taylor Swift's acclaimed 2019 release, Lover, is given a monochromatic makeover for this cosy long-sleeved shirt. Made from 100 per cent cotton, the shirt pays homage to one of Swift's most accomplished records and includes her name on one of the sleeves, in bold white lettering.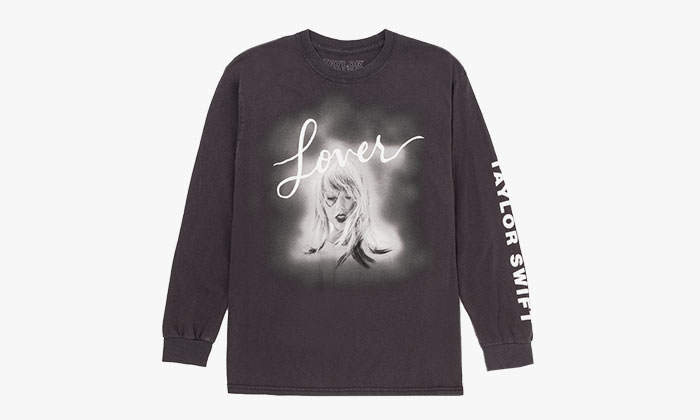 Iridescent tumbler cup
This fun, colourful tumbler cup is designed to match the colour scheme of Taylor Swift's hit album, Lover. With two walls for insulation and the album's title written in pink on the outside, this iridescent cup is a novel tribute to a modern musical landmark.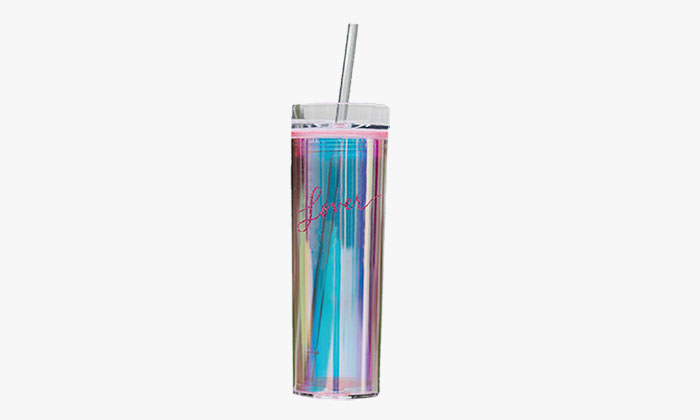 Lover album cover blanket
The ideal protection against the cold, this chic polyester blanket is also based on the stylish cover art for Lover. Measuring 50" x 60", this colourful sherpa fleece will be almost as effective as the album itself when it comes to putting a little warmth into your heart.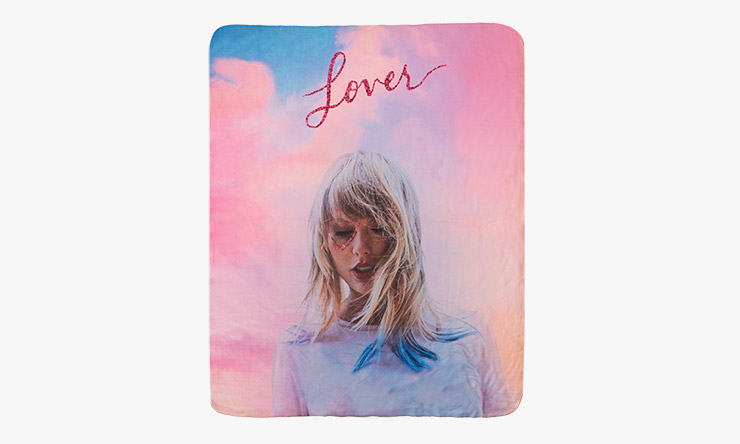 More great Taylor Swift Christmas gifts can be found here.
Tupac Shakur
Wavy logo washed hoodie
Still revered as one of the greatest and most influential hip-hop artists of all time, 2pac's very image has become iconic across the globe. This vintage washed hoodie features two images of the late rapper, with his name spelled out in a nostalgic three-coloured font.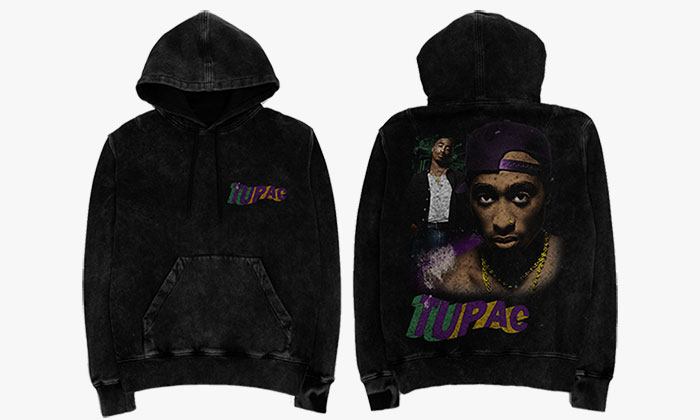 Me Against The World washed T-shirt
Taking its cue – and design – from Tupac Shakur's seminal 1995 album, Me Against The World, this casual black T-shirt has the album's famous cover printed on its chest. Me Against The World included some of Tupac's greatest tracks, and its cover is instantly familiar to most Tupac fans – making this tee a classic piece of 2pac merch.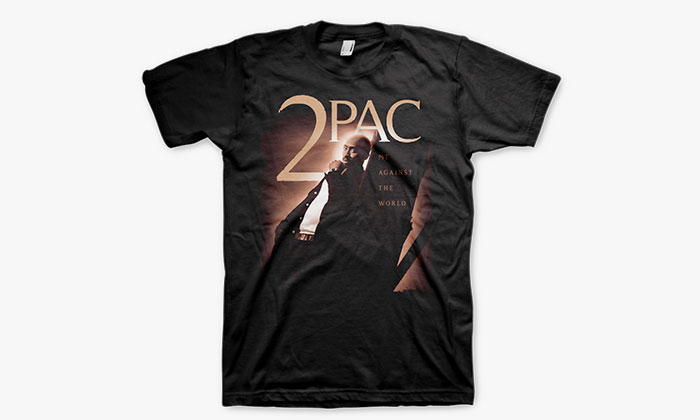 "Trust Nobody" bandana
Tupac was known for his fashion style, which often included a bandana tied around his head. This branded black bandana – with a stylish pattern and the phrase "Trust Nobody" printed on it next to Tupac's name – is exactly the sort of headgear the 'All Eyez on Me' genius would worn with attitude.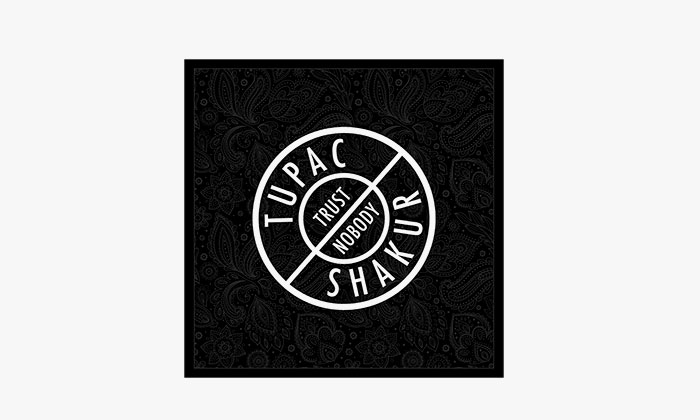 More great Tupac Shakur Christmas gifts can be found here.