Best Spice Girls Videos: 13 Essentials To Spice Up Your Life
The best Spice Girls videos are era-defining works that perfectly capture the Girl Power era while revealing how powerful their personalities were.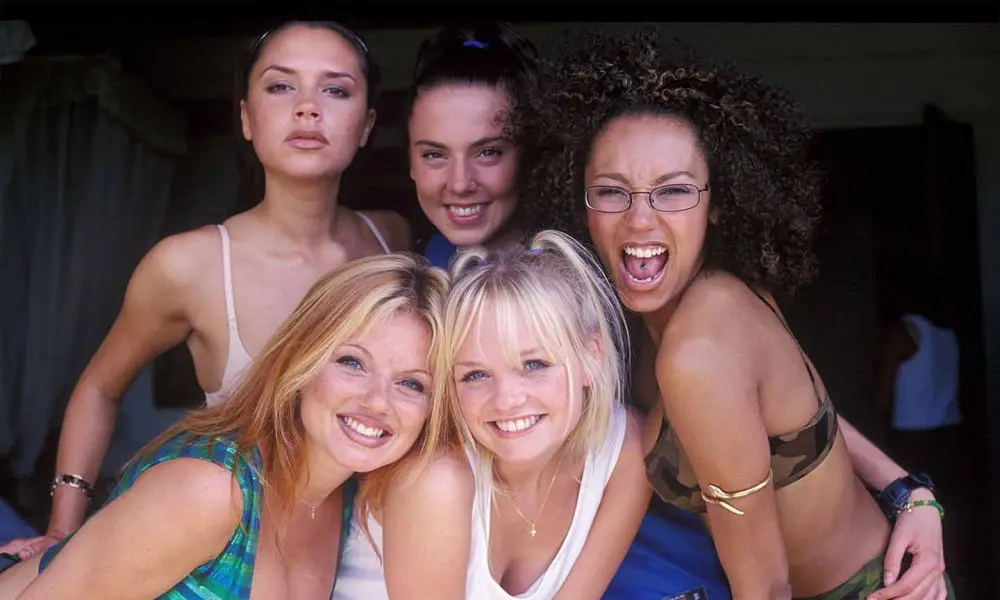 Bursting onto the scene in 1996, Spice Girls' domination of popular culture has become the stuff of legend – there was nowhere on the planet that failed to succumb to their wilful charm. Of course, the pop politics of "Girl Power" proved as critical as the music, but none of it would have worked so well without the magic of their strong personalities and colorful image, captured forever in Spice Girls' era-defining videos. You can remember the words, but can you remember the moves? This run-down of all the best Spice Girls videos will remind you!
Listen to the best of Spice Girls on Apple Music and Spotify.
13: Viva Forever
With behind-the-scenes drama leading Geri (aka Ginger Spice) to walk out just as this 1998 single was released, you'd be forgiven for thinking that the Latin-tinged ballad might have demanded a reshoot. In fact, none of the band appeared in this animated clip, which saw the five-piece reimagined as fairies in a treatment overseen by the Oscar-winning animator and director Steve Box, who had worked on the movie Chicken Run. "Viva Forever" topped the charts in the UK and was a sizeable worldwide hit everywhere except the US, where it wasn't released as a single.
Spice Girls - Viva Forever (Official Music Video)
12: Mama
This simple performance piece recorded in front of a studio audience and featuring the singers' mums became a fan favourite, perhaps thanks to the unique clips of the girls' childhood that were spliced into the final cut. "Mama" was paired with "Who Do You Think You" Are for its UK single release, and this melodic ballad was picked as the official single for 1997's Comic Relief appeal.
Spice Girls - Mama (Official Music Video)
11: Too Much
Issued as much as a promotional advert for the upcoming Spice World movie, "Too Much" became the band's second Christmas chart-topper and features extracts from the film alongside specially shot inserts that create unique characters for each of the band members. Victoria as a space-age super-vixen was quite a leap, but Geri's dancehall diva and Mel C's kung-fu heroine came across as roles already established with the public.
Spice Girls - Too Much (Official Music Video)
10: 2 Become 1
The world's first Christmas with Spice Girls saw them transport us to New York for their first hit ballad. The Big Apple was a territory they had yet to conquer – "Wannabe" wouldn't break through there until the following year – but this studio-created clip was strong on atmosphere. "2 Become 1" remains a festive standard.
Spice Girls - 2 Become 1 (Official Music Video)
9: Let Love Lead The Way
Spice Girls' third album, Forever, saw the slimmed-down supergroup work to navigate the musical tides of the 21st Century. This gorgeous ballad was, however, a throwback that saw the four-piece showcase a fresh, sophisticated style.
Spice Girls - Let Love Lead The Way (Official Music Video)
8: Holler
Rodney Jerkins as Darkchild worked his magic on this slinky R&B shuffler that launched the Forever album and proved its biggest success. The video, created at Elstree Studios in the summer of 2000, is an atmospheric, personality-led piece with each performer representing a different element. It suggests much of what might have proved a fascinating new musical direction if the band hadn't taken a lengthy break after the album's release.
Spice Girls - Holler (Official Music Video)
7: Headlines (Friendship Never Ends)
This 2007 single, issued to promote the first Spice Girls reunion and their first greatest hits collection, remains the final single from the band to date. Drawing on obvious themes surrounding their dynamic, the video is sharp and sophisticated – a bit like the gowns collected for this atmospheric Pinewood Studios shoot.
Spice Girls - Headlines (Friendship Never Ends) (Official Music Video)
6: Who Do You Think You Are
Perhaps one of Spice Girls' most iconic clips, this multi-color performance montage illustrates the phenomenal energy of the band's first chapter. Cast as easy-to-identify caricatures and bonded by their effervescent, youthful spirit, the five-piece make world domination look effortless in this cut, which was expanded for an even more indulgent director's edit. We just couldn't get enough of them at this stage.
Spice Girls - Who Do You Think You Are (Official Music Video)
5: Goodbye
Geri hadn't long left the band when "Goodbye" was released, and the lyrical inspiration for this ballad – Spice Girls' third consecutive UK Christmas chart-topper – isn't hard to decipher. This video plays with a festive theatricality that could have been drawn from the pen of JK Rowling. No Hogwarts here, however, but the specter of the recently departed isn't confined to the haunted house…
Spice Girls - Goodbye (Official Music Video)
4: Stop
The retro-vibe of this Motown-inspired stomper fits perfectly with this video, filmed in Ireland at the start of 1998. Mel B has admitted there wasn't much planning ahead of the shoot, but it all hangs together successfully. The song brought an end to the run of consecutive No.1 hits in Spice Girls' homeland when it got stuck behind the Jason Nevins remix of Run-DMC's "It's Like That," but it was still certified gold.
Spice Girls - Stop (Official Music Video)
3: Say You'll Be There
Pitching the girls as techno warriors and filming this clip in a Californian desert added to the sense that Spice Girls were some sort of mythical cartoon concoction. It amplified an already strong image and would go on to win British Video Of The Year at the Brit Awards. Model and former Madonna beau Tony Ward makes an appearance, but no one was really looking at him!
Spice Girls - Say You'll Be There (Official Music Video)
2: Spice Up Your Life
Perhaps the biggest budget the five-piece ever worked with on a video, "Spice Up Your Life" signaled the arrival of the group's second album in spectacular style. Created in New York by Marcus Nispel, the director built on his previous successes, like Janet Jackson's "Runaway," to create a space-age epic that became a regular on awards-list nominations in the months following its September 1997 release.
Spice Girls - Spice Up Your Life (Official Music Video)
1: Wannabe
It all started here and there's no doubt that "Wannabe" remains the best Spice Girls video. Capturing the band's bold collective spirit while accentuating their individual style, this performance, filmed at the St Pancras Renaissance Hotel, in London, in April 1996, is a masterclass on how to get noticed. Regularly listed as one of the best music videos of all time, "Wannabe"'s international success would depend on this high-concept treatment cutting through. It raised eyebrows on first showing to the record label, but the girls refused to reshoot. Their instinct was spot-on – and not for the last time…
Spice Girls - Wannabe (Official Music Video)
A picture disc version of Spice Girls' Greatest Hits can be bought here.