Power And Politics: Eminem On The Road To 'Revival'
Throughout his outspoken career, Eminem and politics has made for an explosive mix, coming to a head on his fearless new album, Revival.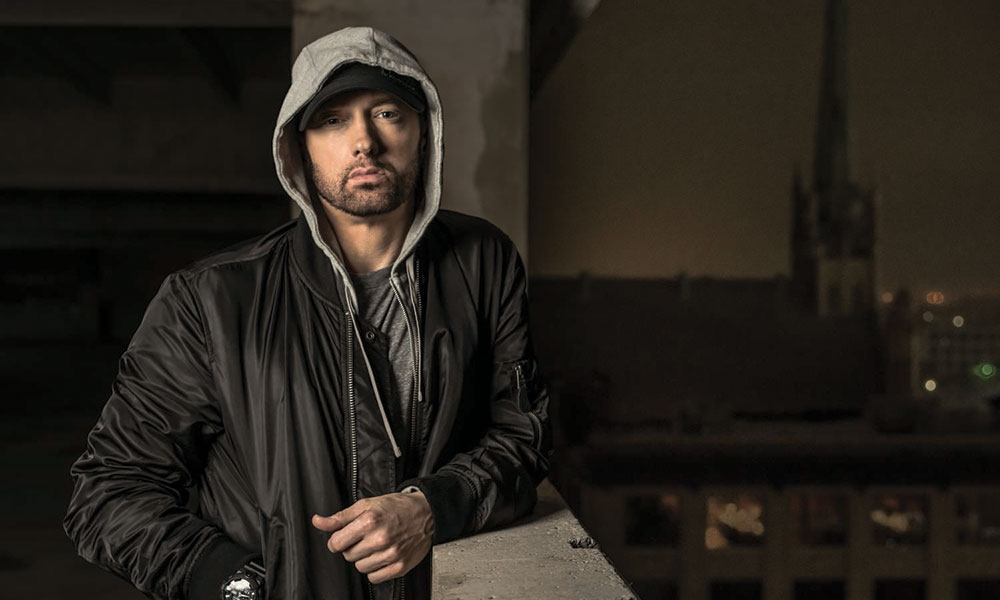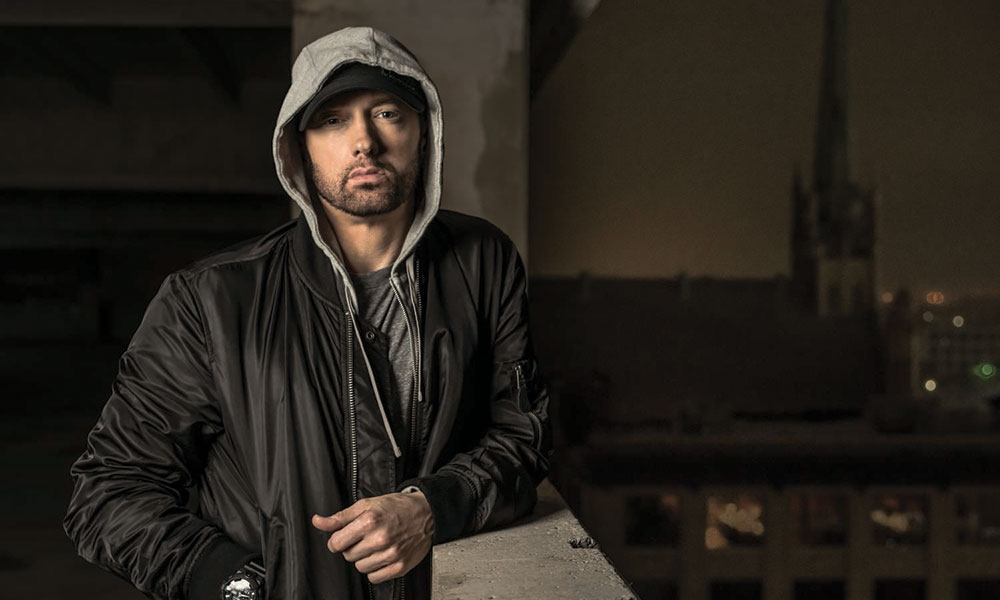 While Eminem has always been known for his controversial and outspoken lyrics, his sensational performance at the October 2017 BET Hip-Hop Awards still managed to shock the world and provided one of the biggest talking points of the year. The four-minute invective, aimed squarely at President Trump, quickly went viral, with its stridently opinionated lyrics setting the tone for Eminem's new album, Revival. It was far from being his first brush with world events, however; Eminem and politics have been an explosive mix for years.
Early in his career, Eminem's darkly comic confrontational rhymes were generally directed towards family members or fellow pop stars. By his fourth album, however, 2002's The Eminem Show, he turned the focus of his anger towards bigger targets as he examined the impact of his music and celebrity on the wider world. Censorship had become an increasing and ongoing problem for him, and on 'White America' Eminem and politics collided head-on as he accused the government of suppression based on his presumed bad influence on white suburban teenagers. Referencing a 2000 congress hearing on children's entertainment and violence, in which Lynne Cheney, the wife of ex-vice president Dick Cheney, accused him of violent misogyny, Eminem rapped: "I must have struck a chord with somebody up in office/'Cause Congress keep tellin' me I ain't causin' nothin' but problems/And now they're saying I'm in trouble with the government/I'm loving it, I shovelled shit all my life, and now I'm dumping it on."
2004's follow-up album, Encore, found him wading into even deeper political waters. Released as a single to coincide with that year's presidential election, 'Mosh' was a vehemently anti-Bush political protest song. Taking the president to task for the Iraq War and The War On Terror in the Middle East, he raps, "Let the President answer a higher anarchy/Strap him with an AK-47, let him go/Fight his own war, let him impress daddy that way/No more blood for oil/We got our own battles to fight on our own soil." An unreleased song from the album, 'We As Americans', which featured the lines "F__k Money! I don't rap for dead presidents/I'd rather see the President dead/It's never been said, but I set precedents" resulted in Eminem being investigated by the Secret Service as a potential threat against Bush.
Though politics took a backseat on Eminem's next three albums, Relapse (2009), Recovery (2010) and The Marshall Mathers LP 2 (2013), he continued to be politically outspoken in interviews. He backed Obama in 2012, saying, "Obama is great. I voted for Obama. He's giving people hope… He's got a great head on his shoulders." Unimpressed with either candidate in the 2016 election, however, Eminem initially went after both; referencing Hillary Clinton's email controversy, he used a 2015 radio appearance to rap, "I promise to wipe my server clean if you face subpoenas."
By 2016, however, and in the white-hot heat of the election campaign, Eminem and politics once again made for a heady mix, and this time his sights were set firmly on Donald Trump. Shortly before the third presidential debate, Eminem released the freestyle track 'Campaign Speech', on which he rapped, "Consider me a dangerous man/But you should be afraid of this dang candidate/You say Trump don't kiss ass like a puppet/'Cause he runs his campaign with his own cash for the fundin'/And that's what you wanted?/A f__kin' loose cannon who's blunt with his hand on the button/Who doesn't have to answer to no one – great idea!"
A further hint of Eminem's determinedly political new focus came at August's Reading Festival when he encouraged the audience to chant "f__k Trump", but few were prepared for the barrage of invective unleashed at October's BET Awards. With his entire a cappella rap aimed at Donald Trump, Eminem  addressed racism, the President's views on guns, and hurricane-devastated Puerto Rico. Calling the administration a "kamikaze that will probably cause a nuclear holocaust", he also risked losing sections of his fanbase as he boldly sent out a message to Trump supporters: "Any fan of mine who's a supporter of his/I'm drawing a line in the sand – you're either for or against/And if you can't decide who you like more and you're split on who you should stand beside/I'll do it for you with this: f__k you."
Having drawn a line and thrown down the gauntlet, it was perhaps no surprise that one of the earliest tastes of Revival, 'Untouchable', once again saw Eminem and politics collide. Rapping about the Black Lives Matter movement, police brutality and the history of racism in the United States, Em was scathing in his assessment of his homeland. "Throughout history, African-Americans have been treated like s__t/And I admit that there have been times where it's been embarrassing to be white boy," he states before declaring, "F__k your Republican views/Pull ourselves up by the bootstraps/Where the f__k are the boots?"
He's even more pointed throughout Revival. In possibly its most shocking moment, 'Framed' sees Eminem unleash a murder fantasy during which he finds Ivanka Trump's body in the trunk of his car. Despite professing his innocence ("I know what this looks like, officers/Please just give me one minute/I think I can explain/I ain't murdered nobody/I know these words are so naughty/But I'm just here to entertain") there's no doubting that, as the album continues, Emimen's focus tightens around President Trump himself.
Indeed, he's most definitely not out to entertain on 'Like Home', during which he urges his fans to "band together for Charlottesville" and to take a stand against a President who "… generally hates the black people/Degrades Hispanics", and whom he variously ties to the Nazis and the Klan: a "chump" who "barely even sleeps/All he does is watch Fox News like a parrot and repeats".
Yet though moments such as these find Revival bursting with Eminem's own hatred, 'Like Home' also carries strains of optimism. He's defiant, charging, "But you ain't runnin' our country, punk/Or takin' our pride from us," and even looks to a brighter future for a States united once more: "So hands in the air/Let's hear it for the start of a brand new America/Without him/And be proud of where we're from."
Eminem has never been afraid to speak his mind, but in taking a stand in this way, he re-emerges as one of the most politically outspoken musical artists today. From a man who has made a career out of laying himself bare, Revival finds him newly rejuvenated and engaging with the world around him.
In a world that seems ready to explode, Eminem and politics is a truly potent mix.
Listen to the best of Eminem on Apple Music and Spotify.
Format:
UK English