It Don't Mean A Thing If It Ain't Got That Western Swing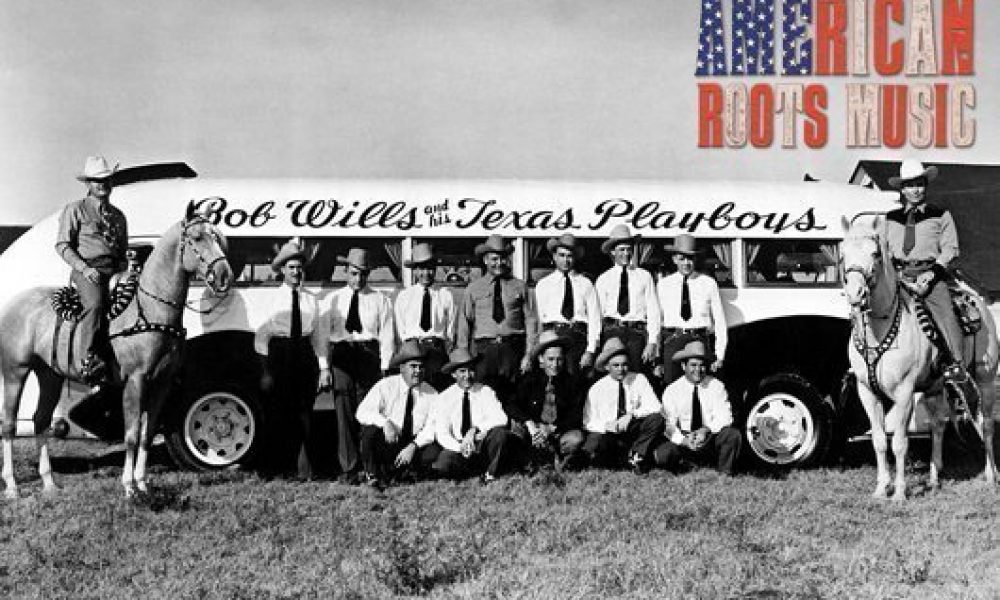 Jimmie Rodgers's 'Blue Yodel' was a big influence on a branch of white country music that also had one foot in the blues. Western Swing originated in Texas, and the first big stars of this exciting new music were Milton Brown and Bob Wills. Both started out as members of The Aladdin Laddies and The Light Crust Doughboys, groups that performed on their sponsor's radio programmes.
Brown and Wills later recorded as members of the Fort Worth Doughboys and by 1934 they had their own bands, Milton, with his Musical Brownies and Bob, with his Texas Playboys. Western swing drew influences from a broad musical palate. In his book 'Lone Star Swing', Duncan McLean describes the music as
"A chilli-pot of New Orleans jazz, old country fiddling, big-band swing, ragtime, blues, pop and mariachi… it dominated Texas, Oklahoma, Louisiana, and beyond — all the way from San Francisco in the west, Memphis in the east — from the mid-Thirties till mid-Elvis. This was western swing."
Recording for Bluebird between 1934 and 1936 Milton Brown produced some brilliant sides before he died of pneumonia as a result of a punctured lung sustained in a 1936 car accident. Milton's lasting legacy was that he introduced Bob Dunn into his Brownies, Dunn played amplified steel guitar… revolutionary back in 1934.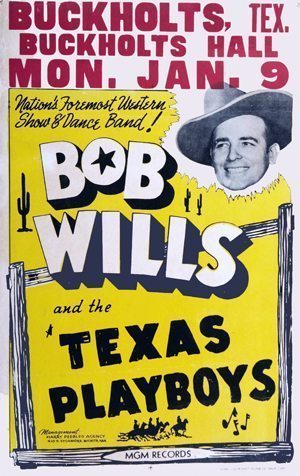 Bob Wills worked on radio station KVOO in Tulsa, Oklahoma, as well as being the resident band in a Tulsa ballroom; he soon signed for Brunswick. Bob established his Playboys as the premier Western swing outfit after Milton's untimely death, Fiddle playing Bob employed the very best musicians, including singer Tommy Duncan.
Bob Wills was very open to the music of black entertainers, reworking many Blues songs including, 'Siting on Top of The World', 'Corrine Corrina' and 'Brain Cloudy Blues'; it is said that he even rode 20 miles on a mule to see Bessie Smith perform.
'Brain Cloudy Blues' was derivative of Kokomo Arnold's 'Milk Cow Blues' from 1934. Texan legends, Asleep at the Wheel recorded two albums, along with star guests, as a tribute to Bob Wills. On the second is 'Milk Cow Blues' featuring Tim McGraw, as is W.C. Handy's 'St Louis Blues' with Merle Haggard. It also includes covers of Emmett Miller's 'I Ain't Got Nobody' and 'Right or Wrong'.
By the late 1930s Western Swing was adopted by Hollywood, with a consequential 'smoothing' of both the subject matter and the style. This took the genre further from its Blues influences, yet despite this Bob Wills never lost touch with his roots. In the early 40s Bob starred in a number of movies, even after the war he still held sway.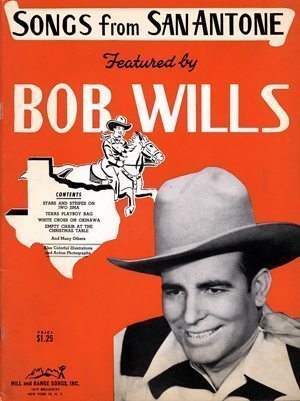 Wills last big hit, 'Faded Love', came in 1950, although he continued to make records throughout the rest of the decade; although Western Swing was in terminal decline. Two heart attacks and a massive stoke in the 1960s confined Wills to a wheelchair effectively signalling the end of his career.
Inducted into the County and Western Hall of Fame in 1968 Wills has been an influence on just about every Texan country musician that has followed him. From Willie Nelson to Asleep at the Wheel and George Strait to Waylon Jennings –all pay homage to Bob, Waylon recorded 'Bob Wills is Still The King' in 1975, the year that Bob Wills died. A little further afield, Hank Williams like so many artists took a little bit of Western Swing and incorporated it into their sound – just take a listen to 'Move It On Over'.
While Bob Wills was certainly the greatest exponent of Western Swing he was not the only one who sought influence from the Blues. Other bands like The Tune Wranglers covered Tampa Red's 'Tight Like That' in 1936, The Nite Owls recorded 'Married Man Blues' in 1937, Jimmie Revard & his Oklahoma Playboys made 'Big Daddy Blues' in 1936 and in 1937 Buddy Jones, who had recorded with Jimmie Davis, cut 'Mean Old Lonesome Blues'. Two years later Buddy cut Rockin Rollin Mama, it may not have had a backbeat but it was heading in the right direction. Those Western Swingers loved their Blues, and there were plenty of Blues people who loved Western Swing.
And one final piece of trivia… did you know Bob Wills influenced Deep Purple? He cut a song called 'Smoke On the Water' during World War 2
Format:
UK English