The Miracles On Monkey Time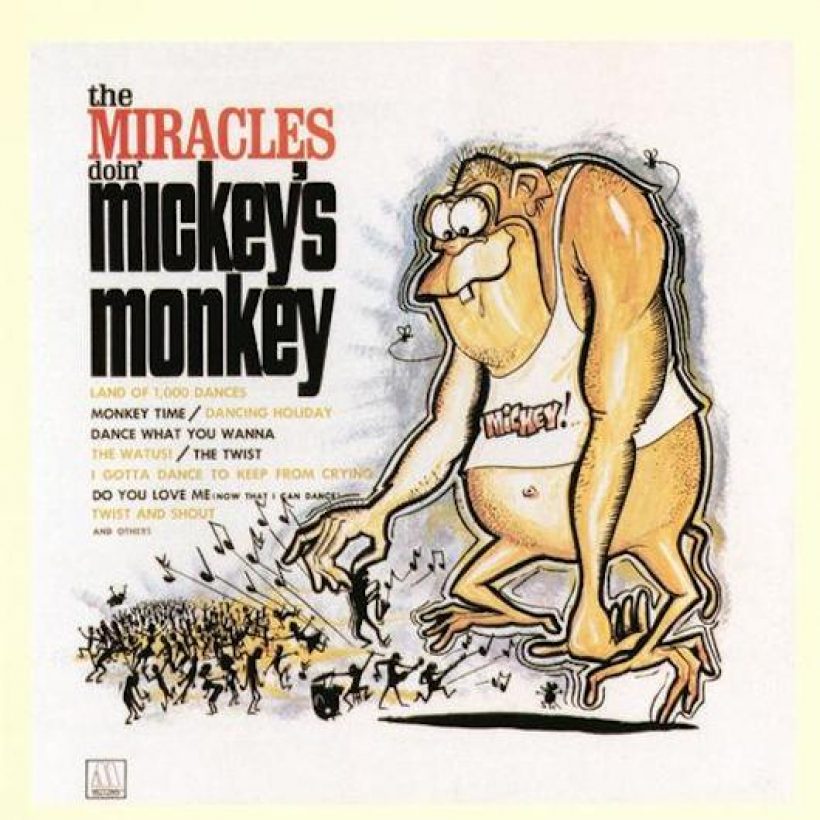 By the new year of 1964, the Miracles had helped pioneer the success of the fledgling Tamla Motown empire. They had two R&B No. 1s to their name, 'Shop Around' (theirs and the label's first million-seller) and 'You've Really Got A Hold On Me,' both of them top ten crossovers to the pop audience. They'd also been releasing albums for a full two and a half years, and were gradually breaking into that market. On January 4, 1964, after scoring a dance craze smash with 'Mickey's Monkey,' they made the Billboard pop album chart for the third time with the LP it inspired.
'Doin' Mickey's Monkey' led off with the Holland-Dozier-Holland composition, a story about an imaginary character from "out of town" who created the dance that became immortalised as the monkey. "Lum-de-lum-de-lai" may not have been the most eloquent lyric to come from the collective HDH pen, or from the mouth of Smokey Robinson, but it was the hook of an undeniably catchy song. The single was another nailed-on crossover hit, reaching No. 3 on the R&B chart and No. 8 pop.
When the album came out late in 1963 to seize the momentum of that and the next Miracles hit, it added another song about the dance that had just been a hit for Major Lance, the Curtis Mayfield composition 'The Monkey Time.' The LP also included that newest Miracles hit, another HDH creation, 'I Gotta Dance To Keep From Crying.'
Built around those tracks was a full record of dance moves, from Chris Kenner's 'Land Of A Thousand Dances' to twist favourites 'The Twist' and 'Twist and Shout.' Robinson got in on the writing act with 'The Groovey Thing,' as did his bandmate Bobby Rogers as co-writer of 'Dancin' Holiday.' And it probably didn't hurt any to round off the album with a version of their Motown labelmates the Contours' 1962 hit written by the boss, the Berry Gordy song 'Do You Love Me.'
'Doin' Mickey's Monkey' made it to No. 113 on the US album chart, which while still modest, was their best showing to date, after 'The Fabulous Miracles' peaked at No. 118 and 'The Miracles On Stage' No. 139.
Listen to 'Doin' Mickey's Monkey' on Spotify
Download the album from Google Play or iTunes or Amazon
Explore our dedicated Smokey Robinson & the Miracles Artist Page
Format:
UK English