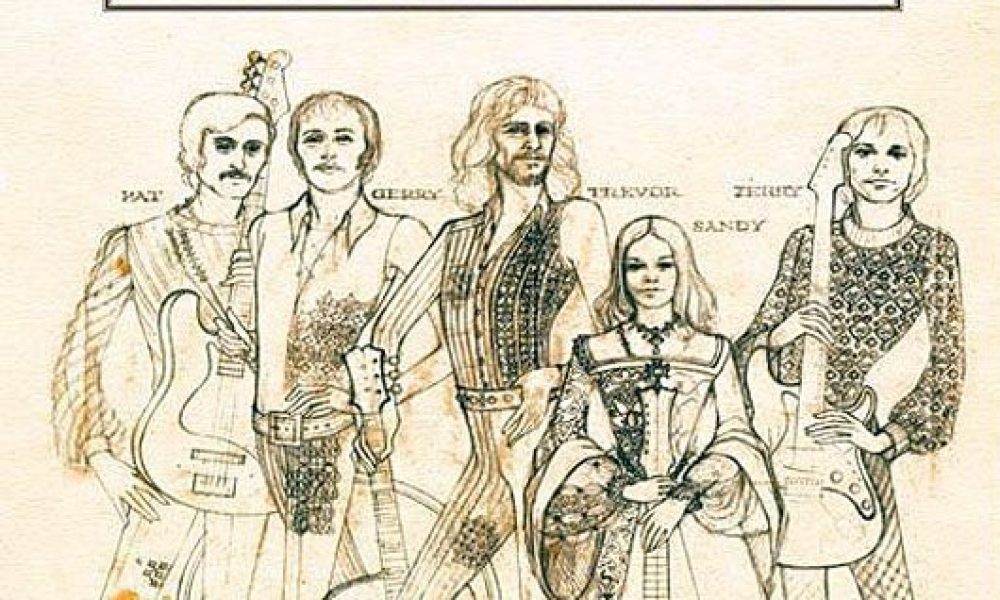 Fotheringay's one and only album release, during their short time together as a band, is one of the jewels of English music. It says so much about what Folk-Rock is, and was, and has been a touchstone for generations of musicians that have listened to it down the years since its release in 1970. Fotheringay has inspired many, but no one has ever bettered their debut album, and the only one to be released during their yearlong existence as a band.
The band took its name from a song written by Sandy Denny's 1968 about Fotheringhay Castle in Northamptonshire, the final place of imprisonment of Mary, Queen of Scots, who was tried and executed in the castle in 1587. The song originally appeared on the 1969 Fairport Convention album, What We Did On Our Holidays, Denny's first album with that group.
Sandy Denny formed Fotheringay in January 1970 after she left Fairport Convention, and they recorded their debut between 18 February and 14 April at Sound Techniques in London. The band was made up of former Eclection member and Denny's future husband Trevor Lucas guitar and vocals with drummer, Gerry Conway, Jerry Donahue, guitar and vocals and Pat Donaldson on bass and vocals. Island Records released their self-titled debut in June 1970
The album spent six weeks on the UK charts, peaking at No. 18. It featured some of Sandy's finest songs and best ever vocal performances on the traditional 'Banks of the Nile', and her own 'The Pond and the Stream', 'Winter Winds', 'Nothing More' and 'The Sea'. Three months later, Sandy Denny was voted Britain's Best Female Singer in the Melody Maker Poll.
A second album was started, but abandoned in January 1971 when Sandy Denny quit the group. Fotheringay played its farewell concert at the Queen Elizabeth Hall on 30 January. Sandy's solo career is well documented by she sadly died in April 1978. In recent years Jerry Donahue, Pat Donaldson and Gerry Conway carefully pieced together Fotheringay 2 from the 1970 master tapes and it was finally released some 34 years later. Fotheringay 2 was everything fans hoped it would be, not least for the inclusion of two more of Sandy's finest songs, 'John the Gun' and 'Late November' and superb arrangements, sung by Denny and Lucas, of the traditional 'Wild Mountain Thyme', 'Eppie Moray' and Australian bush-folk classic 'Bold Jack Donahue'.
Both albums have now been gathered together on Nothing More: The Collected Fotheringay, each bolstered by a generous selection of demos, rehearsal tapes, alternate takes and mixes. The third disc combines a recording from a festival in Rotterdam in August 1970 with previously unreleased BBC session tracks, including Sandy singing a breath taking, unaccompanied 'Lowlands of Holland'.The final DVD might well be the Holy Grail for fans. The four songs recorded by the group for the German TV show Beat Club effectively double the existing footage of Sandy Denny in performance. Two of these, 'Nothing More' and 'John the Gun' were never even broadcast at the time.
Nothing More – The Collected Fotheringay comes in hardcover book format complete with rare and previously unseen photographs of the band plus previously unseen original sketches for the Fotheringay cover by Marion Appleton, Trevor Lucas's sister. The package includes a new essay by Mick Houghton author of a new Sandy Denny biography I've Always Kept a Unicorn, published by Faber & Faber on 5 March 2015.
Pre order Nothing More – The Collected Fotheringay from our deluxe audio store

Format:
UK English