When Gordon Lightfoot Arrived As Top-Class Songwriter On 'Lightfoot!' Debut
In 2017, the public vote in Canada's Polaris Music Prize, for the Heritage Prize in the 1960–1975 category, went to the 1966 debut album.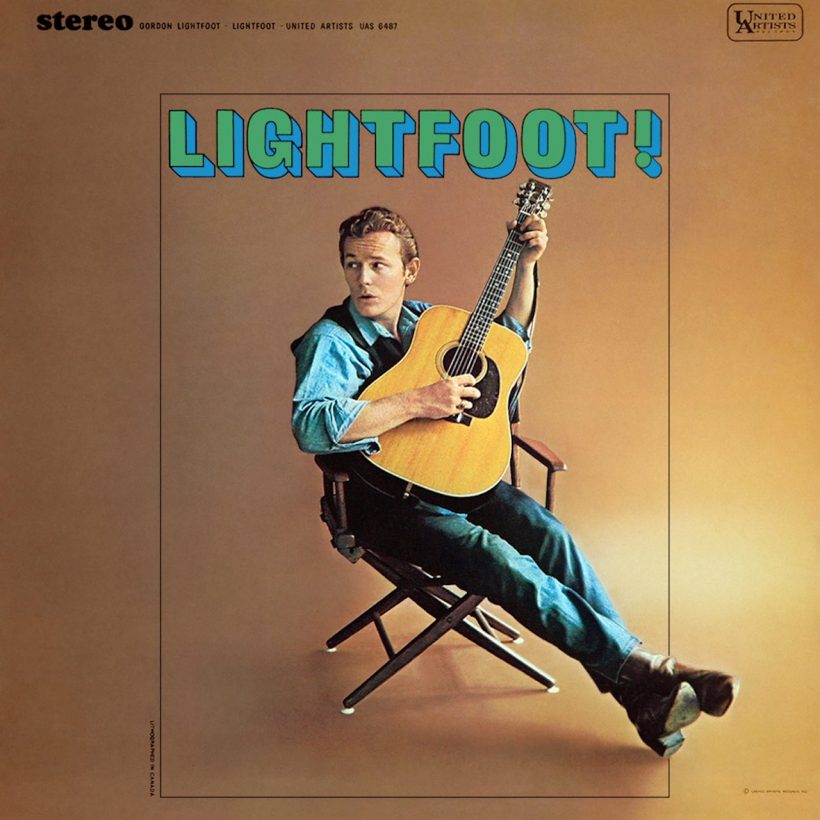 If reassurance were needed that Gordon Lightfoot's admiring audience continued to revere his formative work as well as his later hits, it arrived at the 2017 edition of the Polaris Music Prize. Awarded annually for the best Canadian album, the event has latterly been extended to acknowledge the country's musical history. At that year's event, the public vote for the Heritage Prize in the 1960–1975 category went to the great singer-songwriter's debut album Lightfoot!
The LP, recorded late in 1964 when Lightfoot was 26 but not released until spring 1966, is a fascinating document of the early days of one of the truly great songwriter-performers. The Ontario native was performing and writing from an early age, teaching himself guitar and singing locally before spending two years studying at Westlake College of Music in Hollywood. While there, he wrote and sang radio jingles, before returning to Canada in 1960.
Lightfoot then sang in Toronto with the Singin' Swingin' Eight and gravitated to recording two very country and western-leaning singles in Nashville in 1962, produced, no less, by Chet Atkins. Both were local Canadian hits, even if the singer later said: "The general feeling was that the songs sounded too much like Jim Reeves or Pat Boone. Deciding not to follow that route, I chose to gamble on the folk revival of the early '60s and began working in bars and coffeehouses."
In 1963, he traveled to the UK and appeared regularly on the BBC's The Country and Western Show ("Singer/guitarist: Gordie Lightfoot," ran his billing for the series, which sadly appears to have been wiped from the archives). The single "Day Before Yesterday" was released in the UK to coincide. Returning home again, Lightfoot's reputation grew in tandem with his songbook, which would soon add a composition that remained a signature for his entire, epic career.
"Early Morning Rain" was informed by Lightfoot's days in the US in 1960, when he would occasionally grow homesick and watch the jets taking off from Los Angeles International Airport. In 1964, he resolved to write him a song on the theme. "Hear the mighty engines roar, see the silver wing on high," he wrote. "She's away and westward bound, far above the clouds she'll fly."
Canadian folk and country figureheads Ian & Sylvia were the first (of more than 125 artists and counting) to record the song. They released their version as the title track of their May 1965 LP on Vanguard, which reached No.77 on the Billboard chart.
Other notable folk artists were quick to hear the potential of the evocative, yearning "Early Morning Rain." Peter, Paul & Mary, Judy Collins, and the Kingston Trio all covered it in 1965, before Lightfoot's own version appeared on the Lightfoot! album, which came out on United Artists in April 1966, after Canadian trade magazine RPM had named him Top Folk Singer of 1965. His longtime presence on the circuit was underlined as far back as October 1964, when RPM described him as an "old trouper," and in March 1965 as "a well known name around Toronto for many years."
Others to record "Early Morning Rain" in later years included Julie Felix, Jerry Lee Lewis, and, on his Studio 154 covers set, Paul Weller. Bob Dylan, an avowed fan of Lightfoot's entire catalog, paid him the huge compliment of cutting it in a Spanish-guitar lullaby style for his Self Portrait album of 1970.
But there was another reading that was an especially big deal for Lightfoot. "This is the one that Elvis covered," he said, in the notes for 1999's Songbook compilation. Presley included it on 1972's Elvis Now, and often in his live shows. "I'm really proud of the fact that he recorded it," continued Lightfoot. "He related to it perfectly."
But "Early Morning Rain" was not the only song from the debut LP that had, by then, enjoyed great success elsewhere. Country great Marty Robbins released his take on "Ribbon Of Darkness" as a Columbia single in March 1965 and saw it become his 11th country No.1. Later readings included those by Conway Twitty, Connie Smith, and Don McLean. Industry observers began to speak of the Canadian's trademark "country and Lightfoot" style.
Lightfoot's own "Ribbon Of Darkness" was one of two single releases in Canada that preceded his first album; its B-side, emphasizing the close creative connections between Lightfoot and Dylan, was a version of the latter's "Just Like Tom Thumb's Blues" which enjoyed Canadian success, reaching No.3 on the RPM chart. The single before that was "I'm Not Sayin,'" a No.12 hit in his homeland.
Other highlights of Lightfoot! included "For Loving Me," which again paved the way for the LP when Peter, Paul and Mary's reading made the Top 5 of Billboard's Adult Contemporary chart in 1965. "The most chauvinistic song I ever wrote," reflected Lightfoot, "but, nevertheless, Peter Yarrow [of Peter, Paul & Mary] saw something in it, a tongue-in-cheek sort of approach to the situation.
"Fortunately for me, it became a big hit," he went on. "I was happy to have been a part of their career. It was their recording, along with Ian & Sylvia's help, that opened some doors in New York City that got me where I wanted to go." Indeed, Lightfoot appeared on the same bill with both acts at the 1965 Newport Folk Festival, which went down in history as the setting for Dylan's first electric performance.
Predominantly a vehicle for his own sophisticated songwriting, the 14-track album, produced by John Court, nevertheless included three covers: Ewan MacColl's celebrated "The First Time Ever I Saw Your Face," Phil Ochs' "Changes," and Hamilton Camp's "Pride Of Man," later selected by Quicksilver Messenger Service for their eponymous debut LP of 1968. Lightfoot was accompanied on his first longform studio outing primarily by second guitarist David Rea and bassist Bill Lee (father of filmmaker Spike), with Bruce Langhorne contributing guitar to two tracks.
Reviewing Lightfoot! in the April 30, 1966 issue, Billboard wrote: "This album will certainly boost Gordon Lightfoot's popularity throughout the world, especially with folk fans. He delivers his message with deft and convincing style. A powerful writer, many of the tunes he does here such as 'Early Morning Rain' and 'Ribbon Of Darkess' were hits by other artists."
Before the album's release, Lightfoot played Canadian shows and then traveled to the UK for 11 dates with Ian & Sylvia and David Rey. Meanwhile, his songs were attracting ever more covers, including new ones by George Hamilton IV and John D. Loudermilk, and Lightfoot was among the artists appearing on a TV benefit variety show with Bing Crosby. As he made plans for his second album, his star was very much in the ascendancy.
Buy or stream Lightfoot! on Apple Music and Spotify.