Yusuf/Cat Stevens' 'Father And Son' Soundtracks 'Ted Lasso' Finale
The song arrived as the London-born artist was truly finding his voice among the new cohort of singer-songwriters.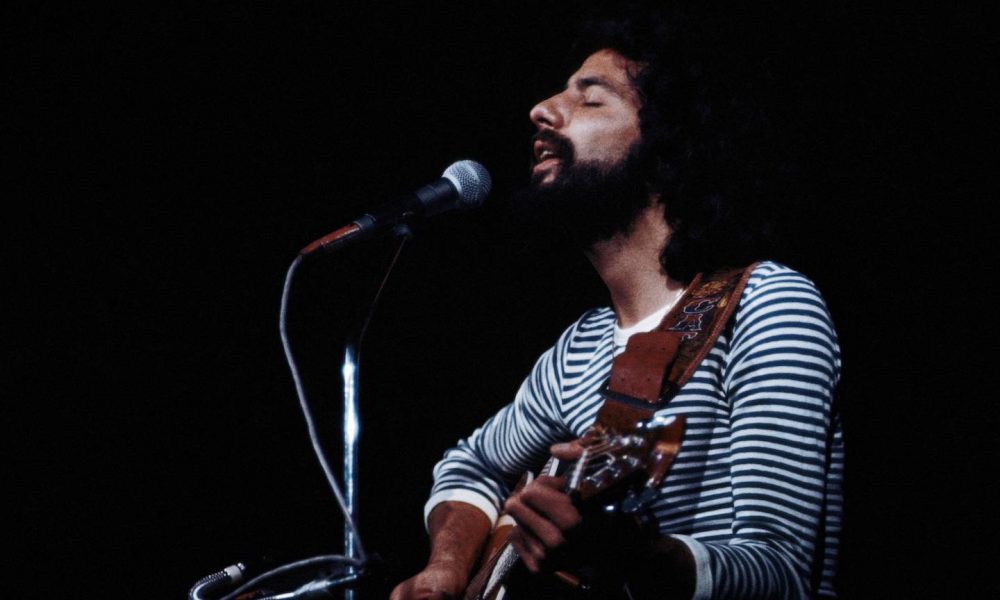 What better song to soundtrack the emotionally-charged Ted Lasso season finale than Yusuf/Cat Stevens 1970 touchstone "Father and Son?"
During a bittersweet montage, we see each character wrap up their story this season in the appropriately titled episode "So Long, Farewell."
The songbook of Yusuf/Cat Stevens contains many songs that resonate loudly with his legions of fans worldwide. But few have continued to touch the hearts of successive generations as much as "Father and Son."
The song arrived as the London-born artist was truly finding his voice among the new cohort of singer-songwriters. Stevens' fourth album Tea For The Tillerman was released in November, just seven months after its predecessor, Mona Bone Jakon. It showed a craftsman reaching the top of his creative powers, on a succession of future classics that included "Wild World," "Where Do The Children Play," and this intense description of the father who struggles with his son's need to grow and escape the emotional confinement of their relationship.
Yusuf / Cat Stevens - Father & Son
It was when Island boss Chris Blackwell heard "Father and Son" that he resolved to sign Stevens to his label. While the song only became a Top 20 hit in Australia among major markets, it was central to the success of Tea For The Tillerman, which climbed to No.8 in a total of 79 weeks on the Billboard LP chart. It went gold there in May 1971 and, when entered for updated certification in January 2001, triple platinum. In the UK, the album didn't reach its No.20 peak until early 1972, continuing to dip in and out of the chart throughout that year.
The single may not have been a hit in Stevens' home country, but there were clear signs that he was developing a new audience, perhaps different from that which had given him his first hits some years earlier. One fan wrote to pop weekly Record Mirror to describe "Father and Son" as "the most incredible thing I personally have heard since Lovin' Spoonful."
In 2020, when Yusuf reimagined the song and indeed the whole LP as Tea for the Tillerman², to mark its 50th anniversary, he told GQ: "'Father And Son' is probably the most prominent and profound song on the album. It doesn't necessarily refer to my dad. It was originally written for a musical. So, after I had my first expedition, you might say, into the pop fray, which happened in '67, '68, I was taken very ill with tuberculosis and I was suddenly erased from the scene.
Yusuf / Cat Stevens - Father And Son
"During that time, I was really looking within myself and trying to find where my center was, and where I was going…all the big important questions you ask yourself when you're on death's doorstep – or it seemed to me, anyway. And I came back to my original ambition, which was to become a composer of musicals. I was living in the West End, and musicals were a big thing in my life. I got together with Nigel Hawthorne, and we started writing this musical called Revolussia.
"Essentially, it was about Nicholas and Alexander, the last tsars of Russia, and against that, there's another story about this family in the farmland, in the country. And the father, of course, basically wants to keep things as they are, while the son is really inspired by the revolution. He wants to join. And so that's the inspiration for that song.
"That's why I'm able to represent both sides – though I feel that my preference, my emphasis, was on the son's side, and the father's arguments were not quite as strong as the son's, which is interesting. Change is basically the theme of the song."
It was a quarter-century before "Father and Son" became a major hit, when Irish boy band Boyzone took it to No.2 in the UK. Yusuf, as he was by then, gave his approval to their version, and as he told Entertainment Weekly: "The song is a testament to the differences we represent to each other, especially in age and traditions. Traditions have a big impact on our lives, and sometimes you've got to walk away."
Buy the Super Deluxe Collector's Edition box set of Tea For The Tillerman.