Robbie Williams, The Master Showman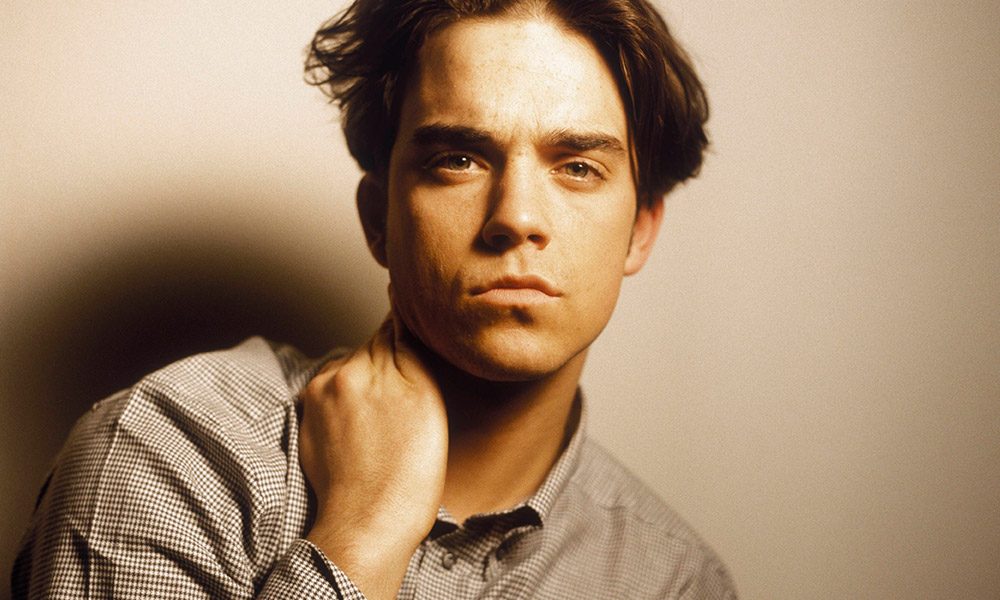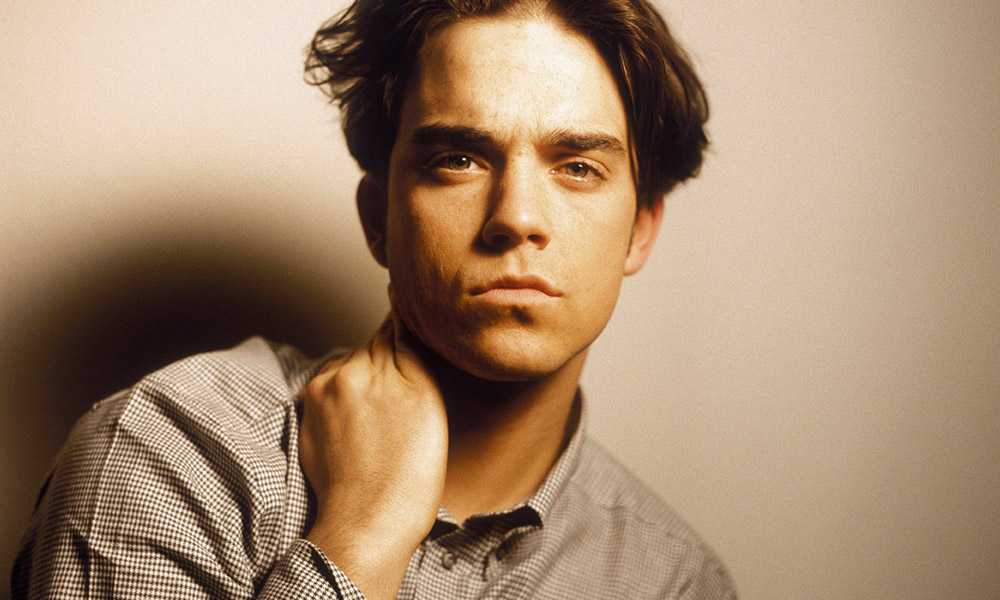 Robbie Williams' 'Live In Tallinn' DVD and Blu-ray release, recorded during the 2013 'Take The Crown' tour on which he thrilled a total of 1.5 million admirers, reasserts his position as the master showman and perhaps the greatest live entertainer of his generation.
His performance on Independence Day in Estonia for 70,000 adoring fans saw Robbie give a typically blistering performance of the hits and favourites that have helped form the soundtrack of pop music over the last two decades and more. 'Let Me Entertain You,' 'Strong,' 'Millennium,' 'Feel,' 'She's the One,' 'Angels,' the list is long.
The new release gives us the perfect opportunity to reminisce about some of Williams' great performances of the past — and to look at exactly how he has become the stage virtuoso we know and love. It's a story that begins almost a quarter of a century ago in a club with very few people in it.
In the autumn of 1990, Robert Peter Williams was a mustard-keen 16, the youngest member of a bunch of hopefuls called Take That as they took the stage for their first gig. The less than opulent location was Flicks, in the rock 'n' roll capital of Huddersfield. "Lots of chrome, a high stage, lights and the obligatory crap sound system," as Gary Barlow later remembered it. He also remembered the attendance as being about 20 people and a dog, but there's some doubt about whether the dog could make it.
But these were the vital days of dues-paying for Take That, and Robbie. They worked that club circuit up and down the UK, performing early Barlow compositions such as 'A Million Love Songs' and covers including the Village People's dance hit 'Can't Stop The Music' and even, hard as it is to imagine, the Rolling Stones' 'Get Off My Cloud.'
Robbie was soon winning his reputation as the joker in the pack, the prankster-in-chief, and an important part of the group's choreographed, high-energy stage routine. But their progress was faltering at first. After a low-key tour of Scotland in the spring of 1991, their debut single 'Do What U Like' was released and reached the heights of No. 82 on the UK chart.
As the hits gradually began to arrive, there were some strange steps along the road for Robbie and his mates, not least the Safer Sex tour of spring 1992 in conjunction with the Family Planning Association. An Alton Towers show for Radio 1 that year previewed the 'Take That and Party' tour, on which Williams got his first real taste of the vocal spotlight on the cover of 'Could It Be Magic' that became their biggest hit to date. "Bees on heat," as Gary described their non-stop stage shenanigans.
With hits in the hold, 1993's 'Summer Of Love' was a bigger and better affair — larger venues, upscale lighting and effects, and now Robbie was coming into his own. "He is a consummate showman," wrote Gary Barlow in his 2006 autobiography with Richard Havers. "At times with his humour, he reminds me of Freddie Starr – much of this probably comes from Rob's father, who worked the clubs as a comedian. His brilliance at working a crowd was in evidence even in those early days."
To say that those initial years of success with Take That went by in a blur is to acknowledge how quickly things moved in their circles, but also how energetically Robbie enjoyed himself, in every respect. By 1994, umpteen No. 1 singles and albums along, they were romping across the continent on the European 'Everything Changes' tour, but Robbie was increasingly more interested in Taking That and Partying. After an infamous appearance at Glastonbury with Oasis, he and the group parted company that summer.
What happened next was the beginning of the rebuilding of Robbie Williams. The initial confidence had to be mustered not from original material, but with a cover of George Michael's 'Freedom,' which became his debut solo single but also formed his first solo performance, at MTV's 'From Köln with Love' show in the summer of 1996.
Within a year, Robbie was back in the groove, casting personal demons aside and topping the album charts with 'Life Thru A Lens,' His full live debut at the Elysée Montmartre in Paris was followed by endless touring in the UK and Europe. At the end of 1997, the Concert for Hope took place at Battersea Power Station, in aid of the Diana, Princess of Wales Memorial Fund. It featured the likes of Peter Andre, Boyzone, and Williams, and this writer, reviewing it for The Times, found him reborn.
"There was a convincing act of show-stealing by the opening turn," ran the review. "Robbie Williams… with a UK tour and several hits to his name, was an engaging and funny performer. On 'Lazy Days' and 'Old Before I Die,' he was pop's Paul Gascoigne…but the Norman Wisdom element remained, on a hilarious remake of his old band's 'Back For Good' featuring thrash-metal choruses."
When 'Angels' and 'Let Me Entertain You' were released as singles, Robbie had the sort of anthems that were simply born to be performed by him on any stage that would have him — and by now that was every stage. He returned to Glastonbury, this time officially, in 1998, and was the surprise hit of the festival.
The next few hard-touring years saw him develop the style, swagger and self-effacing charm that really imprinted his personality on a generation. Soon he was charming the world from Sydney to Singapore, and proving his versatility, singing when he was winning and swinging when he was winning, too. As he once said: "I show off. It's what I do. I'm not Leonard Cohen; I'm an entertainer. So if I'm going to do this entertaining thing, I might as well be the best at it."
2003 brought Robbie's unforgettable shows at Knebworth, perhaps the moment when he really did take the crown as a live draw, playing for 375,000 people over three nights. Two million sales throughout Europe of the resulting album, his first concert record, didn't hurt, either. He also welcomed Take That's Mark Owen back for their first performance together in eight years, on 'Back For Good.'
Next, Williams was entering Guinness Book of World Records territory. When he announced his 2006 world tour, he sold a jaw-dropping 1.6 million tickets in a day, breaking a six-year record held by 'N Sync. The 'Close Encounters' tour, as it was called, opened at the ABSA Stadium, the first of three shows in South Africa in a continent-straddling, $60 million-grossing, 57-date itinerary that remains Robbie's most expansive to date. No fewer than five shows at the Milton Keynes Bowl culminated in a triumphant 'Let Me Entertain You' and an emotional 'Angels.'
Little did we know that a gap of seven years would ensue before Williams mounted his next solo tour. There was the little matter of one of the biggest pop reunions in history with Take That in the interim years. When Robbie joined in, the 'Progress Live' tour of 2011 made mincemeat of stadium box office records throughout Europe.
Solo again in 2013, and now the family man, Robbie's 'Take The Crown Stadium Tour' was on a scale to remind any doubters that no one had come close to usurping his reign. He roared through the stadia of Europe, from the Aviva to the Etihad, from Italy's San Siro to Croatia's Stadion Maksimir, and to the Tallin Song Festival Grounds, which is precisely where we came in, and now the story continues. Hail Robbie Williams, the true king of the road.
Words: Paul Sexton
'Live In Tallinn' is available now on DVD, Blu-ray and download
Order the DVD here and the Blu-ray here

Format:
UK English