So, Just Who Were The Long And The Short?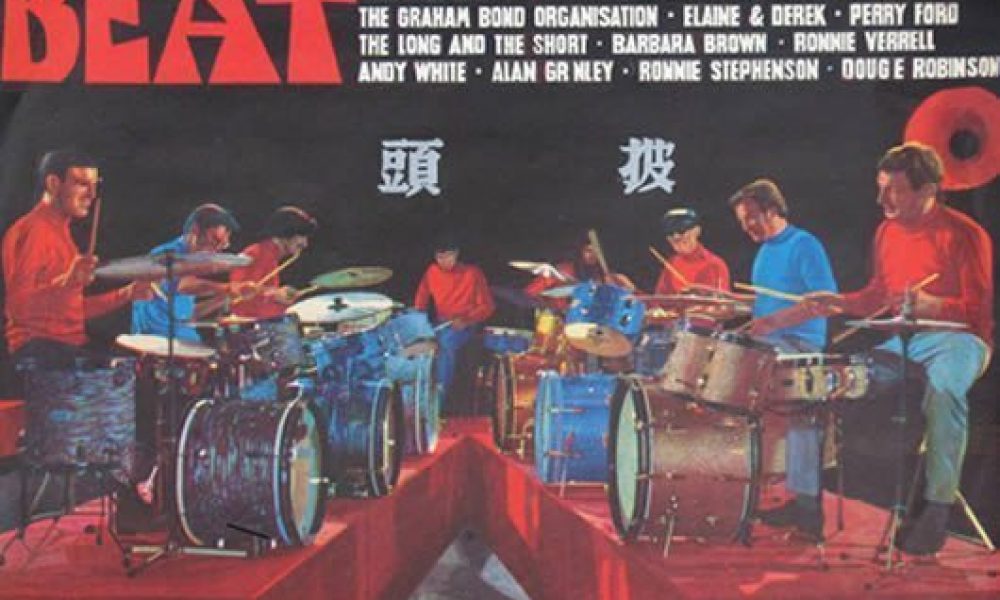 They were originally called, Ringo Rhythm 4, and were made up of Robert Taylor on bass; Allan Grindley who played drums and bugle; guitarist Robert 'Bob' McKinley  and Scotsman, Gerry Watt (on piano. They were originally formed in Taylor's home town of Wigan and made their debut at the town's Empress Hall, going on to play local clubs and halls, before enlisting lead guitarist Les Saint from Liverpool. At this point, in September 1963, they changed their name to Le Ringos and successfully auditioned for Decca's A & R men Dick Rowe and Mike Leander, and a film producer present at the audition offered them a chance to star in a new pop film featuring unknown groups which was to be based on a tropical island – it was all very much of its time.
Changing their name to The Long and Short, they appeared on TV's 'Thank Your Lucky Stars', 'Ready Steady Go' and 'Top Of The Pops' which helped their debut single, a Mike Leander song, 'Letter' to climb to No. 30 on the UK charts in the late summer of 1964.
Their film debut actually came in the film 'Gonks Go Beat', the script having been written by their new co-manager Jimmy Watson with Robert Hartford Davis, (credited on their singles as producer) directing it. The film featured an intergalactic ambassador making peace between the rival factions, one from 'Beatland' and the other from 'Balladisle'. It starred Kenneth Connor and Frank Thornton, and featured music by The Long and Short, Nashville Teens, Lulu and the Luvvers, The Trekkers, Elaine & Derek, The Graham. Bond Organisation and Alan David. On the soundtrack, the group sang Take This Train.
Their second single 'Choc Ice' was again produced by Mike Leander, but could only reach No.49 in December 1964; their career as chart artists was over. It was probably not long after this that they broke up. Bob McKinley went on to become a country singer and secured 19th place in British Country Music Hall of Fame.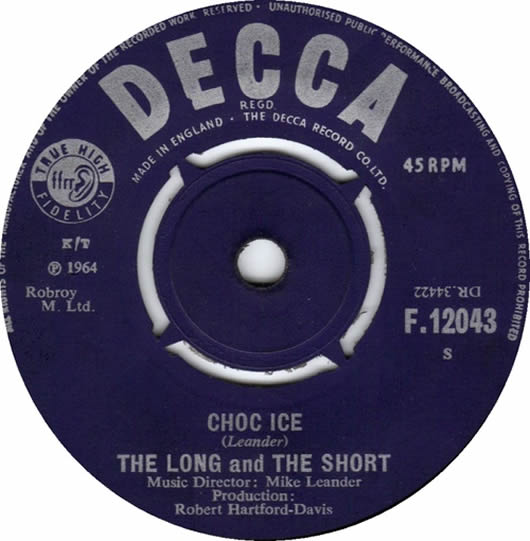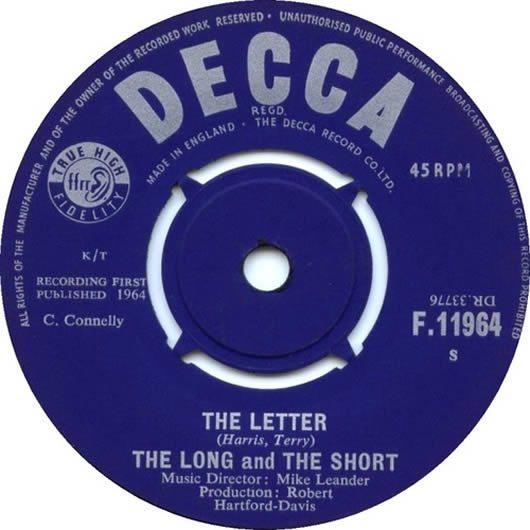 Format:
UK English