Andrea Bocelli
The great Italian operatic tenor and master of light opera and crossover classical pop, Andrea Bocelli is a much-decorated artist with a string of multi-platinum albums befitting his talent and reputation.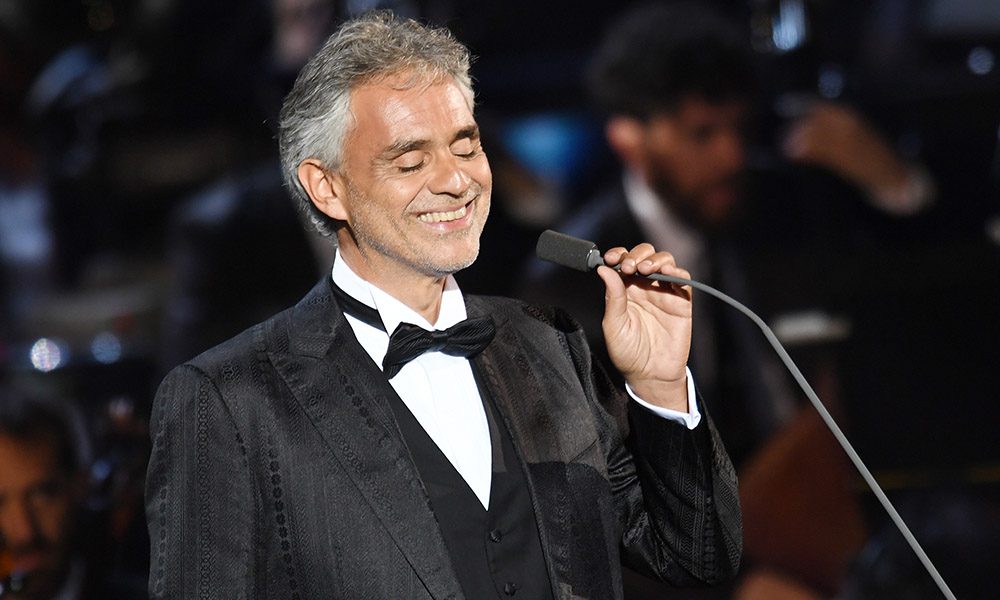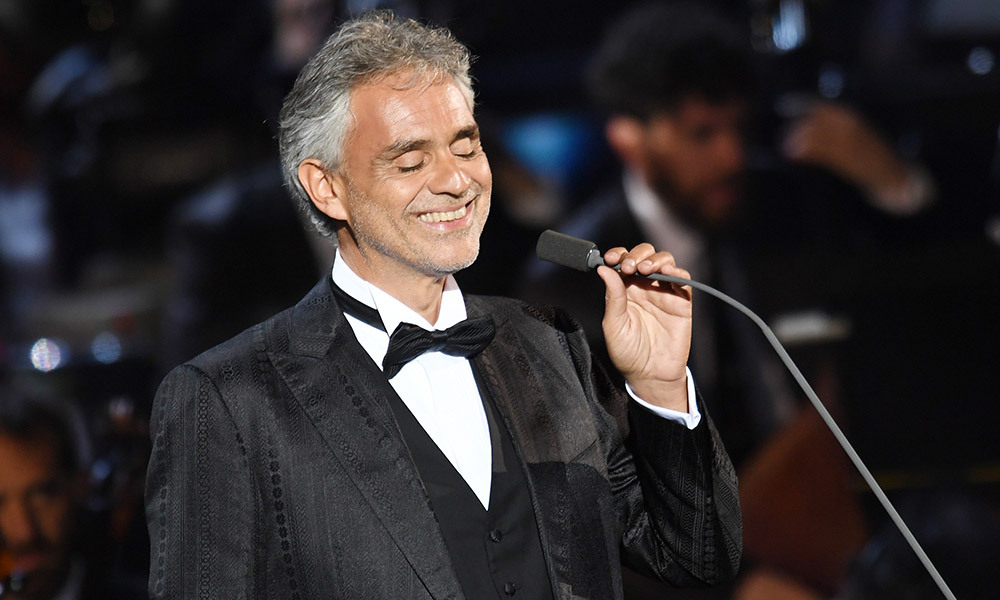 The great Italian operatic tenor and master of light opera and crossover classical pop Andrea Bocelli is a much-decorated artist with a string of multi-platinum albums befitting his talent and reputation. A record-breaker and a heart breaker too, Bocelli has never let the blindness he endured as a youngster blight his career or his ambition. Often Grammy-nominated Andrea has released chart-topping albums in Europe and America and in his native land is feted as a cultural icon, a Grand Officer of the Order of Merit of the Italian Republic no less – who can turn his hand with élan to anything from Latin pop and easy listening to singer-songwriter craft and musicianship that allows him to play the piano, flute, saxophone, trumpet, trombone, guitar and drums.
Bocelli has done duet duty with the very best, our own Sarah Brightman and the French Canadian Celine Dion for starters. His singles are as popular as his albums and he tends to weigh his royalties rather than count them and since most of his discs sell by the million he's a busy man on that front. He also has a star on the Hollywood Hall of Fame and has the distinction of delivering seven Top 10 albums on the Billboard 200 while fingering a place in the Guinness Book of World Records for simultaneously holding the top three places on the Classical Crossover charts in the US. We're talking major star quality here. Andrew Bocelli: a byword for modern operatic brilliance. If you're familiar with albums like the breakthrough Romanza, the best-selling Italian album of all time (20 million copies worldwide and rising) or the equally astonishing Sogno and the ever-lovely Cieli di Toscana you'll no doubt be smitten with this maestro already. If the man's repertoire of tenor tunes has passed you by to this date then it's time to discover him. Pronto.
Born in Lajatico, Italy in 1958 Andrea was something of a prodigy who became adept at playing many instruments and mimicking the great aria singers of the era long before he left school. Having won numerous competitions he might have been devastated by an accident that cost him his sight but undeterred continued his studies in the law and earned extra money by singing in piano bars. In 1992 Italian rock star Zucchero hooked the young Andrea up with Pavarotti to record a demo version of "Miserere" and then took the rising star on tour with him. He was signed to Sugar Music in Milan on the strength of that demo and a version of  "Nessus Dorma" from Puccini's Turandot.
Festival appearances and crossover classical pop events followed and Bocelli recorded his hugely influential debut Il mare calmo della sera in 1994 with the title cut becoming an immediate signature piece that will later be found on his early collection Romanza (1997) and The Best of Andrea Bocelli: Vivere (2007). Either of these discs is a perfect initiation point for the new listener but the individual albums are so superb it's a shame to stop there.
Bocelli (1995) was a smash hit in Europe, particularly in Germany, largely thanks to the airplay afforded to "Con te partiro" and "Viva per lei." The combination of light opera and popular fusion had him established now but Viaggio Italiano (1997) is a purely classical affair that features arias from Verdi, the Neapolitan Salvatore Gambardella, and Donizetti, amongst others, as well as a gloriously triumphant Italian language interpretation of "O Come All Ye Faithful (Adeste Fideles"). Romanza, a hits-plus disc that is completely recommended for its stunning mixture of duets and rhapsodies, follows this bestseller. Platinum in every territory where it made the top ten or higher –Romanza is a genuine classic.
Aria: The Opera Album and Sogno are examples of the man's appeal to different markets. One is a stand-up and holler operatic masterpiece, the other is a crossover disc that interpolates Ennio Morricone, Eros Ramazzotti and Mauro Malavasi and finds space for the single hit "The Prayer" from the Midas team – David Foster and Carole Bayer Sager – with Celine Dion along for good measure.
More precious metal sales ensued as they did for Sacred Arias, Verdi and Cieli di Toscana – the latter being Andrea's biggest selling album in the UK to that point and one of the fastest moving discs in any field in history. Sentimento ensured the UK crumbled again and Bocelli picked up two Classical Brit Awards in 2003 and embarked on a concert season with the London Symphony Orchestra.
The more pop-inflected Andrea and the genius easy listening of Amore are two more discs we urge you to check out. The latter features a version of Elvis Presley's "Can't Help Falling In Love" and finds Andrea working with Christina Aguilera on "Somos Novios  (It's Impossible)", reaching out yet again to a younger audience and a more urban crowd. We're still digging his take on "Besame Mucho" and the Mexican bolero "Solamente Una Vez".
The Best of arrives in 2007 and it's a lovely thing of course with a smart cherry-pick on the tried and tested. But to vary the mood do try Incanto, a love letter to the romantic Neapolitan songs of  Andrea's youth: a warm, sunlit and passionate collection recorded at Splash studios in Naples with a decided whiff of late 1950s La Dolce Vita in the air.  Stupendo!
The good times and fun album My Christmas features guests including The Muppets and Mary J. Blige (Andrea has become something of a favourite now in hip hop circles) and was accompanied by another record-breaking tour that took in everywhere from London's O2 Arena to Madison Square Garden in New York. Barack Obama attended a concert in Washington while an end of tour date in Italy drew in top officials including President Giorgio Napolitano.
From festive fun to Carmen: Duets & Arias (2010) with our hero as Don José, Bryn Terfel's Escamillo and Marina Domashenko in the title role. Notte Illuminata and Concerto: One Night in Central Park (both 2011) brings us up to date with this terrific tenor talent. We love the open-air show for the breadth of material – Morricone's  "Your Love (Once Upon a Time in the West)" sits nearby Puccini's Turandot, Verdi and Schubert. It goes without saying that this skipped to the top of the USA Classical chart.
Always an artist who has done his bit for the less fortunate perhaps, Andre Bocelli's Foundation raises funds for medical research and the fight against poverty. A humble man with an enormous gift for giving pleasure and entertaining millions we are certain you will find much to satisfy you on both counts in his discography. We are proud to have this Italian jewel in the crown. Bravissimo, maestro, e molte grazie.
Words: Max Bell
Format:
UK English