Badfinger
Although they were the Apple label's bright British hopes, Badfinger, who were originally signed to the label as The Iveys ended up as nearly men. If it was more of a case of what could or should have been, Badfinger were victims of circumstances that were often beyond their control.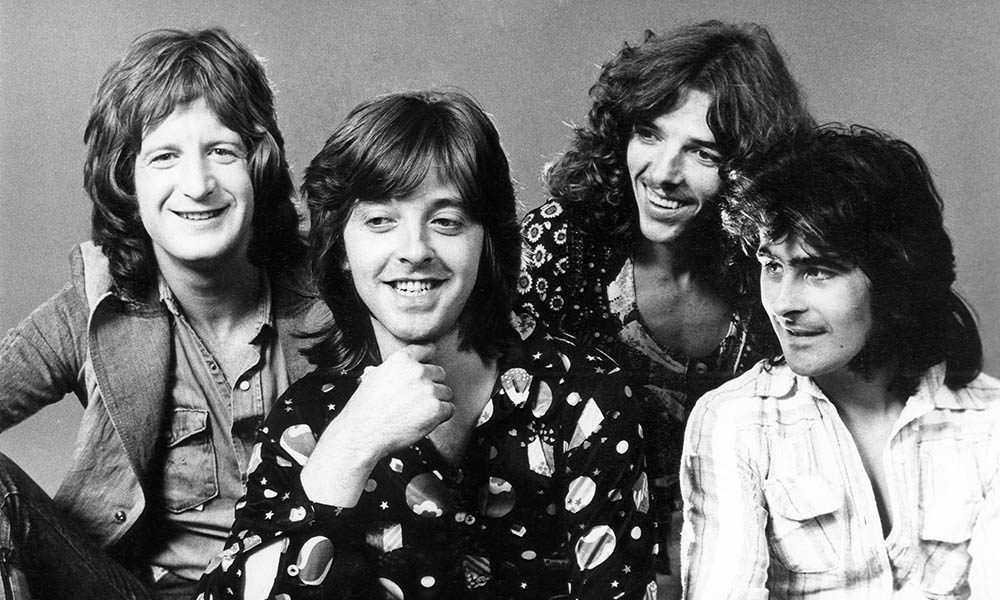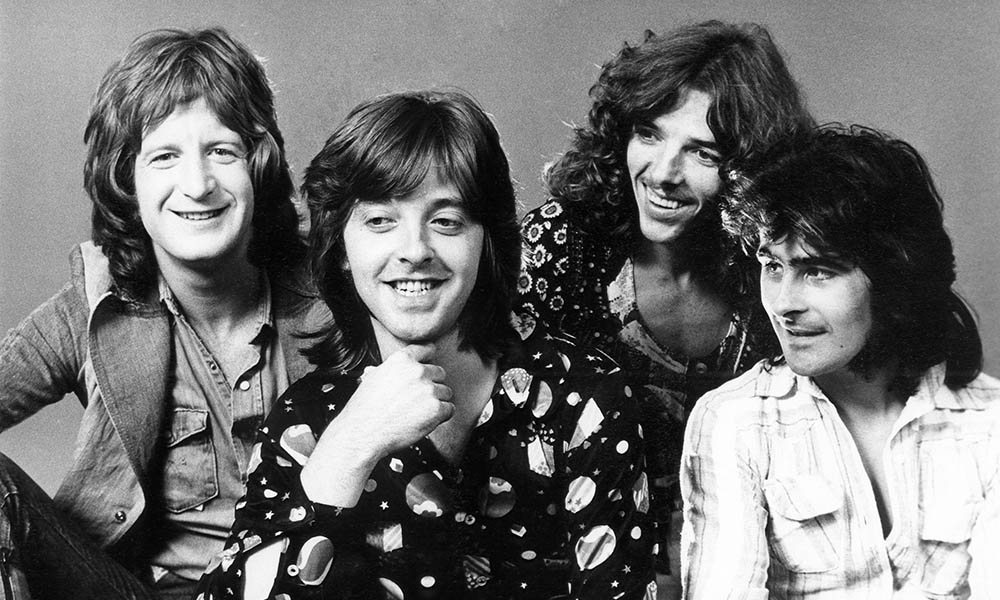 Although they were the Apple label's bright British hopes, Badfinger, who were originally signed to the label as The Iveys – the first act to be given the Apple honour – ended up as nearly men. If it was more of a case of what could or should have been Badfinger were victims of circumstances that were often beyond their control. The kudos of the Apple imprint and the benefaction of The Beatles set-up – Paul McCartney, John Lennon, George Harrison, Ringo Starr, publicist Derek Taylor and the Fabs right-hand man Mal Evans all had a hands-on involvement – was both their making and their undoing. Pioneers in what later became known as power pop, Badfinger had immense talent and weren't without worldwide success either. The four important singles from 1970-1972 were "Come And Get It" (written and produced by Paul McCartney), "No Matter What", "Day After Day" and "Baby Blue". In 1971 a cover of their song "Without You" by Harry Nilsson topped the US Billboard charts and became a stone pop classic. That should have been the starting point for greatness, at the very least, but as the carrot and stick motif on their latter-day album Ass indicated they never quite got to taste the fruits of their labours.
The regrettably early deaths of founding members Pete Ham in 1975 and Tom Evans in 1983 cast a pall over their career, yet there was resilience in between and a string of great albums to discover. Try Magic Christian Music, No Dice, Straight Up or Ass from the initial Apple era and you'll find productions from McCartney, Harrison, Todd Rundgren, Tony Visconti and Chris Thomas amongst others, as well as the EMI/Beatles console wizard Geoff Emerick and the ever-loyal Mal Evans (no relation to Tom). These discs are packed with original classics and often feature extras and rarities so that fans, collectors and those anxious to discover this often overlooked but vital cog in the British pop wheel can fill their boots. In recent years the song "Baby Blue" made a brand new chart entry when it was featured in the hit TV classic Breaking Bad. Breaking Badfinger was a different proposition.
The band that would evolve into Badfinger began in the early 1960s as The Panthers in Swansea, Wales. The Panthers consisted of Pete Ham (lead guitar), Ron Griffiths (bass guitar), David 'Dai' Jenkins (guitar) and Roy Anderson (drums). By the mid-'60s, the band had changed their name to The Iveys; coined from a street in Swansea named Ivey Place as well as a nod to The Hollies. Not long after the name change, Mike Gibbins became the band's permanent drummer. In 1966, Bill Collins began managing the band and they all relocated to a house in London at 7 Park Avenue, Golders Green. Although not savvy in business matters, Collins was instrumental in encouraging the band to write their own material and hone their craft. Collins insisted that the key to success in music was songwriting. In 1967, guitarist Dai Jenkins was replaced by Liverpudlian Tommy Evans and The Iveys lineup was complete.
In 1968 Beatles roadie Mal Evans brought them to the attention of Lennon and McCartney and they wasted no time signing them to the freshly minted Apple. The debut single "Maybe Tomorrow" (an apt title considering their eventual travails) made some noise in Europe and Japan but not surprisingly in the UK or US. Tony Visconti produced most of the album bearing the same name (this before he went on to great things with T. Rex, David Bowie et al) while Mal Evans added his bit to the band's ideas.
Oddly the album wasn't released in the UK or America and it transpired that demos sent to Apple were being rejected either by The Beatles (this seems unlikely) or by the label executives (far more likely given the organised chaos at HQ). Sensing their disappointment McCartney offered them songs he was writing for a movie soundtrack to the in-production film The Magic Christian, starring Ringo and Peter Sellers. "Come And Get It" was the Macca gem while Ivey's offered "Carry On Till Tomorrow" and "Rock Of All Ages".
During this period Griffiths was replaced by Liverpudlian guitarist Joey Molland, and they also changed their name. Lennon's acerbic suggestion that they call themselves The Prix was probably none too serious and Macca's Home was also rejected. They settled on Badfinger, a reference to the working title of The Beatles' "With a Little Help from My Friends", aka "Bad Finger Boogie": apparently Lennon had hurt his finger playing the piano on that track, hence his bad finger….
"Come And Get It" was an immediate hit and a worldwide delight. It reached #7 in the US and #4 in Britain. Now they had the reason to record an album they went to work on The Magic Christian, remixing tracks from The Ivey's Maybe Tomorrow, including Macca's earlier productions for the movie and some newer compositions. Badfinger were up and running.
Given their confusing routine the second album No Dice can really be viewed as Badfinger's proper debut. It contains the classic "No Matter What" – where their delicious harmonies and superb musicianship power the track along. Here you'll also find the original of "Without You" and wonder why they didn't release that as a single themselves? Still, Harry Nilsson did the honours and so the Ham and Evans partnership was rewarded with the Ivor Novello Song of the Year accolade in 1972. Mariah Carey covered it again in 1994 – and the song is obviously now a standard. Better late than never….
The No Dice era was when Badfinger were peaking. Ham and Evans sang backing vocals on Ringo's hit "It Don't Come Easy" on the Ringo LP sessions (also featuring the other Fabs as well as Nilsson, The Band, Marc Bolan, Nicky Hopkins, Billy Preston, Jim Keltner and Klaus Voorman).
Evans and Molland played acoustic guitars on Lennon's Imagine album, contributing to "Jealous Guy" and "I Don't Want To Be A Soldier". Once again they came into contact with the biggest names in the business, Phil Spector for one.
Back in Abbey Road, Badfinger began new sessions with George Harrison and Geoff Emerick, but when the Beatles' guitarist left to finalise his Bangladesh project the Philly pop genius Todd Rundgren was drafted in to re-record some of the material and also oversee several brand new songs. The resulting album Straight Up spawned their biggest hit, since "Day After Day" made #4 in the US and 310 in the UK, and turned Gold in 1972. Harrison's electric slide guitar is the prominent instrument but Ham's accompanying rhythm guitar is equally spectacular. Other guests are Leon Russell on piano and guitar and Voorman on electric piano. George also played the guitar on "I'd Die Babe" making Straight Up an essential discovery for Badfinger fans and Beatles obsessives.
Rundgren began the production work for Ass but his methods didn't always delight the group. In 1974 Pete ham recalled how,
"We tried to produce Ass ourselves, initially. And we needed someone to save the day, because we weren't all that experienced, you know? Everybody's idea of a good production is different. That was one of the problems. Because we had four different opinions. So we had to get somebody from the outside with that ear to say, 'Hold it. You've gone a bit nuts there.'"
Enter Chris Thomas, engineer and part producer of the so-called White Album. Further legal complications held up the release of Ass where you'll find the track "Apple of My Eye", Ham's bittersweet kiss-off to the label and also, poignantly, the last single released on Apple Records.
Now all these albums are available with extras. The Iveys' Maybe Tomorrow adds four bonus songs, including the wonderful Ham/Evans trade-off "And Her Daddy's A Millionaire". The Magic Christian Music by Badfinger disc adds an alternative version of that track and other remixes and mono mixes. The Digital bonus 2010 is a remaster with The Iveys song "Arthur" as a standout. The original album is also notable for McCartney's piano on "Rock of All Ages" and his percussion on "Come and Get It."
1970's No Dice must be heard for the CD bonus tracks/2010 remaster of "No Matter What" in mono studio demo form and the demo of "Without You" which is the early attempt that Nilsson used as his guideline/template. That song really made Nilsson.
1971's Straight Up is often considered to be Badfinger's most fully-realised power-pop masterpiece, and the remaster is a thing of wonder for sure with earlier versions of "Name of the Game", the US single mix of "Baby Blue" and the unreleased before "No Good at All" and "Sing for the Song". The digital-download adds miraculously rediscovered work in progress attempts at "Money", Molland's epic "Mean, Mean Jemima" and Ham's "Perfection". Listen to this: it is fantastic.
Original producer Harrison wanted to introduce a mature concept that could echo The Beatles' 1969 album Abbey Road. That was how he envisaged Straight Up. A sterling idea that was scuppered by George's urgent departure to stage the Concert for Bangladesh show in New York City. But at least Ham, Evans and Molland and their acoustic guitars got to participate there while Gibbins played the percussion. Those reading the small print on George's All Things Must Pass would already have seen that the Badfinger boys were all over that triple bonanza, credited as "Badfinger" for their "Rhythm Guitars and Percussion". You can hear them on "My Sweet Lord", "Wah-Wah", "The Art of Dying", "Awaiting On You All", "Isn't It A Pity" and "Beware of Darkness" – only some of the greatest songs ever recorded, then!
On Bangladesh, Pete Ham played alongside Harrison for an acoustic duo of "Here Comes The Sun" and one can now see Badfinger's presence on the 2005 DVD release of the historic documentary film with bonus 'Extra' sections.
The final Apple release Ass is often ignored but contains much of merit. Tom Evans' wah-wah solo on "Blind Owl" is worth the price of entry and the usual 2010 remaster/digital download versions are packed with great alternates, early mixes and the unreleased "Piano Red". Apple Records fanatics note the "Apple of My Eye" b/w "Blind Owl" single release from December 1973 was the last single on the label (Apple 49), one that wasn't performed by an ex-Beatle, and it remains a nice collectable with the band's name appearing four times on the label – arranged by, produced by, written by, and as the group BADFINGFER in bold caps. Some kind of record!
A new contract with Warner Bros. gave us the self-titled Badfinger (1974), Wish You Were Here (1974), Airwaves (1979), Say No More (1981). Day After Day: Live is an archival treasure from 1974 while the BBC in Concert 1972-1973 is as close as we'll get to the band in their pomp today.
Of great interest is Head First, an unreleased album from 1974, recorded at Apple Studios but without Molland who had temporarily departed. Packed with songs about the music business and management in general this is a snapshot in time.
Joey Molland still keeps the Badfinger name alive and old fans still swear by the excellence of the original group. They're not wrong either. Set aside some time to discover some Badfinger. If you want it, here it is, come and get it.
Words: Max Bell
Format:
UK English