Who Was Beethoven's 'Immortal Beloved'?
After Beethoven's death in 1827 an unsent love letter was discovered dedicated to his 'Immortal Beloved' – but who was she?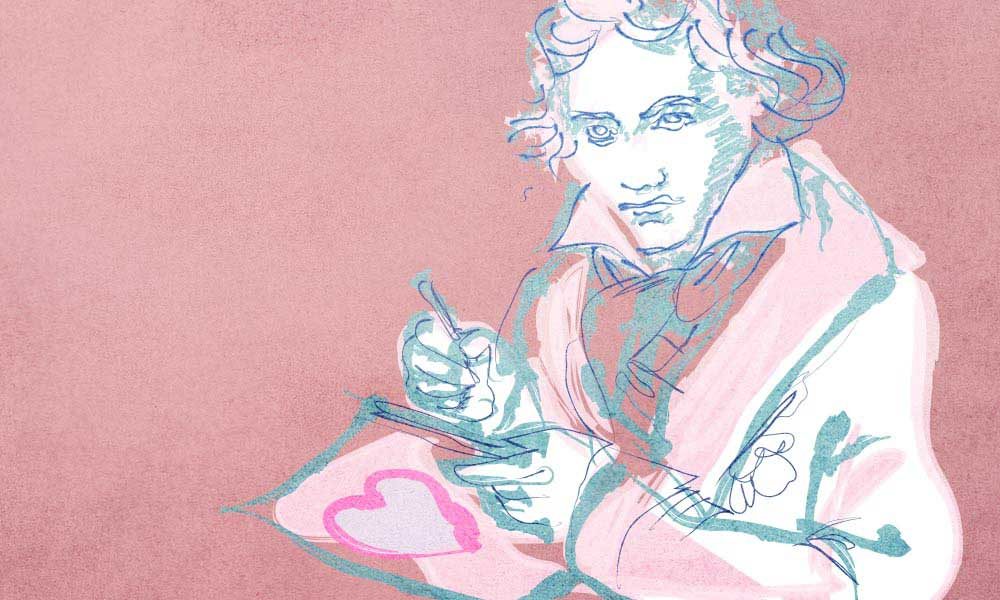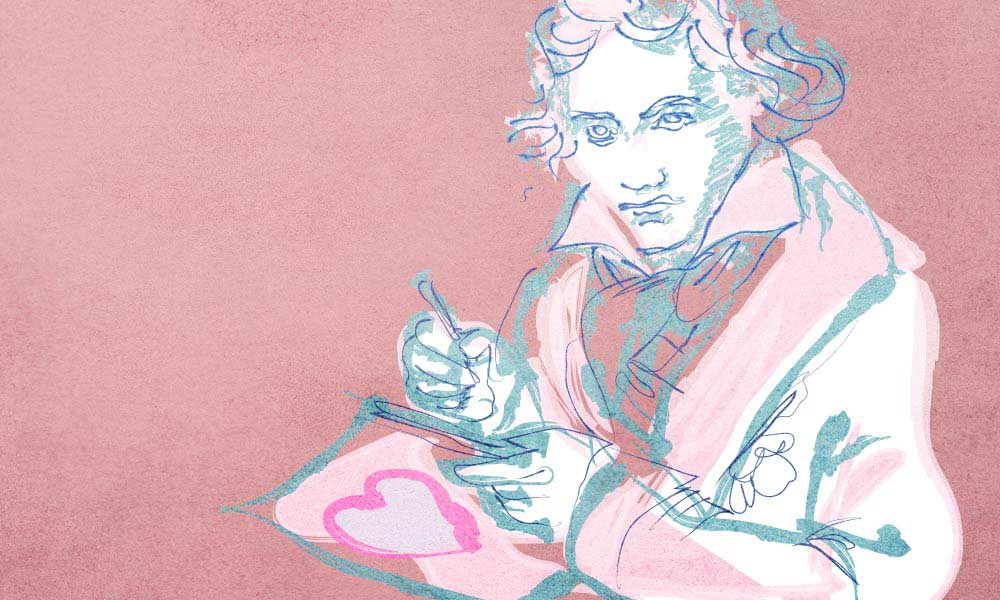 After Ludwig van Beethoven's death on March 26, 1827, his sometime secretary Anton Schindler and two close friends combed through the composer's last apartment, hunting for some bank bonds he had bequeathed to his nephew. They found more than they had bargained for. In a small drawer, they discovered the Heiligenstadt Testament, in which Beethoven had described his devastating battle with deafness in 1802; and with it, an apparently unsent love letter, addressed only to a woman he terms his 'Immortal Beloved'.
Listen to Beethoven's piano sonatas on Apple Music and Spotify.
Who Was Beethoven's 'Immortal Beloved'?
In Beethoven's unsent love letter to his 'Immortal Beloved' he wrote:
My angel, my all, my own self —
only a few words today, and those in pencil (with yours) …
Can our love persist except through sacrifice, through not demanding everything? Can you change the fact that you are not entirely mine, I not entirely yours? Oh, God, gaze at the beauties of Nature and prepare your mind for the inevitable. Love demands everything and rightly so, and thus it is for me with you, for you with me …
…While still in bed my thoughts rush to you, my Immortal Beloved, sometimes joyfully, other times sadly, waiting to see whether Fate will listen to us. I can only live with you either completely, or not at all. Yes, I have decided to wander far and wide until I can fly into your arms and call myself entirely at home with you, and send my soul enveloped by yours into the realm of spirits — yes, regrettably it must be so. You will recover more easily as you know I am faithful to you; never can another own my heart, never — never! O God, why must one leave somebody one loves so much? …
…Be calm — only through calm consideration of our existence can we achieve our goal of living together — be patient — love me — today — yesterday. You — my love — my all — farewell — oh go on loving me – never doubt the most faithful heart of your beloved
L
Ever thine.
Ever mine.
Ever us.
So well did Beethoven protect the identity of his Immortal Beloved that musicologists spent around 200 years trying to find out who she was. It is still disputed today.
Something else vital was missing from the letter: a date. Beethoven wrote on it only 'July 6'. No year. Through matching days of the week with the date, possible years were narrowed down to a shortlist and watermark identification finally settled upon 1812. From that flowed several possibilities of Beethoven's Immortal Beloved.
Antonie Brentano, née Birkenstock
Antonie Brentano, née Birkenstock, Viennese by birth, had married Franz Brentano, a businessman from Frankfurt, and had five children. The family came back to Vienna to care for her father in his last illness and after that to sort out his estate, which centred on a fine art collection. While there, in 1810, they became acquainted with Beethoven; Franz swiftly became his friend and patron. Antonie's grief had overwhelmed her and turned into what seems to have been a chronic depression. Beethoven tried to help her by playing to her for hours at a time.
The American musicologist Maynard Solomon's biography of Beethoven brought the Antonie Brentano theory much credence. She was the only candidate proven to have been in the relevant area of Bohemia on the relevant night. Moreover, eight months later, on March 8, 1813, she gave birth to a son, who later became mentally and physically disabled. The scholar Susan Lund has advanced the theory that Beethoven suffered much anguish at separation from this child to whom he could never be a father, and possibly wrote the Missa Solemnis for him.
But Antonie's husband and children were with her, and Beethoven actually stayed with them en famille in the Bohemian spa towns of Karlsbad and Franzensbad that August, shortly after that letter was written. As the biographer Jan Swafford puts it, "It is hard to believe that Beethoven could have thought of breaking up Antonie's family, of taking on five children, of dealing such a blow to a man he liked and respected." He dedicated some important works to Antonie, including the Diabelli Variations Op. 120 – but this tells us little beyond the fact that the Brentanos were friends and patrons of his.
httpv://youtu.be//VXLpzWqGeGg?rel=0
Bettina Brentano
Bettina Brentano, Franz's precocious half-sister, met Beethoven in 1810 when she was 20 years old. She was a fine writer and worked with her other half-brother Clemens and the poet Achim von Arnim on the collection of folksongs Das Knaben Wunderhorn. A lively and almost too imaginative personality, she certainly flirted with Beethoven, who was not averse to this and called her by the familiar 'du', which he rarely used in correspondence with any woman. Nevertheless, she soon married von Arnim, and by July 1812, she was happily settled and had recently given birth to her first child.
Countess Julie, nicknamed 'Giulietta', Guicciardi
Countess Julie, nicknamed 'Giulietta', Guicciardi came to Vienna from Trieste with her parents in 1800 and became a pupil of Beethoven's. He seems to have been temporarily infatuated with her, and she with him; but of course, she was compelled to marry within the aristocracy. Anton Schindler's 1840 biography of the composer suggested that the Immortal Beloved letter was written for her.
Beethoven's dedication to Julie of the Sonata In C sharp minor Op. 27 No. 2, the 'Moonlight', nevertheless probably had less to do with an emotional connection than with the fact that her family owned one of the best pianos in Vienna and Beethoven was keen to try out some unusual effects in this piece (the late Dr Rita Steblin revealed this in a fascinating academic article). Meanwhile, Beethoven's conversation books provided a startling anecdote that suggested she had once, after her marriage, thrown herself at him – an offer the high-principled composer rejected in horror. Essentially, we can rule her out.
Beethoven: Piano Sonata No. 14 in C-Sharp Minor, Op. 27 No. 2 "Moonlight" - I. Adagio sostenuto
Countess Therese Brunsvik von Korompa
Countess Therese Brunsvik von Korompa, often known as Therese von Brunsvik. Julie Guicciardi was first cousin to the Hungarian Brunsvik siblings; it was they who met Beethoven first. They first came into his life in 1799, when their mother brought her two eldest daughters from Hungary to Vienna for a few weeks to study with him.
Therese was a fine pianist, highly intelligent and fluent in five languages. After her father's death, she took a vow never to marry. She also had a slight curvature of the spine. In her forties, she followed her vocation into teaching and ultimately founded the Hungarian kindergarten system. She was thought by some to be a perfect spiritual partner to a spiritual composer. The two were certainly close friends for many years and Beethoven dedicated his Piano Sonata In F sharp, Op 78 to her. But Beethoven's Immortal Beloved letter is not particularly spiritual: it is the intimate writing of a man knocked sideways by the unexpected physical consummation of the love of his life.
Therese's former pupil Marie Hrussoczky, as "Mariam Tenger", wrote a memoir describing the elderly Therese's supposed account of her secret engagement to Beethoven. But did Therese have something to hide? Likewise, her brother, Franz, a close confidante and correspondent of Beethoven's? It is possible that Schindler's identification of Julie Guicciardi as Beethoven's Immortal Beloved started with Franz's input. Because there was another Brunsvik …
Countess Josephine Brunsvik von Korompa
Countess Josephine Brunsvik von Korompa, Therese and Franz's younger sister, caught Beethoven's eye at those first Vienna piano lessons in 1799, when she was 20 years old. Days later, she met Count Joseph Deym and married him within weeks. Deym was a waxworks artist, had opened his own museum, and had made Mozart's death mask. He was more than twice Josephine's age. After they had produced four children in five years, he died of pneumonia. Battling to care for the family, manage the museum and face unsuspected debts, Josephine suffered a nervous collapse.
Beethoven now, in 1804, set about a tremendous courtship of the widowed Josephine. In 1957, 13 love letters he had written to her were published for the first time, proving a revelation. Their impassioned language is not dissimilar to that of the Immortal Beloved letter (he often calls her "my angel", for instance). The fragile Josephine had difficulty coping with this intensity. Eventually, she cut him from her life: if she married a commoner, she would lose custody of her noble-born children.
In 1810 Josephine married her sons' tutor, Baron Christoph von Stackelberg. She had to: he had seduced her and she fell pregnant out of wedlock. The pair were ill-suited, and a crisis occurred in 1812, when their debts spiraled out of control: in the wake of Austria's defeat by Napoleon, the Austrian currency had been devalued to a fifth of its former worth. Several of Beethoven's princely patrons were also ruined. Her marriage on the rocks, Josephine expressed the intention of going to Prague to consult likely advisors there, possibly including the Emperor himself. Beethoven, meanwhile, was en route to the spa of Teplitz on medical advice and stopped in Prague to see to some of his financial backers, since their financial loss was also his.
There is no definitive proof that Josephine was there; nor of how or where she and Beethoven might have run into each other. Yet the circumstantial evidence is strong. She intended to go; he canceled a meeting for that evening due to unexpected circumstances; and Josephine scarcely considered herself still married. Nine months later, on April 9, 1813, she gave birth to a daughter who she named Minona. (Perhaps there was indeed a child over whom Beethoven suffered the anguish of separation.)
Minona von Stackelberg was the only one of Josephine's children who lived into her eighties. Photographs of her demonstrate a detectable likeness to Beethoven. She never married, but made her living as a companion in an aristocratic family – and as a teacher of music. An opera has just been written about her life, by the Estonian composer Jüri Reinvere, premiered in Regensburg in January 2020.
For Josephine and Beethoven, the situation was impossible
For Josephine and Beethoven, the situation was impossible. Beethoven wanted to be with her wholly or not at all, but Stackelberg – even though he had basically moved back to Estonia – would never release her. When Minona was about 18 months old, he brought police to the house in Vienna and forcibly abducted his two daughters and Minona.
A year or so later, Josephine had an affair with another tutor she had engaged for her sons. This, too, resulted in a pregnancy (the tutor took the baby away to raise her, but she died aged two). Yet Josephine does seem to have maintained some contact with Beethoven; it appears that they met in Baden in 1816, where Beethoven's nephew – whom the composer was fighting to adopt – noticed his uncle walking arm in arm with a mysterious woman. Therese, too, would have served as a go-between.
Josephine died of consumption in 1821, aged 42. Her story was long under-recognized, for complex reasons; not least, her family would understandably have wished to avoid a scandal. Today, however, she is considered almost certainly "the one"; this theory is now accepted by the Beethovenhaus in Bonn.
A recurring motif mirrors the rhythm of Josephine's name
But does any of this affect the music? It's possible. The musicologist Marie-Elisabeth Tellenbach, in her book Beethoven And His Immortal Beloved, nearly 40 years ago identified a recurring motif in Beethoven's music mirrors the rhythm of Josephine's name. It appears in numerous guises all the way from the song 'Andenken' and the 'Andante favori' (which Beethoven gave to Josephine as "your – your – Andante") to the E Flat Piano Sonata Op. 31 No. 3, the String Quartet In F minor Op. 95, the song cycle An Die Ferne Geliebte, the three late piano sonatas, Opp 109, 110 and 111 – and the list could continue.
Did this motif start as a signal from him to her, then develop until Beethoven was effectively immortalizing his beloved? In the end, we can only listen and ponder.
Jessica Duchen's novel Immortal, published in October 2020, reveals the epic love story behind Beethoven's 'Immortal Beloved' letter. "Beautifully crafted and painstakingly researched, Immortal offers a winning blend of historical rigor and free-wheeling imagination," noted BBC Music Magazine.
Recommended Recording
Wilhelm Kempff's Complete Beethoven Piano Sonatas (8CD + Blu-ray Audio Disc) feature his legendary 1960 stereo recordings, which have been remastered and reissued.
Gramophone observed, "Wilhelm Kempff is one of the greatest musical persuaders of our time … he consistently gives you the illusion that he and you are discovering the music afresh together."
Wilhelm Kempff's Complete Beethoven Piano Sonatas can be bought here.
Format:
UK English