Decca Records Celebrate 90th Anniversary In China
Decca Records celebrated their 90th anniversary in China with a special event featuring Miloš, Jess Gillam, and new signing Super Vocal.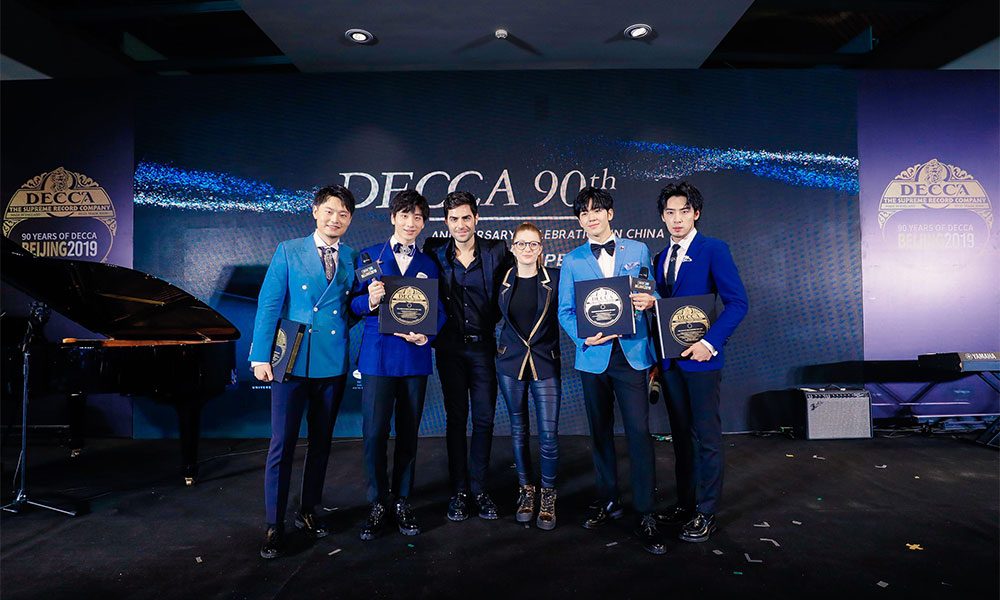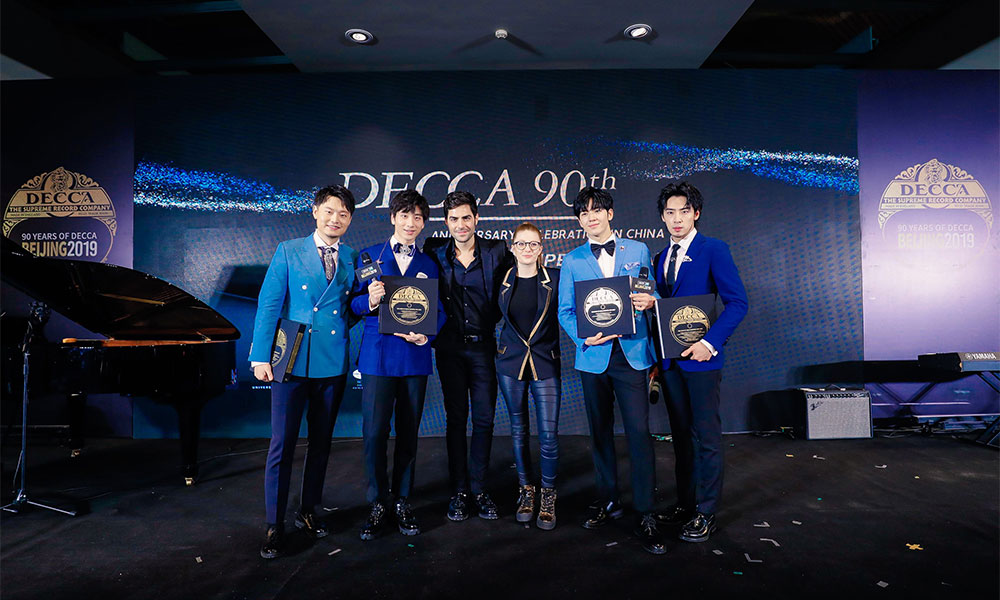 Decca Records celebrated their 90th anniversary in China with a special event at the National Centre for the Performing Arts (NCPA) in Beijing. The Decca 90 event, organised by Decca Records, Universal Music China and NCPA, featured two Decca artists, guitarist Miloš and saxophonist Jess Gillam, alongside a brand new signing: Super Vocal – China's first male bel canto group.
One of the most iconic record labels in the world
Decca Records, one of the most iconic record labels in the world and the UK's longest living record label, celebrate their 90th anniversary this year. Since the label's formation, on 28 February 1929, Decca has burgeoned from a prosperous British company to a fully-fledged international powerhouse, home to countless legendary musicians. The label's history touches on every aspect of modern music, both pop and classical: from the beginnings of sound recording, via Bing Crosby, Dame Vera Lynn, The Rolling Stones, David Bowie, Luciano Pavarotti and The Three Tenors, to today's chart-topping superstars including Andrea Bocelli, Sheku Kanneh-Mason, Sir Rod Stewart, Ludovico Einaudi and The Lumineers.
Rebecca Allen, President of Decca Records, commented, "Our thanks go to Sunny Chang, the Greater China team and Garand Wu at Universal Music China for creating such a special event to celebrate Decca's 90th anniversary. Their continued support of our artists is something truly special and we hugely value the relationship we have with our Universal family in Greater China. We also want to wish Super Vocal the best of luck with this, their new adventure. We look forward to welcoming them to the UK in the future."
Performances from Miloš, Jess Gillam and Super Vocal
Internationally renowned guitarist Miloš performed a selection of tracks from his latest album Sound Of Silence. Miloš has achieved major chart successes around the globe and has been described as "classical music's guitar hero" by BBC Music Magazine.
British saxophonist Jess Gillam played music from her debut recording Rise. Jess became the youngest saxophonist ever to reach No.1 on the Official UK Classical Chart with Rise which was released earlier this year when she was 20 years old.
The audience were then treated to an excerpt from the documentary Pavarotti (2019) from Oscar-winning director Ron Howard.
Shortly afterwards, Universal Music China unveiled their latest signing, Super Vocal, in partnership with China's leading entertainment television channel Hunan TV. Super Vocal rose to fame on Hunan TV's talent competition, featuring classically trained singers singing both operatic and musical pieces, which is China's leading entertainment television show. The quartet of singers in the group are Cai Chengyu, Tong Zhuo, Gao Tianhe and Ju Hongchuan. Their bel canto performances included interpretations of two Pavarotti classics, 'Nessun Dorma' and 'O Sole Mio'. Tenor Cai Chengyu also sang 'Lift The Wings' – a surprise performance from the world premiere of Riverdance 25th Anniversary Asian Special Edition, out now.
"Universal Music has always been an incubator for emerging superstars"
Garand Wu, Managing Director of UM China, noted, "Universal Music has always been an incubator for emerging superstars on this planet. A great number of stars joined us at a young age, such as Billie Eilish, Shawn Mendes, Ariana Grande, Selena Gomez, IL DIVO, and more. We are all very pleased to partner with Hunan TV on Super Vocal and have them in our big Universal Music family and we look forward to creating more beautiful music hand-in-hand with the group."
Dian Song, Vice President of Hunan TV, added, "Hunan TV has developed China's first male bel canto group Super Vocal. Our partnership with Universal Music, particularly in consideration of its tremendous musical resources, will lead the group Super Vocal towards an even wider scene and unfold a brand new chapter not just in China but to the global stage."
Each of the four members of Super Vocal were then presented with a copy of Decca: The Supreme Record Company – a luxury book celebrating the label's nine decades of history.
Do you want to be the first to hear the latest news from the classical world? Follow uDiscover Classical on Facebook and Twitter.
Format:
UK English