Decca Records' Three Peaks Challenge To Support Decca Bursary
Decca Records takes on the Three Peaks to support The Decca Bursary which helps children afford music education regardless of their background.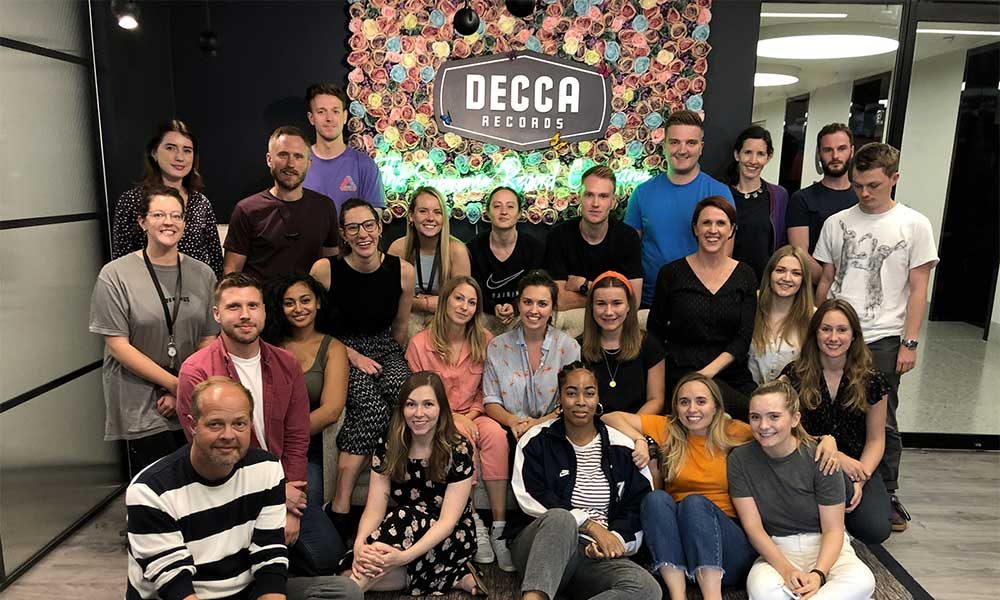 In its 90th anniversary year Decca Records is delighted to be supporting the launch of a new Universal Music UK Sound Foundation bursary, The Decca Bursary, which will give children across the country the opportunity to experience classical music.
The Decca Bursary aims to inspire and encourage a new generation of classical musicians and composers. Its mission is to help children afford a classical music education regardless of their financial background.
President of Decca Records, Rebecca Allen, said, "As a 90-year-old British music label, we have been appalled to learn about the continuous cuts being given to the arts in state schools across the country. Our industry thrives on the continuous flow of exciting new artists. It is deeply upsetting to think that young children, from whatever their background, are not even being given an opportunity to explore music. Supporting the bursary is one small way in which we can help to inspire a new generation of classical music lovers and to provide assistance in their journeys of discovery and development."
A team from Decca Records and Universal Music UK will undertake one of the toughest challenges in the UK, scaling the heights of the three highest peaks of Scotland, England and Wales in one go, to raise funds for The Decca Bursary. On 28 and 29 September Team Decca will attempt to climb Ben Nevis, Scafell Pike and Snowdon, covering 26 miles (42km) of horizontal distance and 3,000m (9,843ft) of vertical ascent, to raise money to keep classical music education alive and thriving. All monies donated will be used for The Decca Bursary, a restricted fund of Universal Music UK Sound Foundation.
Individuals in full time education (or schools, teachers & parents/guardians on their behalf) will be able to apply to the Foundation for a grant up to a maximum value of £2000. Grants are open to eligible individuals and ensembles, in need of funding for classical music lessons, instruments and courses throughout the UK. Applications for awards will open in the New Year.
Decca A&R Manager, Fiona Pope, who has been working on the project from inception explained, "The bursary aims to give that 'first foot' into classical music that a financial barrier could halt. The opportunity to learn an instrument, and the positive outcomes across all aspects of achievement that it brings, should be for everyone. The idea that the next Pavarotti or Mozart could be within our midst but can't afford to discover their talent is ludicrous."
"Perilous state" of music education
Authors of The State Of Play, a comprehensive report into the state of music education in England, by the Musicians' Union published in April 2019, described music education as being in a "perilous state". The report revealed continuous funding cuts, chaotic education policies, demoralised teachers, music being squeezed out of the curriculum and inequality with children from families earning under £28,000 a year half as likely to learn a musical instrument than those with a family income over £48,000. If this continues music education will only be for the privileged few.
Results of a survey published in March 2019 by UK record labels association the BPI revealed the stark and growing disparity between the provision of music in state and independent schools. Geoff Taylor, Chief Executive BPI & BRIT Awards said, "This inequality is not just deeply unfair to children in the state sector, it risks depriving our culture of future talents as diverse as Adele, Stormzy and Sheku Kanneh-Mason. We believe that every child in this country should have the same opportunity to access tuition and to discover and develop their musical talent."
Several high-profile artists have spoken passionately about the crisis in music education and some have launched their own music foundations to educate and inspire the next generation.
"Many children like me won't have had those opportunities"
Cellist Sheku Kanneh-Mason, who went to a comprehensive school, won the 2016 BBC Young Musician of the Year and became a household name after playing at Prince Harry and Meghan Markle's wedding. He became the highest-charting cellist ever in UK Official Albums Chart history with his debut recording, Inspiration, for Decca Classics. "Having the opportunity to have been supported from my school in my music is so special," he said. "But I think many children like me won't have had even nearly those opportunities and I think that is one of the saddest things to see." Sheku donated money to his former school in Nottingham after hearing that budget cuts could bring an end to cello teaching.
"All children should have access to a music education, regardless of their background"
The Lang Lang International Music Foundation believes all children should have access to a music education, regardless of their background. Lang Lang observed, "Music education is dying, disappearing from schools, so we have to be worried about the future. Instead of worrying, let's take action! Let's spend our energies in the public system, talk loudly about education and focus on what we can do for it. I don't see any problems if we really put our minds to making a change."
"Every child deserves the magic of music"
Jess Gillam, who was the youngest saxophonist ever to reach No.1 on the Official UK Classical Chart with Rise, her debut recording for Decca Classics, wrote a letter to The Guardian on the subject of "giving every child the opportunity to experience music." She observed, "Music is part of the fabric of our society; it sits at the heart of human experience and enriches so many lives. Why, then, is it not central to our education system? This is a question I recently posed to an all-party parliamentary group on music education … Music has changed my life. It is a huge part of who I am. I have learned so much about the world through music and the inspiring figures I have met through it. I feel I have a duty to help ensure that others can benefit from its magic. Let us make it available to every single child."
"Everyone should have access to high quality music education"
Violinist Nicola Benedetti is one of the world's leading advocates for quality music education. She recently launched The Benedetti Foundation which plans to focus on providing enrichment, inspiration and variation to the UK's education system and communities. She said, "I have always felt driven to share my experiences, knowledge and the incredible teaching I have been so fortunate to have had access to. I believe everyone should have access to high quality music education, and I am passionate about promoting that." In a Facebook live interview for Classic FM she was asked about music education in the UK and remarked, "There are far too many that see the music and the arts as something that sits outside of what we should learn at school. We need to understand the bedrock of art, culture and music and to give that a far more prominent place in the quite stringent education system."
Decca, the leading classical record label in the country, takes pride in breaking down the barriers associated with classical music and encouraging accessibility for everyone. At a time when cuts in funding for the arts in UK schools are taking place, the label's desire to support music in education grows ever stronger and, with The Decca Bursary, is taking a practical step – with action not words – to raise money for the future of music.
To support Decca Records' Three Peaks Challenge visit the Just Giving Link.
Format:
UK English