Listen To 'Winter Tales': Christmas Music Reimagined
'Winter Tales' features Christmas music reimagined by star musicians, including Roger and Brian Eno, inspired by their childhoods and homelands.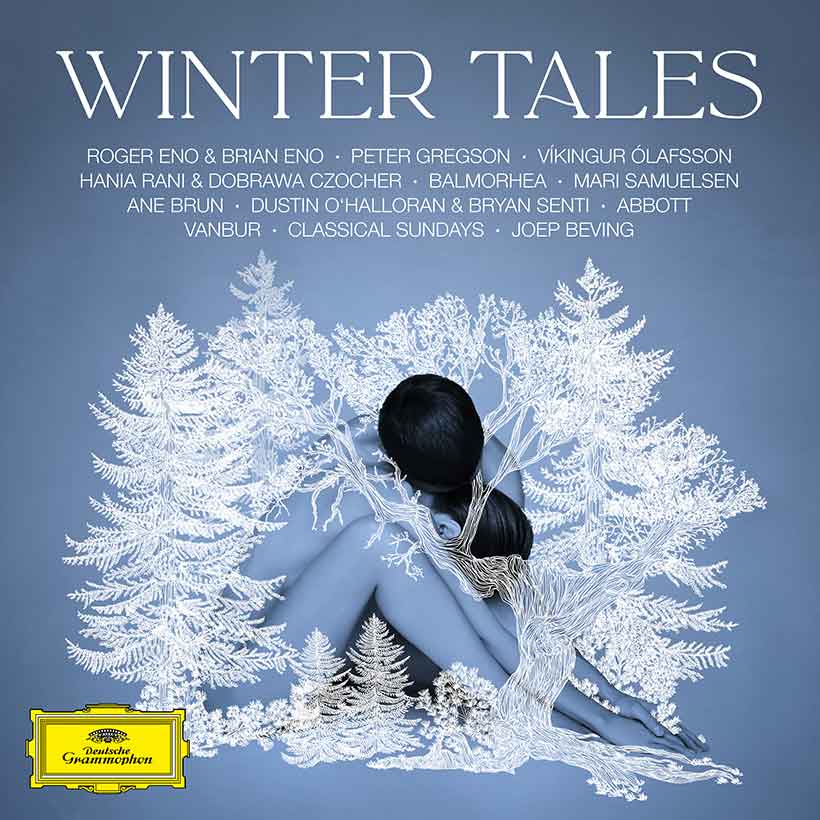 Winter Tales is a new album featuring Christmas music reimagined by star musicians inspired by their childhoods and homelands. The album includes 12 very personal and diverse reflections from Roger and Brian Eno, Peter Gregson, Víkingur Ólafsson, Hania Rani and Dobrawa Czocher, Balmorhea, Mari Samuelsen, Ane Brun, Dustin O'Halloran and Bryan Senti, ABBOTT, Vanbur, Classical Sundays and Joep Beving.
Roger and Brian Eno created Wanting to Believe
Winter Tales opens with a new vocal track from Roger and Brian Eno, Wanting to Believe. Roger Eno was drawn to the music of Adolphe Adam's O Holy Night, but not to the original words, so he created Wanting to Believe with his brother, composer and producer Brian Eno. The new, secular lyrics still express hope for the future but a hope, that Roger observes, is "seen to be held within our own hands."
Wanting To Believe (Oh Holy Night)
Scottish cellist and composer Peter Gregson has reimagined Taladh Chriosta ('Christ's Lullaby'), a carol traditionally sung by the islanders of the remote Outer Hebrides on Christmas Eve, which seeped into Gregson's consciousness when he was a child.
"Music for a candlelit winter's night" – Víkingur Ólafsson
Winter Tales includes two Icelandic-inspired works. Víkingur Ólafsson has included a solo piano version of the lullaby Farðu að sofa fyrir mig ('Sleep for Mama'), which he describes as "music for a candlelit winter's night, hovering between light and shadow, and eventually fading into a dream." American pianist and composer Dustin O'Halloran and multi-instrumentalist and composer Bryan Senti have drawn inspiration from the ancient hymn Hvað flýgur mér í hjarta blítt for What Gently Flutters.
Hania Rani and Dobrawa Czocher have reworked the traditional Polish carol Jesus Malusieńki. They explained, "We were looking for something very endemic to express our deepest emotions and connection with our roots." Dutch composer ABBOTT has also arranged a childhood favourite, the 14th century carol Nu Zijt Wellekome – a song he sees as expressing the wider meaning of Christmas, the need "to welcome everybody".
Balmorhea, aka Texans Rob Lowe and Michael A. Muller, have created an instrumental rework of the Coventry Carol, a song which dates back to the 16th century and Lowe has known since childhood. He recalled, "It always struck me as the perfect mix of warmth and darkness."
Listen to Vanbur's new arrangement of Carol of the Bells
British composer duo Vanbur, Jessica Jones and Tim Morrish, have created an ethereal arrangement of Carol of the Bells, a 20th century classic. They explained, "Throughout our childhood we heard the piece sung by choirs. We thought it would be great to build and explore a new type of cacophony, with a single vocal."
Vanbur – Carol of the Bells
Norwegian artist Ane Brun imagined a church choir singing Lo, How a Rose E'er Blooming for her version of the 15th century German song Es ist ein Ros'entsprungen but explained, "in the spirit of these solitary times, I recorded all the voices myself in a little studio space in Oslo."
Mari Samuelsen has reimagined the Scandinavian Christmas song Mitt hjerte alltid vanker ('My heart always wanders') which reminds her of Norway's dramatic landscape. She noted, "It's a piece that makes me feel safe and calm, and that is home for me". The Berlin-based Classical Sundays string quartet perform a tranquil arrangement of the Chanukah hymn Maoz Tzur.
Winter Tales ends peacefully with Sinfonia, Joep Beving's reworking of the pastoral movement from Bach's Christmas Oratorio. "I wanted to give Bach's gentle piece an otherworldly feel by adding layers of synth and noise," he explained. "I hope I managed to add something to the beautiful composition with this version. It was such a tremendous joy to work on."
Listen to Winter Tales now.
Do you want to be the first to hear the latest news from the classical world? Follow uDiscover Classical on Facebook and Twitter.
---
Format:
UK English