A Whole Lotta Little Richard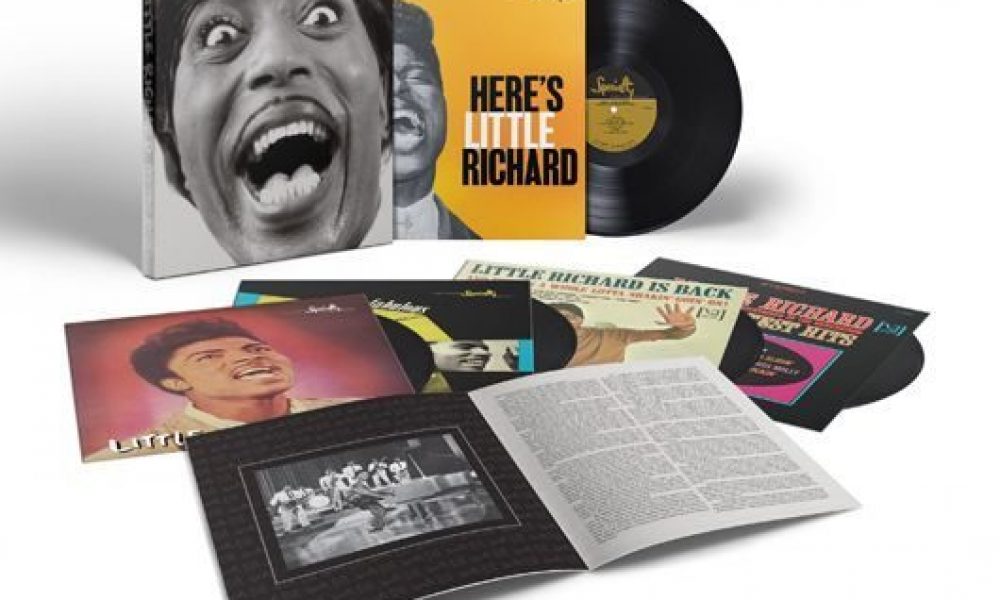 Awopbopaloobop alopbamboom! On 30 September, the legendary Little Richard's finest recordings are being reissued on mono vinyl in deluxe 5LP box set, Mono Box: The Complete Specialty And Vee-Jay Albums. Comprising his entire recorded output for both labels between 1957 and 1965, Mono Box features 61 tracks that captured rock'n'roll's primal energy at its finest and catapulted Little Richard into stardom. With replica artwork and facsimile labels, these discs have been remastered from analog tapes to present the music in its best form, and come bolstered with a 16-page booklet with new sleevenotes by blues and R&B journalist Bill Dahl.
By the time Richard – born Richard Wayne Penniman – released his debut album, he'd spent the preceding six years honing a radical style that mixed blues, gospel, jazz and R&B into something entirely his own. His larger-than-life stage presence had already made him a must-see live performer and, on record, everything that's he'd set into place came to fruition. Up there with Elvis Presley's self-titled debut as one of the most important albums of the rock'n'roll era, 1957's Here's Little Richard captured its creator's untrammelled energy and gave the world a slew of indestructible classics, among them 'Slippin' And Slidin'', 'Long Tall Sally', 'Ready Teddy' and 'Jenny Jenny'. With the following year's Little Richard, he achieved what might have seemed an impossible task: turbo-charging his set beyond anyone's wildest expectations. 'Good Golly, Miss Molly', 'The Girl Can't Help It', 'Lucille' and 'Keep A Knockin''… the classics just kept a comin'.
Perhaps inevitably, such a high-octane streak was almost impossible to keep up. By the end of the decade, Richard withdrew from rock'n'roll for several years to focus exclusively on recording gospel music. 1959's The Fabulous Little Richard was a fitting sign-off to his imperial first phase, collecting songs from 1955-57 recording sessions, the likes of 'Whole Lotta Shakin'' and 'Kansas City' leaving fans wanting more…
Which is exactly what they got – finally – when Richard returned to recording secular music in the 60s. With everyone from The Beatles to proto-punk garage rockers The Sonics now recording his material, Richard re-entered the fray with 1964's Little Richard Is Back and the following year's His Greatest Hits, both issued on Vee-Jay, the label that had initially signed The Beatles in the US. The former saw him run the gamut from unfettered rock'n'roll ('Money Honey', 'Hound Dog') to more straight R&B ('Blueberry Hill'), while on the latter Richard re-recorded a number of his earlier classics, among them 'Lucille' and 'Keep A Knockin'', proving that, when it came down to it, no one could beat the original master.
Mono Box: The Complete Specialty And Vee-Jay Albums is out on 30 September, and can be pre-ordered here: 
Format:
UK English