Keep Your Eyes Peeled For Blink-182 LP Box Set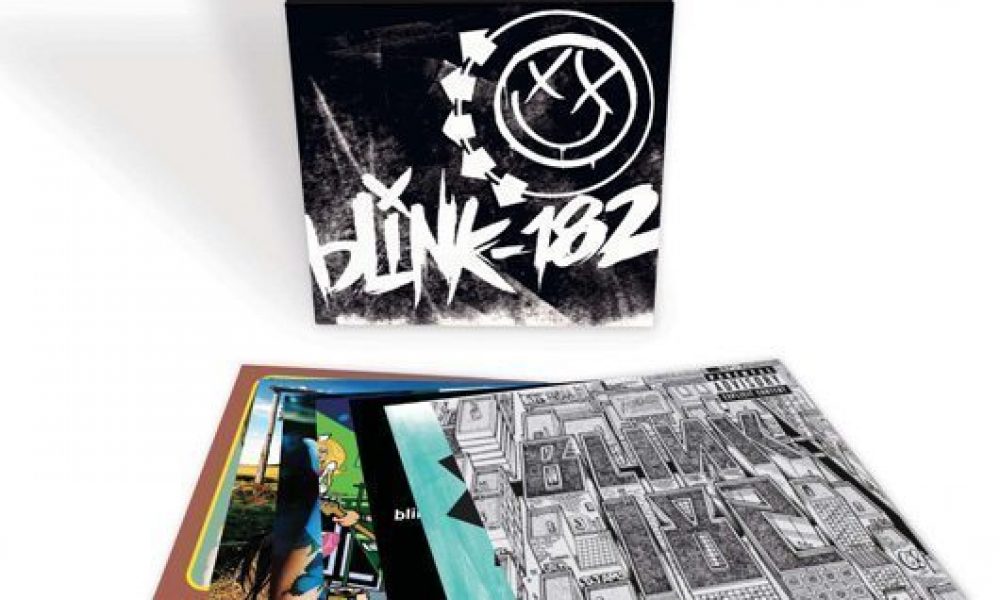 With a career that spans over two decades, Blink-182 remain elder statesman of the West Coast punk scene, with an insatiable appetite for change. Running the gamut from archetypal skate-punk to dark, introspective recordings and more experimental excursions, their discography is uniquely compelling. On 7 October, their finest moments will be released in a 10LP box set containing the group's first six studio albums, from 1995's Cheshire Cat to 2011's Neighborhoods, plus the 2000 live album The Mark, Tom And Travis Show (The Enema Strikes Back!).
Emerging in 1995 with their indie debut, Cheshire Cat, Blink-182 quickly established themselves as one of the defining bands of the skate-punk era. By the end of the decade they ruled the airwaves with their globe-straddling third release, Enema Of The State (bolstered in no small part by the worldwide hit 'All The Small Things'), and continued their onslaught into the new millennium, with the US No.1 and UK Top 5 album Take Off Your Pants And Jacket.
Yet while many had them pegged as pop-punk poster boys, the group had more up their sleeve. Having tasted worldwide success – and, in the process, risked becoming pigeonholed – Blink-182 confounded expectations with their self-titled fifth album: a more mature, considered outing, and one which saw them break out from pop-punk's increasingly restrictive template. With more personal songwriting to the fore, Blink-182 gave the group a new lease of life, and also included 'I Miss You', a firm fan favourite and one of the band's most enduring recordings.
blink-182 - I Miss You (Official Video)
The song was aptly titled, as the group went on indefinite hiatus after the album's release, leaving fans yearning for their return. After a long eight years, Blink-182 finally re-emerged, in 2011, with Neighborhoods. The logical next step from Blink-182, it saw the band pool their increasingly disparate influences and enter new territory. A darker outing than anything that had come before, it also further confirmed the group's move away from their adolescent beginnings.
Throughout all their changes, however, Blink-182 retained a devoted fanbase, thanks in no small part to the pull of their live shows. Even in their earliest days, the group made a name for themselves in the local San Diego area, and they quickly became a popular festival draw – and remain so to this day. Released in 2000, live album The Mark, Tom And Travis Show (The Enema Strikes Back!) captures the band at their most gloriously anarchic before a live audience as they race through full-throttle performances of some of their finest early moments. It rounds the box set out nicely, helping to present the fullest picture of the group during their most important years.
Click here to follow the Welcome To The 90s playlist, which features 'All The Small Things', along with hits from other punk-influenced bands such as No Doubt and The Bloodhound Gang. The Blink-182 vinyl box set can be pre-ordered as part of an exclusive bundle with a slipmat and sticker set here:
Format:
UK English