Killer Box Sets From Metallica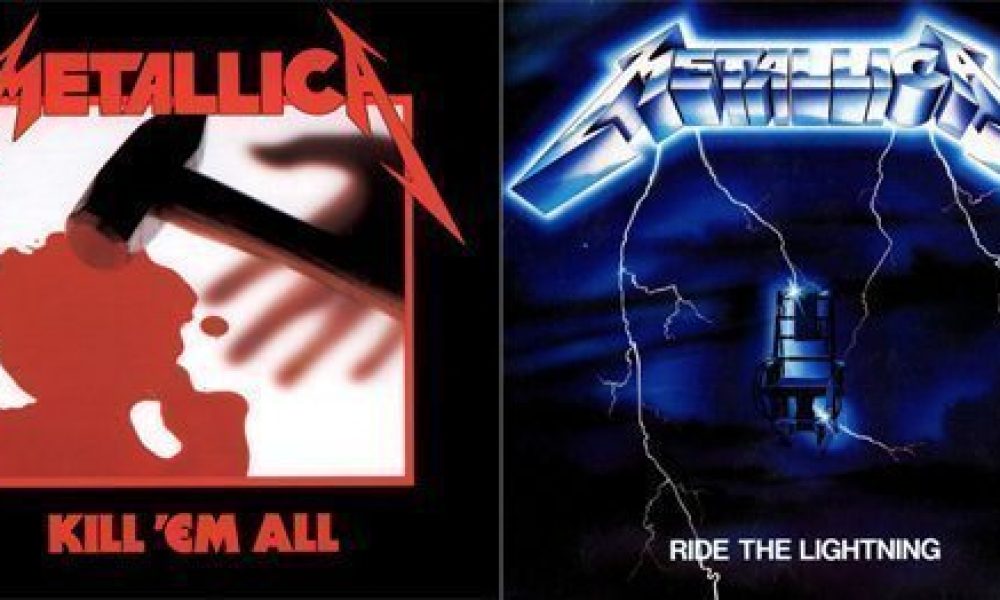 Thrash metal pioneers and Record Store Day 2016 ambassadors Metallica are releasing super deluxe box set editions of their first two albums, 1983's Kill 'Em All and 1984's Ride The Lightning, on 15 April, giving fans the chance to immerse themselves in the formative years of the band's career.
With the former expanded to four LPs, five CDs and a DVD, and the latter stretching to five LPs, four CDs and a DVD, they will give fans the opportunity to explore not only Metallica's development as a band, but also the evolution of thrash metal in its early days. A host of history-making live recordings from the era have been collected alongside demos and unreleased cuts culled from drummer Lars Ulrich's personal vault, along with fully remastered editions of the albums themselves. With hardcover books including rare photos and lyrics handwritten by James Hetfield, plus a selection of posters (specific to Ride The Lightning) and a patch (included in Kill 'Em All), these sumptuous box sets represent some of the finest archival trawls in any band's history, and are essential not only for fans of Metallica, but anyone interested in the evolution of metal throughout the ages.
Scroll down to read the full tracklisting for each box set, and pre-order your copies of both Kill 'Em All and Ride The Lightning at the uDiscover store:
Kill 'Em All Full Tracklist
Vinyl: Kill 'Em All (Remastered)
'Hit The Lights'
'The Four Horsemen'
'Motorbreath'
'Jump In The Fire'
'(Anesthesia) – Pulling Teeth'
'Whiplash'
'Phantom Lord'
'No Remorse'
'Seek & Destroy'
'Metal Militia'
Vinyl: Live At Espace Balard, Paris, France, 9 February 1984 (2LP)
Previously unreleased
'The Ecstasy Of Gold'
'Hit The Lights'
'The Four Horsemen'
'Jump In The Fire'
'Phantom Lord'
'No Remorse'
'Ride The Lightning'
'Motorbreath'
'(Anesthesia) – Pulling Teeth'
'Whiplash'
'Seek and Destroy'
'Metal Militia'
Vinyl: 'Jump In The Fire' (Picture Disc)
'Jump In The Fire'
'Seek & Destroy ("Live" At The Automatt)'
'Phantom Lord ("Live" at The Automatt)'
CD: Kill 'Em All (Remastered)
'Hit The Lights'
'The Four Horsemen'
'Motorbreath'
'Jump In The Fire'
'(Anesthesia) – Pulling Teeth'
'Whiplash'
'Phantom Lord'
'No Remorse'
'Seek & Destroy'
'Metal Militia'
CD: Interview And Radio IDs
Previously unreleased
'Metal Forces Interview With Lars, January 1984'
'Radio IDs With Lars, James & Cliff From 1984'
CD: Rough Mixes From Lars' Vault, Bootleg Tracks And 'Whiplash' Remix EP
Previously unreleased, except 'Jump In The Fire', 'Whiplash (Special Neckbrace Remix)', 'Seek & Destroy ("Live" at The Automatt)' and 'Phantom Lord ("Live" At The Automatt)'
'Motorbreath (Rough Mix)'
'Hit The Lights (Rough Mix)'
'(Anesthesia) – Pulling Teeth (Rough Mix)'
'Seek & Destroy (Rough Mix)'
'Whiplash (Rough Mix)'
'The Four Horsemen (Rough Mix)'
'Seek & Destroy (NOT Live From The Automatt)'
'Phantom Lord (NOT Live From The Automatt)'
'Jump In The Fire'
'Whiplash (Special Neckbrace Remix)'
'Seek & Destroy ("Live" at The Automatt)'
'Phantom Lord ("Live" at The Automatt)'
CD: Live At J Bees Rock III, Middletown, NY, 20 January 1984
Previously unreleased
'The Four Horsemen'
'Jump In the Fire'
'Fight Fire With Fire'
'Ride The Lightning'
'Phantom Lord'
'Seek and Destroy'
'Whiplash'
CD: Live At The Keystone, Palo Alto, CA, 31 October 1983
Previously unreleased
'Hit The Lights'
'The Four Horsemen'
'Jump In The Fire'
'Fight Fire With Fire'
'Ride The Lightning'
'Phantom Lord'
'When Hell Freezes Over ("The Call of Ktulu")'
'Seek & Destroy'
'(Anesthesia) – Pulling Teeth'
'Whiplash'
'Creeping Death'
'Guitar Solo'
'Metal Militia'
DVD: Live At The Metro In Chicago On 12 August 1983
Previously unreleased, except 'No Remorse' and 'Metal Miltia
'Hit the Lights' (video only/no audio)
'The Four Horsemen' (video only/no audio)
'Jump in the Fire' (video only/partial audio)
'Phantom Lord'
'No Remorse'
'(Anesthesia) – Pulling Teeth'
'Whiplash'
'Seek & Destroy'
'Guitar Solo'
'Metal Militia'

Ride The Lightning Full Tracklist
Vinyl: Ride The Lightning (Remastered)
'Fight Fire With Fire'
'Ride The Lightning'
'For Whom The Bell Tolls'
'Fade To Black'
'Trapped Under Ice'
'Escape'
'Creeping Death'
'The Call Of Ktulu'
Vinyl: Live At The Hollywood Palladium, Los Angeles, CA, 10 March 1985 (2LP)
Previously unreleased
'The Ecstasy Of Gold'
'Fight Fire With Fire'
'Ride the Lightning'
'Phantom Lord'
'(Anesthesia) – Pulling Teeth'
'For Whom the Bell Tolls'
'No Remorse'
'Fade To Black'
'Seek & Destroy'
'Creeping Death'
'Am I Evil?'
'Motorbreath'
Vinyl: 'Creeping Death' (Picture Disc)
'Creeping Death'
'Am I Evil?'
'Blitzkrieg'
CD: Ride The Lightning (Remastered)
'Fight Fire With Fire'
'Ride The Lightning'
'For Whom The Bell Tolls'
'Fade To Black'
'Trapped Under Ice'
'Escape'
'Creeping Death'
'The Call Of Ktulu'
CD: Metallica Interviews
Previously unreleased
'Metal Forces Interview With Lars, November 1984'
'WUSC Cleveland Radio Interview with Cliff & Kirk, February 1985'
'Metal Madness Interview With Lars, March 1985'
CD: Demos And Rough Mixes From Lars' Vault
Previously unreleased
'Ride the Lightning (Studio Demo)'
'When Hell Freezes Over ("The Call Of Ktulu") (Studio Demo)'
'Creeping Death (Studio Demo)'
'Fight Fire With Fire (Studio Demo)'
'Ride The Lightning (Garage Demo)'
'When Hell Freezes Over ("The Call Of Ktulu") (Garage Demo)'
'Fight Fire With Fire (Garage Demo)'
'Ride The Lightning (Boom Box Demo)'
'Blitzkrieg (Rhythm Track Rough Mix)'
'Am I Evil? (Rhythm Track Rough Mix)'
CD: Live At Kabuki Theatre, San Francisco, CA, 15 March 1985
Previously unreleased on CD
'Fight Fire With Fire'
'Ride The Lightning'
'Phantom Lord'
'The Four Horsemen'
'(Anesthesia) – Pulling Teeth'
'For Whom the Bell Tolls'
'No Remorse'
'Fade To Black'
'Creeping Death'
'Guitar Solo'
'Am I Evil?'
'Motorbreath'
CD: Live At The Lyceum Theatre, London, UK, 20 December 1984
'Phantom Lord', 'The Call Of Ktulu', 'Creeping Death' and 'Guitar Solo' previously unreleased; all other songs previously unreleased on CD
'Phantom Lord'
'The Four Horsemen'
'(Anesthesia) – Pulling Teeth'
'For Whom the Bell Tolls'
'No Remorse'
'The Call Of Ktulu'
'Seek & Destroy'
'Whiplash'
'Creeping Death'
'Guitar Solo'
'Metal Militia'
CD: Live At Castle Donington, UK, 17 August 1985
Previously unreleased on CD
'Creeping Death'
'Ride the Lightning'
'For Whom The Bell Tolls'
'The Four Horsemen'
'Fade To Black'
'Seek & Destroy'
'Whiplash'
'Motorbreath'
DVD: Metal Hammer, Day On The Green And Danish TV
Live At The Metal Hammer Festival In St Goarshausen, Germany, 14 September 1985
(Previously unreleased, except 'The Four Horsemen', 'Fade To Black' and 'Seek & Destroy')
'Creeping Death'
'Ride The Lightning'
'Disposable Heroes'
'No Remorse'
'(Anesthesia) – Pulling Teeth'
'For Whom The Bell Tolls'
'The Four Horsemen'
'Fade To Black'
'Seek & Destroy'
'Whiplash'
'Fight Fire With Fire'
'Guitar Solo'
'Am I Evil?'
'Motorbreath'
Live At MTV's Day On The Green At Oakland Stadium, Oakland, CA, 31 August 1985
(Previously unreleased, except 'For Whom The Bell Tolls')
'Creeping Death'
'Ride The Lightning'
'For Whom The Bell Tolls'
'MTV Day On The Green Interview with Lars and James'
Danish TV
(Previously unreleased)
'Lars Ulrich When He Was Young' (Lars' first television interview)
'SPOT – Lars Ulrich'
Format:
UK English