Best Rammstein Songs: 11 Industrial Rock Essentials
They may have a reputation for being outrageous, but there is far more to the industrial rock group than meets the eye.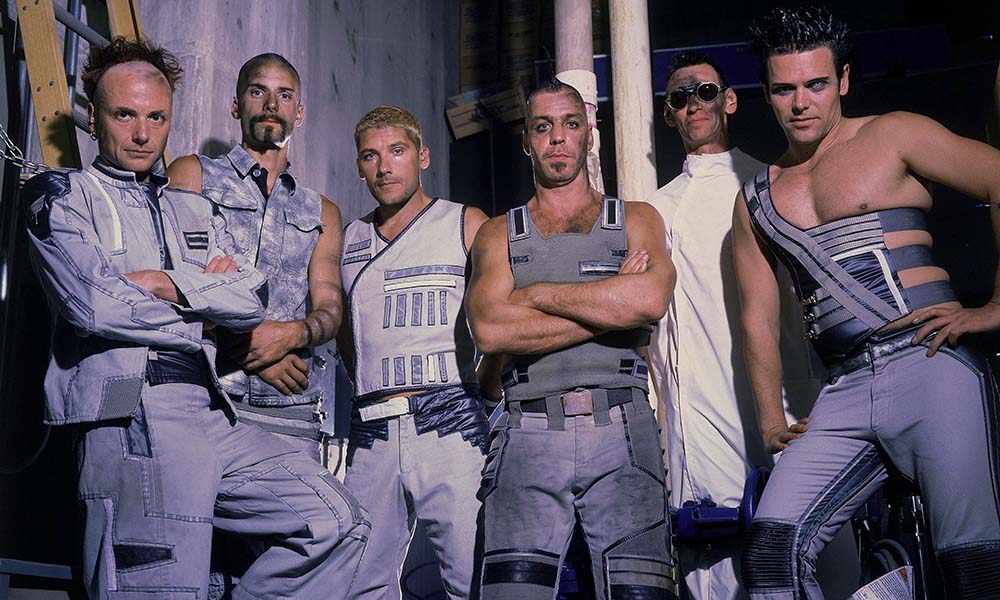 As soon as industrial rock band Rammstein emerged from Berlin, they developed a reputation for being outrageous. They sang in German about graphic violence and explicit sex, and, most notably they filled their shows with mindblowing pyrotechnics. Vocalist Till Lindemann lit himself on fire, twenty-foot flamethrower blasts accompanied raging guitar riffs, and live explosives lined the stage like a minefield. But there's far more to Rammstein than meets their scorched sky. With influences that include Ministry, KMFDM, Depeche Mode, and Sprechstimme opera, Rammstein exhibit an impressively diverse palate of styles and textures that both complement and belie the sensory overload of their live shows and videos. Below are 11 Rammstein songs that range from their most infectious to their most caustic.
Listen to Rammstein's best songs on Spotify or Apple Music.
Rammstein
The band's first-ever song, "Rammstein," is about a 1988 air disaster at the Rammstein Air Force Base – one that inspired the band's moniker. The track is from the 1995 album Herzeleid and starts with ambient electronics, half-speed helicopter sounds, and an eerie keyboard line. Then, Rammstein rips into the main, climactic rhythm that propels the rest of the number. While the song (and much of Rammstein's early work) is heavily influenced by Psalm 69-era Ministry, Till Lindemann's baritone, undistorted vocals separate the band from its industrial progenitors. "Rammstein" was intriguing enough to catch the ear of David Lynch, who included the track and one of the band's other songs in the soundtrack for Lost Highway, gaining them their first real exposure outside of Europe.
Rammstein - Rammstein (Official Video)
Links 2-3-4
With lefty lyrics that reference Bertold Brecht's "Einheitsfrontlied," which was written for the Communist Party of Germany, "Links 2-3-4," was an early response to reactionary criticism that Rammstein were neo-Nazis. Some people don't know irony when they hear it. The jackboot marching that opens the cut and roaring crowd sounds that punctuate the rhythms are used to condemn Germany's ugly past, not embrace it. "Links 2-3-4" is from the band's third album, Mutter, and like much of their early work, it's regimental and muscular, coloring anti-fascist lyrics with visual resentment and dramatic contempt that made watching them a blast.
Mutter
Having established themselves as a formidable leader of the Neue Deutsche Härte (New German Hardness) scene, Rammstein spread their flaming wings with the title track for Mutter. The song opens with infant noises, a delicate guitar arpeggio, and melodic clean vocals, which complement the heavy, mid-paced chorus. As if to emphasize their disinterest in being labeled industrial metal, guitarist Richard Kruspe plays a lighter-raising melody line redolent of Metallica's "The Unforgiven." In true Rammstein style, the lyrics are about a child born outside the womb that plots to kill his mother and then himself.
Rosenrot
The title track from Rammstein's 2005 album Rosenrot downplays blasting rage in favor of simmering angst. The band drives home its poignant tone with a repeating three-note bassline and melodic baritone vocals. As the track builds, an undercurrent of blippy sound effects, vocal harmonies, and mournful strings enter the mix. At the end of the track, the band lashes out with an abrasive 10-second long metal riff followed by an equally short orchestra keyboard outro. The duality of the song is reiterated in the lyrics, which were inspired by the Brothers Grimm's Schneeweißchen und Rosenrot (Snow White and Rose Red), in which a bear kills a fiendish dwarf, turns into a prince, and then marries Snow White, who had nurtured and befriended him. One dwarf down, six to go.
Rammstein - Rosenrot (Official Video)
Amerika
If it wasn't Rammstein's raison detre, "Amerika" was at least a euphoric hit single recorded in 2003 during Rammstein's most prolific period (one that yielded the fourth full-length, Reise, Reise and much of the material for its follow-up Rosenrot). Like their more musically intricate 2019 opus, "Deutschland," "Amerika" is a bittersweet tribute to a nation about which Rammstein is highly ambivalent. While they seem to love the people and culture, they're critical of America's rampant capitalism and arrogance. With lyrics largely in English, "Amerika" sounds triumphant. Yet it's a bittersweet euphoria. Lindemann joyously sings about Coca-Cola, Mickey Mouse, and the Wonderbra, but he also addresses America's history with war and expresses his alienation by singing in English: "This is not a love song/I don't sing my mother tongue." Unlike many European bands that write lyrics in English, Rammstein won't sacrifice their integrity by catering to the masses.
Rammstein - Amerika (Official Video)
Haifisch
There's a reason the members of Rammstein step in front of the curtain at the end of every show sans instruments and bow like a Broadway cast. These guys love live theater and integrate themes from the art form. "Haifisch," a highlight of Rammstein's sixth album Liebe ist für alle da (2009) starts with dramatic horns and references Bertold Brecht's Three Penny Opera in the chorus. The song builds with an evocative, slinky piano-and-synth rhythm and a shuffling beat that conjures images of the progressive art and culture that blossomed during the Weimar Republic.
Mein Herz Brennt
The opening track from Rammstein's third album Mutter starts with sorrowful strings and low, half-spoken vocals. The tension builds as drums and keys join the cellos and violins. Then, the song abruptly ignites with heavy, distorted guitars and swooping synth lines that sound like a cross between Wagner and Led Zeppelin's "Kashmir." The entire track is grandiose, exultant, and wonderfully strange, with lyrics about childhood nightmares that make Metallica's "Enter Sandman" sound like a soothing lullaby.
Engel
The most memorable facet of Sehnsucht's "Engel" is the cinematic Western-style whistling that launches the song and recurs throughout. While the crunchy, palm-muted metal guitars make it one of Rammstein's heavier numbers, "Engel" also features delicate female vocals gurgling New Order-ish keyboards, an undercurrent of sound effects, a swooping keyboard solo, and that crazy whistling that becomes more elaborate towards the conclusion of the song. Lyrically, Lindemann poetically describes angels and then declares, "God knows I don't want to be an angel!"
Deutschland
Starting with a jittery, triplet-filled keyboard line that's soon matched on electric guitar reminiscent of Iron Maiden, "Deutschland" expertly combines instantly recognizable elements from metal and industrial dance music to create an epic and cinematic song. Lyrically, however, "Deutschland" isn't nearly as euphoric, graphically expressing reservations about the band's homeland. The band released a beautifully shot, but explicit and horrific video for the song that underscores its lyrics about totalitarianism and violence. Musically, Rammstein weave emotive elements throughout the song, including echoed vocal hooks, female Middle Eastern vocals, a spare, slightly off-time piano line reminiscent of the end of Faith No More's "Epic," and a blend of crunching and sustained guitars that cause the song to ebb and flow like a tide against a blood-drenched shore. The opening track from their untitled seventh album, which came out in 2019, "Deutschland" exhibits Rammstein with a firm grip of their past, a keen eye towards the future, and a grasp over all the styles that make them stand out.
Rammstein - Deutschland (Official Video)
Du Hast
David Lynch certainly helped Rammstein reach American Shores with the Lost Highway soundtrack, but it was the propulsive, "Du Hast," from the band's second album, Sehnsucht that captivated Western audiences. Starting innocently enough with techno keys and electronic mosquitoes, the song bursts into a chuggy martial metal riff that's worthy of the best KMFDM crossed with (of course) Ministry. Lindemann's melodic chorus vocals added a pop element and a jaunty keyboard line injected levity, but even a synthesizer solo that sounds like a video game interlude couldn't keep the mosh pit from churning. Dark and energizing, "Du Hast" was proof that European music could crossover to the States even if the lyrics weren't in English and it opened the rusty steel gates for Rammstein to start their quest for world domination on their terms.
Rammstein - Du Hast (Official 4K Video)
Mein Teil
Maybe the most twisted song Rammstein have released (which is saying a lot), "Mein Teil" tells the true story of a man who placed an online ad to be eaten, and Armin Meiwes, the protagonist who took the victim up on his offer. The song starts with gothic keys, the sound of knives being sharpened, and a static-filled German voice that translates to, "Looking for a well-built 18 to 30 year old to be slaughtered. – The Master Butcher." From there, choral vocals accompany a corrosive riff, and as the daunting vocals behind a sound effect that resembles a galactic vacuum sucking victims into deep space. "Mein Teil" is harsh and martial, yet it builds to a hooky riff and a catchy chorus that almost overshadows the original lyrics (but not the English translation: "There, that's my part/ No! Because you are what you eat and you know what it is." Hellish screams accompany the end melody adding to the cognitive dissonance.
Think we missed one of Rammstein's best songs? Let us know in the comments below.