Best Albums of 1990: 58 Records Worth Revisiting
Change was in the air, with fresh takes on R&B, dance music's explosion into the mainstream, and rap and hip-hop more popular than ever.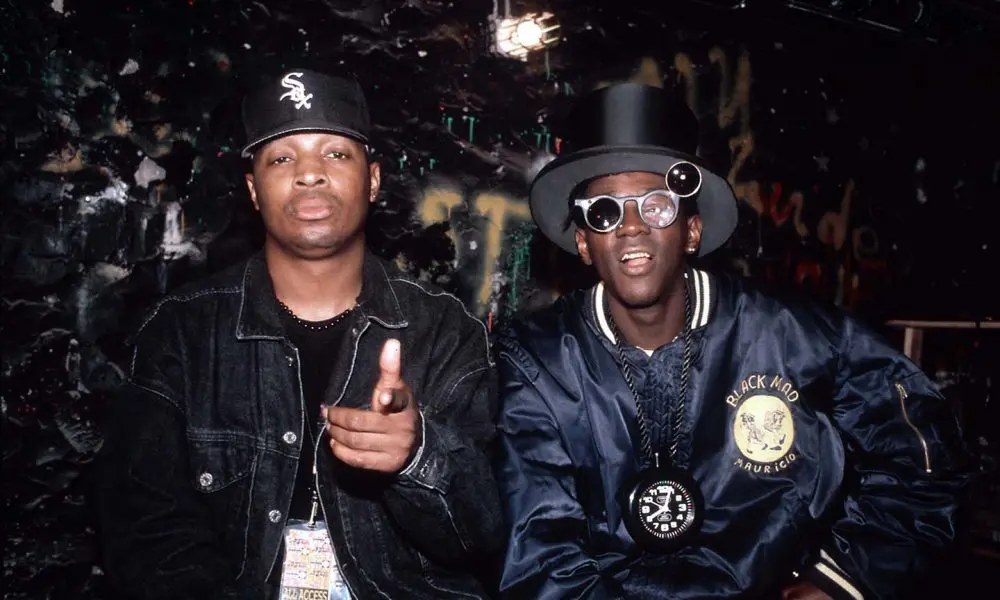 The best albums of 1990 offered a delectable sampling of what this musically-rich decade would have to offer. With the proliferation of global media, music videos, and technology, artists were able to reach – and inspire – more fans than ever before, and that influence would reverberate throughout the decade.
Change was in the air, as a new generation of artists offered a fresh take on R&B, including En Vogue, Guy, and Keith Sweat. Dance music exploded into the mainstream, while rap and hip-hop became more popular than ever, thanks to the funky grooves of A Tribe Called Quest, the decadent stylings of MC Hammer, and the politically-charged lyricism of Public Enemy.
It was the year that introduced us to Mariah Carey, the Black Crowes, and the Chicks. Waiting in the wings, meanwhile, were a slew of underground rockers poised to take over the airwaves. Spanning many different genres, here are the best albums of 1990:
Can't get enough 90s music? Listen to our 90s Music playlist here.
58: Lalah Hathaway – Lalah Hathaway
A gifted vocalist, Lalah Hathaway's self-titled 1990 album is a near-perfect collection of early 90s R&B tunes. Start with "Heaven Knows" if you aren't familiar.
57: Nick Cave & The Bad Seeds – The Good Son
Pulling influences from gospel, the blues, and traditional Brazilian religious music, The Good Son finds Nick Cave & The Bad Seeds illuminating life's darkness with the spirit of love.
56: Héroes del Silencio – Senderos de Traición
Héroes del Silencio's 1990 album Senderos de Traición is impassioned and soulful. Standout cuts include the breezy jam "Despertar" and the rocking epic "Senda."
55: The Shamen – En-Tact
Ethereal melodies meet rolling electronic beats throughout The Shamen's fourth full-length album, which featured standout tune "Move Any Mountain."
54: Pat Metheny – Question and Answer
A fine set of tasteful and virtuosically performed cuts, Question And Answer sees guitarist Pat Metheny and band displaying their lovely sense of improvisational chemistry.
53: John Scofield – Time on My Hands
Ranging from the straight-up jazz balladry of "Let's Say We Did" to the rock-influenced fusion of "Fat Lip," John Scofield and his band apply serious chops to a wide range of styles.
52: Entombed – Left Hand Path
An aggressive, violent piece of work, Left Hand Path is thrilling. Songs like "Supposed To Rot" and "The Truth Beyond" wrestle with mortality in the most explosive way possible.
51: Death – Spiritual Healing
For their third album, Spiritual Healing, brutal cuts like "Living Monstrosity" and "Killing Spree" find Death delving deep into the darker side of human nature.
50: Oleta Adams – Circle of One
Soulful, optimistic, and bursting with emotion, Circle of One features some timeless performances from Oleta Adams, including the classic ballad "Get Here."
49: Slayer – Seasons In The Abyss
The virtuosity displayed on songs like "War Ensemble," "Hallowed Point," and more highlight Seasons In The Abyss as a hellish, brain-shattering display of speed, volume, and fury.
48: Reba McEntire – Rumor Has It
A relaxed and soulful update of contemporary country, Rumor Has It is full of bittersweet songs about life and longing.
Reba McEntire - Fancy (Official Music Video)
47: George Strait – Livin' It Up
Livin' It Up finds George Strait employing his signature vocal style on a heartfelt 1990 album that lingers on topics like love and loneliness.
46: Deee-Lite – World Clique
A colorful, kaleidoscopic disco ball of a record, Deee-Lite's World Clique is driven by its pumping dance beats. "Groove Is In The Heart" is the highlight here, an incredibly catchy, sampladelic masterpiece that still rocks the party.
45: MC Hammer – Please Hammer Don't Hurt 'Em
Anchored by the massive radio hit "U Can't Touch This," Please Hammer Don't Hurt 'Em was one of the biggest rap records of the decade, solidifying MC Hammer as a crossover star at a time when rap wasn't yet a mainstream concern.
44: Los Prisioneros – Corazones
Chilean rock band Los Prisioneros' fourth album, Corazones, combines slick production with soulful, impassioned performances.
43: Iron Maiden – No Prayer for the Dying
No Prayer for the Dying is a rocking and relentlessly wild ride. Beneath the 1990 album's drama and humor are some really complex grooves and heavy riffs.
42: Temple of the Dog – Temple of the Dog
With its gnarly riffs that traverse punk, metal and classic rock, Temple of the Dog laid an important foundation for the sound that would eventually be labeled grunge.
Temple Of The Dog - Hunger Strike
41: Soda Stereo – Canción Animal
Full of big hooks and undeniable songs, Canción Animal is one of the best Latin rock albums of the early 90s.
40: Bell Biv DeVoe – Poison
A unique melding of hardcore hip hop beats and smooth R&B vocals, Poison was cutting-edge when it arrived and its sound and attitude remain influential today.
39: Whitney Houston – I'm Your Baby Tonight
The most dynamic voice of her generation, Whitney Houston shines on standouts like the title cut and the explosive ballad "All The Man That I Need."
38: Johnny Gill – Johnny Gill
Johnny Gill brings lovelorn ballads and dramatic vocals for his self-titled 1990 album. The record still holds up beautifully: "My, My, My" is an enduring R&B classic.
37: Tony! Toni! Toné! – The Revival
A versatile and inventive album, The Revival is full of gorgeous ballads like "Whatever You Want" and uptempo club classics like "Feels Good."
36: Black Box – Dreamland
Full of lively and anthemic dance cuts, Dreamland is fun and soulful."Everybody Everybody" is a club classic and "Forever" is a fantastic Earth Wind & Fire cover.
35: Eric B. & Rakim – Let the Rhythm Hit 'Em
While funky, uptempo cuts like "No Omega" and the title track highlight the duo's ability to hit hard and fast, "Mahogany" and "In The Ghetto" slow the pace and focus on Rakim's vivid storytelling.
34: Bathory – Hammerheart
Taking metal to mythic, spiritual heights, Bathroy's album Hammerheart burns brightly and turns the volume up loud.
33: The Chicks – Thank Heavens for Dale Evans
The Chicks' debut leans heavily on a traditional country sound and comes out the other side with some beautiful results. The performances on songs like "Long Roads" are dynamic and the vocal harmonies are lush and sweet.
32: Nitzer Ebb – Showtime
Nitzer Ebb's Showtime is a dark industrial masterpiece. Full of pounding rhythms and foreboding vocals, the album is threatening and heavy.
31: Guy – The Future
Led by genre architect Teddy Riley, The Future contains New Jack Swing-era classics like "Wanna Get With U" and "Let's Chill."
30: Pantera – Cowboys From Hell
A vicious and furious beast of an album, Cowboys From Hell's has some truly powerful moments and songs like "Cemetery Gates" and the chaotic "Clash With Reality."
29: Uncle Tupelo – No Depression
Whether you consider Uncle Tupelo a countrified rock band or a rocking country band, their influence on both is undeniable. "Graveyard Shift" and "No Depression," in particular, give insight into the band's power and forward-thinking sound.
28: Pet Shop Boys – Behaviour
The chilly, electronic beats on cuts like "Being Boring," "My October Symphony," and "This Must Be The Place I Waited" provide a perfect backdrop for Neil Tennant and Chris Lowe's songs about desire and heartbreak.
27: The La's – The La's
Liverpool jangle pop heroes The La's debut album wins on the strength of its earnest, emotional songs. The entire album is top-notch and "There She Goes" is an enduring classic.
26: Pixies – Bossanova
Pixies' Bossanova is more subdued than the albums that preceded it, but the band's furious guitar noise and Frank Black's idiosyncratic vocals remain.
25: Enigma – MCMXC a.D.
Enigma's MCMXC a.D. is full of hip hop-inflected beats as well as some truly ethereal synths and vocals. It's ambient with a pulse and mood music with groove.
Enigma - Mea Culpa (Official Video)
24: Keith Sweat – I'll Give All My Love To You
One of the best R&B singers of the 80s and 90s, Keith Sweat wails and begs for love, baring his soul for all to see.
23: En Vogue – Born to Sing
Funky, contemporary beats meet fiery solos and dreamy harmonies. Born to Sing is one of early 90s R&B's finest moments.
22: Megadeth – Rust In Peace
Full of monster riffs and pummeling grooves, Rust In Peace proved why Megadeth were still masters of metal as the 80s gave way to the 90s.
21: Cocteau Twins – Heaven Or Las Vegas
Groovy, lush and dreamy, Heaven Or Las Vegas' uptempo beats provide a driving pulse to Cocteau Twins' psychedelic sound.
20: Gang Starr – Step in the Arena
DJ Premier's neck-snapping beats and GURU's direct, insightful rhymes combine on Step in the Arena, one of the best rap albums of the early 90s.
Gang Starr - Step In The Arena
19: Brand Nubian – One for All
Over dope, head-nodding beats, Lord Jamar, Grand Puba, and Sadat X trade fly, righteous bars culminating in one of the best debuts in rap history.
18: A Tribe Called Quest – People's Instinctive Travels and the Paths of Rhythm
Pulling from a variety of jazz, soul, rock, and funk samples, A Tribe Called Quest's remarkable debut explores hip hop's more colorful, kaleidoscopic potential. Full of quirky, relatable rhymes and funky grooves, People's Instinctive… is a fun and inventive snapshot of early 90s Black bohemia.
17: George Michael – Listen Without Prejudice Vol. 1
George Michael's Listen Without Prejudice Vol.1 is practically beaming with spiritual power. Songs like "Freedom! 90," and "Waiting For That Day" are potent highlights of Michael's vocal gift.
16: Ride – Nowhere
With gorgeous songs like "Here And Now," "Polar Bear," and "Dreams Burn Down," Nowhere is engulfed in waves of blissfully distorted sound.
15: Black Crowes – Shake Your Money Maker
Glammed-out with a bluesy heart, Black Crowes' 1990 debut Shake Your Money Maker "Jealous Again" and "Hard To Handle" were radio hits that transported the sound and swagger of the past into the 90s.
The Black Crowes - Jealous Again
14: The KLF – Chill Out
Chill Out reenvisions ambient music as a blissful psychedelic trip to the beyond. It's an album that is designed to heal and soothe.
13: Judas Priest – Painkiller
The 12th album from Judas Priest, Painkiller finds the band reasserting its position as a vital force in mainstream metal. Standout cuts like "All Guns Blazing" and "Between The Hammer & The Anvil" are nasty, swirling maelstroms of power.
12: Garth Brooks – No Fences
One of the biggest country music stars of the era, Garth Brooks ruled the 90s. "Wild Horses" and "New Way To Fly" are great places to start (or revisit).
11: Ice Cube – AmeriKKKa's Most Wanted
Co-produced by Public Enemy's legendary Bomb Squad crew, Ice Cube's 1990 debut solo album is as loud, noisy, and righteously pissed off as any record in rap history.
10: Sonic Youth – Goo
Sonic Youth's major-label debut finds the band smoothing out their experimental edges and pushing further into radio-friendly alt-rock territory. While Goo's sound may be more accessible, the band retains its noisy proclivities on punky tunes like "Mildred Pierce" and the soaring Karen Carpenter tribute, "Tunic (Song for Karen)."
Sonic Youth - Mildred Pierce (Official Music Video)
9: Happy Mondays – Pills 'n' Thrills and Bellyaches
A bright and over-the-top mixture of brit-pop and electronic dance music, Pills 'n' Thrills and Bellyaches signaled the dawning of the 90s and predicted some of its greatest stylistic innovations.
8: Angelo Badalamenti – Soundtrack from Twin Peaks
Angelo Badalamenti's bizarre and cinematic score was a perfect match for Twin Peaks' surreal and scenic imagery.
7: Depeche Mode – Violator
With its songs exploring the darker corners of desire and faith, Depeche Mode's Violator is a heavy, existentialist epic.
6: Mariah Carey – Mariah Carey
From the stunning opening "Vision Of Love" to the closer, "Love Takes Time," Mariah Carey's self-titled debut is a classic packed with hits. With its smooth, champagne-souled out arrangements and Mariah's powerful and soaring voice, the album dominated the charts and introduced the world to a generational talent.
5: Sinead O'Connor – I Do Not Want What I Haven't Got
Sinead O'Connor's sophomore effort, I Do Not Want What I Haven't Got is one of the most remarkable singer-songwriter-driven albums of the early 90s. The songs are soulful and socially conscious, while her cover of Prince's "Nothing Compares 2 U" rivals the original.
4: LL Cool J – Mama Said Knock You Out
Don't call it a comeback! LL Cool J's rhymes and super-producer Marley Marl's beats collide for this thrilling return to form.
LL COOL J - Mama Said Knock You Out (Official Music Video)
3: Neil Young and Crazy Horse – Ragged Glory
Neil Young and his band took a back-to-basics approach for their 1990 album, Ragged Glory, prioritizing live takes and the sound of Young's inimitable guitar playing.
2: Jane's Addiction – Ritual De Lo Habitual
A near-perfect melding of punk, hard rock, and alternative, Ritual De La Habitual is a bold musical statement that contains the enduring hit "Been Caught Stealing."
1: Public Enemy – Fear of a Black Planet
Public Enemy's third album is a fiery collage of Black radical politics and sonic bombast. Cuts like "Welcome to the Terrordome," "Burn Hollywood Burn" and "Fight The Power" are among the group's finest moments.
Welcome To The Terrordome
Can't get enough 90s music? Listen to our 90s Music playlist here.