Queen Rule The Airwaves With New Live Box Set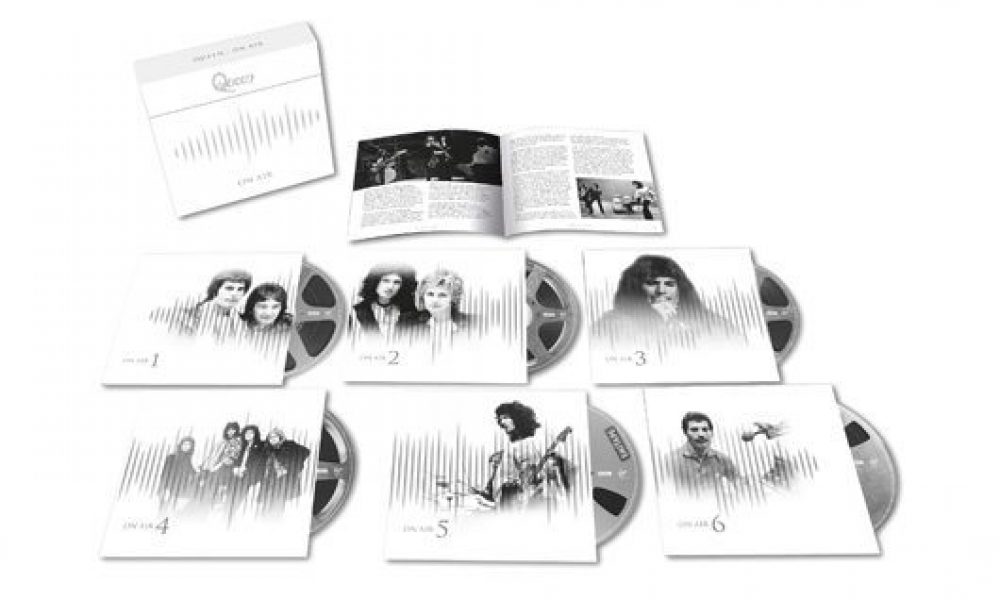 Queen's story is well known, from their first steps on the ladder to greatness (Queen), through to ambitious masterpieces (A Night At The Opera) and the stadium-filling greatness of their later outings (A Kind Of Magic). Their trajectory went one way – and one way only: theirs was a meteoric rise that can be traced through their studio albums.
The other side to the Queen story is, however, their prowess as a live band. Acclaimed releases such as Live At The Rainbow '74 and A Night At The Odeon have offered snapshots of the group at distinct points in their career, but the forthcoming collection Queen On Air, due for release on 4 November, will mark the first time that Queen's stunning progress has ever been charted from a live perspective.
Collecting all six of Queen's historic BBC sessions, Queen On Air shines a light on Queen's formative years, 1973 to '74, before jumping forward to 1977 and capturing the group while they were riding high in the charts with 'We Are The Champions' and its parent album, News Of The World.
Further rounding out this unique look at the band's career, the 6CD deluxe edition features highlights from three key concerts (Golders Green Hippodrome, London, September 1973; Estádio Do Morumbi, São Paulo, Brazil, March 1981; Maimmarktgelände, Mannheim, Germany, June 1986), along with three CDs of interviews recorded between 1976-1992, including an emotional conversation with Brian May, recorded in the months following Freddie Mercury's passing.
Remastered by Queen engineer Kris Fredricksson and Grammy-winning engineer Adam Ayan, Queen On Air brings these rarely heard performances to life, giving fans the opportunity to revel in unique versions of some of the band's best-loved songs. Taken together, they don't only present an alternate history of the group's stunning career, but also some of the finest live performances recorded by any band, anywhere on the planet.
Queen On Air is due for release on 4 November. Scroll down to read the full tracklisting, and order the 6CD deluxe box set here:
The full Queen On Air 6CD tracklisting is:
CD1: The Complete BBC Radio Sessions
Session 1: February 1973
'My Fairy King'
'Keep Yourself Alive'
'Doing All Right'
'Liar'
Session 2: July 1973
'See What A Fool I've Been'
'Keep Yourself Alive'
'Liar'
'Son And Daughter'
Session 3: December 1973
'Ogre Battle'
'Modern Times Rock'n'Roll'
'Great King Rat'
'Son And Daughter'
CD2: The Complete BBC Radio Sessions
Session 4: April 1974
'Modern Times Rock'n'Roll'
'Nevermore'
'White Queen (As It Began)'
Session 5: October 1974
'Now I'm Here'
'Stone Cold Crazy'
'Flick Of The Wrist'
'Tenement Funster'
Session 6: October 1977
'We Will Rock You'
'We Will Rock You (Fast)'
'Spread Your Wings'
'It's Late'
'My Melancholy Blues'
CD3: Queen Live On Air
Golders Green Hippodrome, London, 13 September 1973
'Procession (Intro Tape)'
'Father To Son'
'Son And Daughter'
'Guitar Solo'
'Son And Daughter (Reprise)'
'Ogre Battle'
'Liar'
'Jailhouse Rock'
Estádio Do Morumbi, São Paulo, Brazil, 20 March 1981
'Intro'
'We Will Rock You (Fast)'
'Let Me Entertain You'
'I'm In Love With My Car'
'Alright Alright'
'Dragon Attack'
'Now I'm Here'
'Love Of My Life'
Maimmarktgelände, Mannheim, Germany, 21 June 1986
'A Kind Of Magic'
'Vocal Improvisation'
'Under Pressure'
'Is This The World We Created'
'(You're So Square) Baby I Don't Care'
'Hello Mary Lou (Goodbye Heart)'
'Crazy Little Thing Called Love'
'God Save The Queen'
CD4: Queen On Air: The Interviews (1976-1980)
'Freddie Mercury With Kenny Everett (November 1976)'
'Queen With Tom Browne (Christmas 1977)'
'Roger Taylor With Richard Skinner (June 1979)'
'Roger Taylor With Tommy Vance (December 1980)'
'Roy Thomas Baker, The Record Producers'
CD5: Queen On Air: The Interviews: (1981-1986)
'John Deacon, South American Tour (March 1981)'
'Brian May, Rock On With John Tobler (June 1982)'
'Brian May, Saturday Live With Richard Skinner And Andy Foster (March 1984)'
'Freddie Mercury, Newsbeat (August 1984)'
'Brian May, Newsbeat (September 1984)'
'Freddie Mercury, Saturday Live (September 1984)'
'Freddie Mercury With Simon Bates (April 1985)'
'Brian May, The Way It Is, With David "Kid" Jensen (July 1986)'
CD 6: Queen On Air: The Interviews (1986-1992)
'Roger Taylor, My Top Ten With Andy Peebles (May 1986)'
'Queen For An Hour With Mike Read (May 1989)'
'Brian May, Freddie And Too Much Love Will Kill You With Simon Bates (August 1982)'
'Brian May, Freddie Mercury Tribute Concert With Johnnie Walker (October 1992)'
Format:
UK English