Watch Airbourne Go 'Beyond The Bus' In New Animated Video
The formidable Aussie rockers go in search of booze and rock'n'roll Valhalla in the riotous new semi-animated interview clip.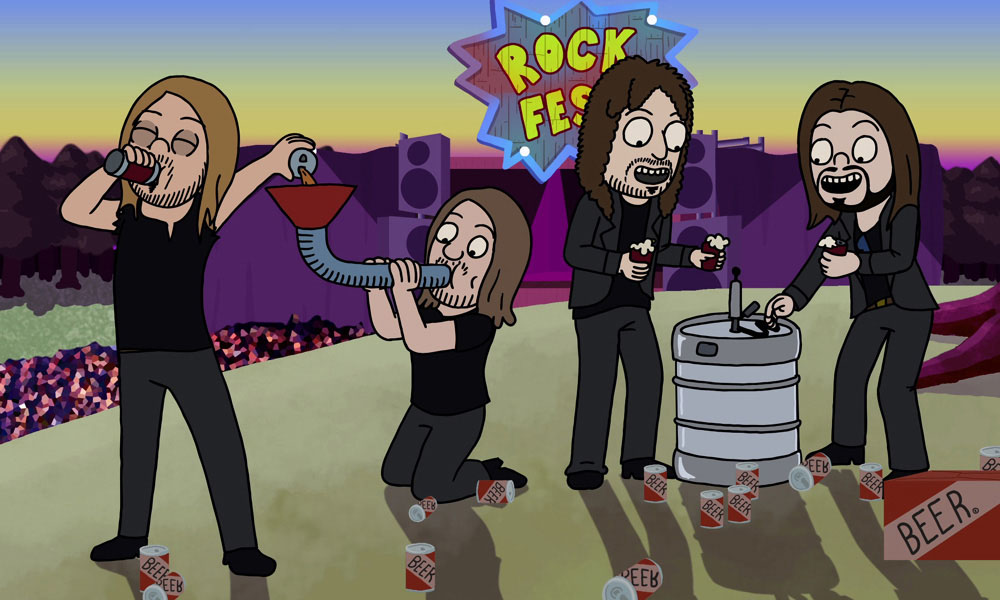 As those who previously enjoyed their previous 'Beer Bomber Challenge' will already know, formidable Aussie rockers live for two things – cranking out the most ferocious rock' n' roll sounds known to man and imbibing truly copious amounts of beer – and they're in pursuit of them both as they go 'Beyond The Bus' in their new animated video.
Filmed exclusively for uDiscover Music, 'Beyond The Bus' features Airbourne mainstays, Joel O'Keeffe (vocals and guitar) and his brother Ryan O'Keeffe (drums) revealing how their 'Boneshaker' tour offered them the choice to travel on their own plane – in the tradition of their heroes such as Led Zeppelin, The Rolling Stones and Iron Maiden. You can watch the resulting hi-jinks in full in the video below, but if you scroll down, the band give you a flavour of what happened when they went 'Beyond The Bus'.
Airbourne On Their Party-Filled Flight To Rock Fest in Spain | Beyond The Bus (Episode 1)
"Yeah, it was the first time we were fortunate enough to have a promoter charter us a plane – which of course we called 'Airbourne One'," Ryan O'Keeffe says.
"We all rocked up to this tiny airport in Sweden, with a whole load of booze. It was great. We took off and started making drinks with lots of ice."
"Yeah, and we had all these platters with ham, cheese and olives too, but the sun doesn't set in Scandinavia, so we were in this weird twilight zone", Joel O'Keeffe adds. "We'd brought all this food and booze on board and we were all really drunk – there was booze and food all over the floor. The pilot was going 'Oh God!'"
"We had to refuel in Bremen, in Germany, and then we were off to the Rock Fest in Spain and by the time we got there we were completely intoxicated", Ryan laughs. "Customs was irrelevant. I remember being told I needed to show my passport, but I just went 'mate, you don't wanna see that' and just kept right on walking!"
"We had to play the next day at lunchtime", Joel adds. "We were sick as dogs, standing onstage in 40-degree heat. The hangover sweats were off the scale and afterwards, I remember falling down on the ground in tears."
"But it was a good show, though, wasn't it?" says Ryan.
"Oh yeah, absolutely, great gig!" Joel agrees.
Listen to the Best of Airbourne on Apple Music and Spotify.
Format:
UK English