Billie Eilish Shines In Live Concert Film 'Happier Than Ever: A Love Letter To Los Angeles'
Eilish performs her album without a single audience member physically present – and yet her star power on stage shines just the same.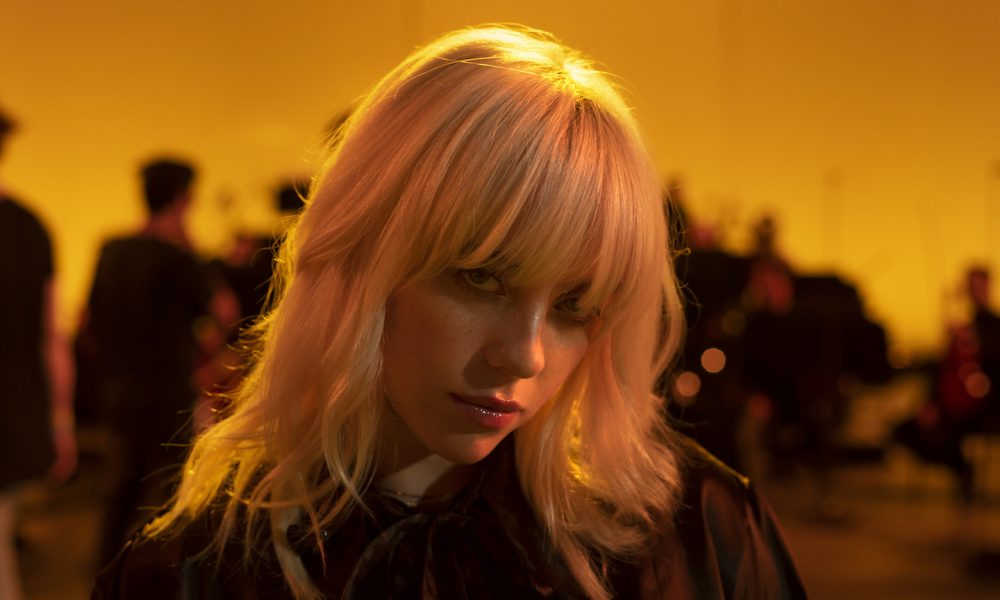 Earlier this year, Billie Eilish shared The World's A Little Blurry, an Apple TV+ documentary that followed the creation of her debut album When We All Fall Asleep, Where Do We Go? and the whirlwind of stardom that followed its release. In the film, the 19-year-old singer's success is depicted visually with footage from sold-out concerts packed to the brim with passionate fans screaming every word of every song back at her. In her latest live concert film, Happier Than Ever: A Love Letter To Los Angeles, out now on Disney+, Eilish performs her sophomore album from top to bottom without a single doting audience member physically present – and yet her star power on stage shines just the same.
Directed by Robert Rodriguez and Patrick Osborne, Happier Than Ever: A Love Letter To Los Angeles finds Eilish paying homage to her hometown through performances of each Happier Than Ever track reimagined in a live setting for the first time. The album is performed with her brother and close collaborator Finneas, the Los Angeles Children's Chorus, the Los Angeles Philharmonic conducted by music and artistic director Gustavo Dudamel, Brazilian guitarist Romero Lubambo and drummer Andrew Marshall. The featured performances were filmed at Los Angeles' Hollywood Bowl.
Putting her talents on full display
Throughout the hour-long film, Eilish doesn't overload her performances, allowing the focus to remain solely on her vocal performance and live presence as an artist. From the album's somber opening track "Getting Older" through the revelatory single "Your Power," the singer puts her full vocal range on display, effortlessly coursing through the most vocally demanding performances on Happier Than Ever. At times, Eilish is backed by the Philharmonic's lush, orchestral sound. At others, it's just her stripped-back vocals and Finneas on an acoustic guitar. Even for the album's more fast-paced songs, like "Oxytocin" and "Therefore I Am," the film matches Eilish's pace with camera movements that mimic each track's frenzied production.
Billie Eilish - Oxytocin (From Disney's Happier Than Ever: A Love Letter To LA)
Interspersed throughout Eilish's performance are brief clips of an animated avatar of the singer exploring Los Angeles. During "Oxytocin," the replicated figure races through the city's streets in a sleek top-down convertible and during "My Future" she overlooks those same streets from the roof of the Roosevelt Hotel. It's a subtle yet profound visual choice, utilizing an animated figure to explore Eilish's hometown in a way that she likely doesn't have the luxury of doing anymore.
The singer documented the milestone of receiving her driver's license in The World's A Little Blurry, excitedly leaving home on her own for the first time in a brand new Dodge Challenger. It's a more secretive vehicle than the convertible her animated counterpart rides in, but real-life Eilish got her license at the same time that she was headlining massive musical festivals and altering the landscape of pop music. Even going to the grocery store proved to be difficult for her at a certain point, let alone cruising through the crowded streets of Los Angeles with her staple blonde hair blowing in the wind. In Happier Than Ever: A Love Letter To Los Angeles, she opts to live vicariously through her 2D avatar.
"It is such a thrill to be able to do this in my hometown, Los Angeles, a place that really informed me of who I am and I think that I took it for granted," Eilish says in a voiceover in the film as her animated self sits in an empty diner. "The older I've gotten, the more I've come to love Los Angeles so, so much and be so grateful for my childhood and my growth as a person. LA really got me there." From there, the film transitions seamlessly into a gorgeous performance of the Sinatra-esque "Halley's Comet" with help from the Philharmonic's stunning horn section.
Billie Eilish - Happier Than Ever (From Disney's Happier Than Ever: A Love Letter To LA)
A full circle achievement
The film features a number of subtle highlights of the city and all it has to offer. During "Goldwing," Eilish shouts out the Los Angeles Children's Chorus, which is same the choir she grew up singing in. During the song, the singer interpolates "Choral Hymns from the Rig Veda, 3rd Group, Op. 26: No. 3. Hymn to Vena" from composer Gustav Holst, a song she used to sing while in the choir. "I just fell in love with it then and knew that I wanted to put it in a song," she says. "I thought it would be really cool to have them actually come out and sing it here." The full-circle achievement makes for one of the film's most heartwarming moments.
During a moving performance of "Happier Than Ever" later in the film, Eilish comes face to face with her animated counterpart. During the stripped first half of the song, a spotlight follows cartoon Eilish down the stairs of the Hollywood Bowl to the front row where she lovingly watches herself perform. "I don't relate to you / I don't relate to you, no / Cause I'd never treat me this shitty / You made me hate this city," Eilish sings passionately in a soul-stirring moment where the emotion of the song is juxtaposed with the singer falling back in love with LA.
Animated Billie can't escape the singer's stardom either, driving past billboards promoting Happier Than Ever and arriving at a premiere with flashing cameras and adoring fans, so the two versions of the singer have a particular understanding of each other. Even when she isn't able to perform to a packed audience, she can still count on herself to show up, front and center, at her hometown's most iconic venue and as her own biggest fan.