Billie Eilish Shares Stunning Sophomore Album 'Happier Than Ever'
The album arrives with the official music video for its title track, directed by Eilish herself.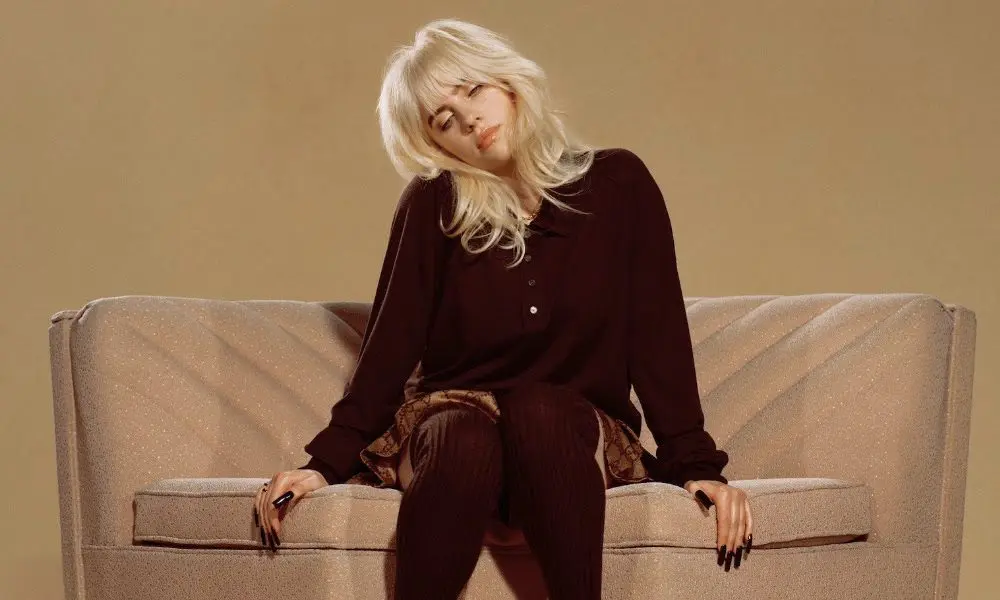 Billie Eilish has shared her highly-anticipated sophomore album Happier Than Ever, a stunning follow-up to her monumental 2019 debut When We All Fall Asleep Where Do We Go. The 16-track project arrives today via Darkroom/Interscope records and features the lead singles "My Future," "Therefore I Am," "Your Power," "Lost Cause" and "NDA."
Written and produced by Eilish with her brother and sole collaborator FINNEAS, Happier Than Ever solidifies the singer as an ever-evolving pop monolith. The album navigates more self-reflective and critical topics than its predecessor, centering Eilish's soft and hyper-intentional vocal intonations.
As she explores the ideas of coming of age as an international star and the changes that come along with that, Eilish sharpens her pen as a songwriter by leaning into cutting lyrics and visual details that wrap themselves around FINNEAS' unconventional production tactics.
The album's title track "Happier Than Ever" builds from a breezy acoustic pace in its first half to a booming, guitar-heavy conclusion in its second. Alongside the album release, Eilish shared a self-directed music video for the track that visually reflects the song's tonal shift. The visual opens with Eilish airing her grievances to an ex over the phone when suddenly water begins to drip from the ceiling and the lights in the 1950s and 60s golden era-inspired room start to flicker.
Billie Eilish - Happier Than Ever (Official Music Video)
By the end of the visual, Eilish is on the roof of a sinking home releasing every pent-up emotion as she belts out the track's powerful lyrics. "You ruined everything good / Always said you were misunderstood," she sings on the outro. "Made all my moments your own / Just f—-n' leave me alone."
Eilish has teamed up with Spotify to create the first-ever artist hub on the streaming platform. Happier Than Ever: The Destination features custom-made content from the singer herself inclusive three enhanced album experiences to listen to the project including "Fan Mode," "Billie Mode" and "Lyric Mode," which features additional audio explanations of particular tracks on the album. The hub also features exclusive motion graphics and Q&As featuring audio from Eilish's fans.
The hub is one of a number of upcoming festivities surrounding Happier Than Ever. Eilish recently announced Happier Than Ever: A Love Letter to Los Angeles, a visual special directed by Robert Rodriguez and Patrick Osborne that pays homage to the singer's hometown. Eilish will be performing the album with FINNEAS, guitarist Romero Lubambo, the Los Angeles Children's Chorus, and the Los Angeles Philharmonic. With orchestral arrangements by David Campbell, the live concert will present Happier Than Ever in a dreamlike, cinematic setting. The special premieres globally on Friday, September 3 on Disney+.
Steam or buy Billie Eilish's latest album Happier Than Ever, out now.