Bluesman 'Bukka' White's Guitar, Played By Mark Knopfler, Admired By B.B. King, Up For Auction
The 1933 National Duolian, nicknamed Hard Rock, will be sold in England in March.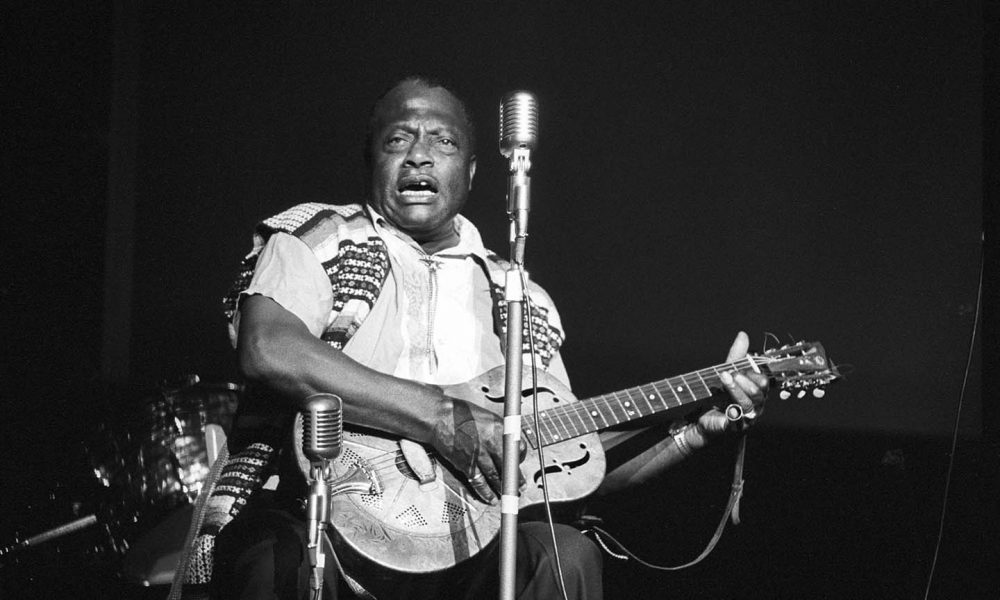 A guitar owned by original bluesman Booker 'Bukka' White, once played by Mark Knopfler and described as a "holy relic" by White's cousin B.B. King, will go up for auction in England in March.
Newcastle's chroniclelive.co.uk reports that the guitar, nicknamed Hard Rock, is a 1933 National Duolian that was owned and played by White for more than 30 years. It's expected to fetch between £80,000 and £120,000 when it is sold by auctioneers Gardiner Houlgate in Corsham, Wiltshire, on 13 and 14 March. Along with other guitars, it's available for viewing in the two preceding days, with all details at the auctioneers' website.
The guitar came into the possession of English photographer Keith Perry nearly a decade after he had met White at a blues festival in Newcastle. In 1976, the bluesman sent Perry the guitar, in return only for postal costs, whereupon it was played by Knopfler, who grew up in Newcastle, and by another local hero, Brian Johnson, later frontman of AC/DC.
By then, its place in music history was assured. "Together, White and Hard Rock were the quintessential Mississippi blues combo on the revival scene in the '60s and '70s," wrote Vintage Guitar magazine, "from college shows and blues festivals to the Avalon Ballroom and Fillmore halls, opening for the rock bands influenced by his music."
Hard Rock comes with White's guitar case, a hand-written tag and some of the metal slides he used for playing it.  It's further authenticated by letters from White and customised by the heart and sunray charms he added to the headstock. The guitar has the larger body and "rolled in" f-holes of subsequent  National models, made from 1934 onwards. The wear and tear visible on the fretboard is from White's playing style, in which he slapped the guitar at either end.  
The guitar's preeminence was further confirmed in 2010, when modern-day blues singer-writer Eric Bibb released the album Booker's Guitar on the Telarc label, not named after the instrument but using it on the record.
"This is a truly astounding guitar," Gardiner Houlgate auctioneer Luke Hobbs told chroniclelive.co.uk,  "backed up by masses of documentation and historic evidence. Not only does it come with its own incredible story, it's also a direct connection to the mythic bluesman of 1920s and '30s America. It's no wonder we're expecting interest from right across the world for this sale.
"Today, Booker White is not commercially known, but if you ask performers like Robert Plant or Mark Knopfler, they'll tell you how important he was."
Format:
UK English