New Multi-Disc Box Set To Celebrate Mott The Hoople's Island Records Years
'Mental Train' gathers all the band's studio albums from the period and adds a wealth of rare material.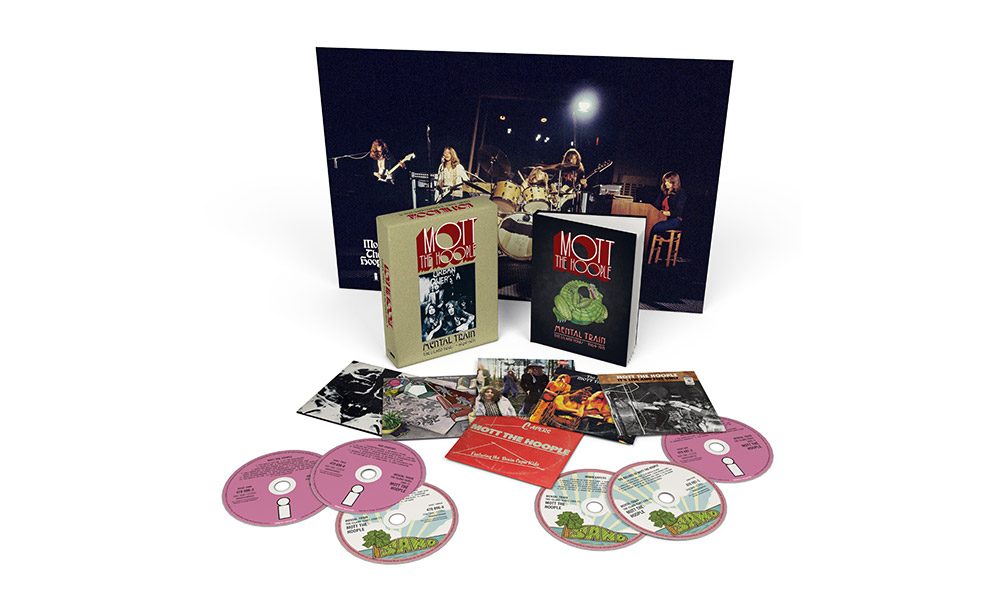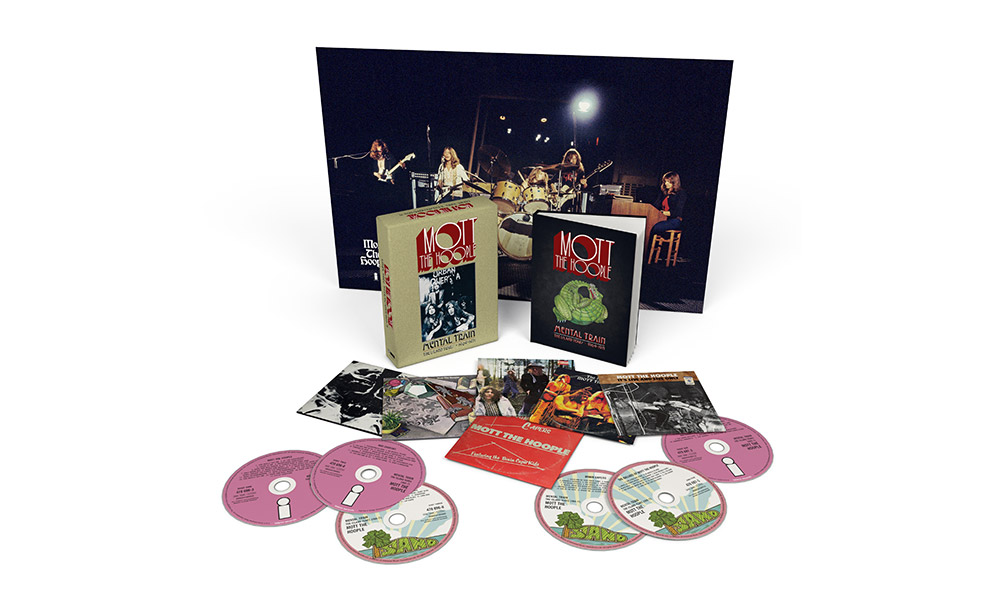 Legendary English rock band Mott The Hoople's entire output for Island Records is set to be released as a new 6-CD box set, Mental Train on 2 November.
The band were signed to Island from 1969-1971 and this new box brings together all of their studio albums from the period, in addition to a wealth of bonus material including BBC sessions and live concerts. The studio albums have all been remastered from the original tapes (where available) by renowned engineer Andy Pearce and have been complemented by bonus tracks selected by Mott the Hoople expert, Kris Needs.
Disc 5 comprises more unheard and, in some cases, unreleased music from the Island archive and Disc 6 rounds everything off with live material recorded at Fairfield Hall, Croydon on 13 September 1970 plus a BBC Radio One In Concert from the Paris Theatre, London on 30 December 1971. The CDs are housed in a shoe box style package with a 50-page booklet designed by Phil Smee who scoured the archives for rare photos and memorabilia, tracing the evolution of the band. It is completed with comprehensive sleeve notes by Kris Needs.
Mott the Hoople were one of the most prolific and important British rock bands of the early 1970s and have been cited as a major influence by members of a raft of subsequent groups, including Queen, Def Leppard, Oasis, R.E.M., Kiss, Motley Crue and The Clash.
Mott The Hoople - Drivin' Sister (Live)
"Mott would swing relentlessly and unstoppably into their show every night, like a marauding band of outlaws and every night there was something close to a riot – the kids couldn't get close enough; they simply couldn't get enough," says Queen's Brian May of the band. "Ian Hunter – the unwritten boss – would plant himself centre-stage behind his shades and dare anyone to remain seated."
Mott The Hoople continue to perform, in their current line-up, with Ian Hunter at the helm.
Mental Train is released on 2 November. Scroll down to read the full tracklisting and buy it here.
CD1 ~ Mott The Hoople (Originally released November 22 1969)
'You Really Got Me'
'At the Crossroads'
'Laugh At Me'
'Backsliding Fearlessly'
'Rock and Roll Queen'
'Rabbit Foot and Toby Time'
'Half Moon Bay'
'Wrath and Wroll'
Bonus Tracks:
'If Your Heart Lay with the Rebel (Would You Cheer the Underdog?)' (Instrumental Take 2)
'Rock and Roll Queen' (Single A side)
'Road to Birmingham' (Single B side)
'Road to Birmingham' (Guy Stevens Mix)
'You Really Got Me' (Complete take)
'You Really Got Me' (Vocal mix)
'Rock and Roll Queen' (Guy Stevens Mono Mix)
'Rock and Roll Queen' (Kitchen Sink Instrumental)
'Little Christine' (2 Miles)
CD2 ~ Mad Shadows (Originally released September 1970)
'Thunderbuck Ram'
'No Wheels to Ride'
'You Are One of Us'
'Walking with a Mountain'
'I Can Feel'
'Threads of Iron'
'When My Mind's Gone'
Bonus Tracks
'Thunderbuck Ram' (BBC Session)
'Thunderbuck Ram' (Original Take with Organ)
'No Wheels to Ride' (Demo)
'Moonbus (Baby's Got a Down on Me)'
'The Hunchback Fish' (Vocal Rehearsal)
'You Are One of Us' (Take 9)
'Going Home' (2 Miles)
'Keep A-Knockin' (Studio version)
CD3 ~ Wildlife (Originally released March 1971)
'Whiskey Women'
'Angel of Eighth Avenue'
'Wrong Side of the River'
'Waterlow'
'Lay Down'
'It Must Be Love'
'The Original Mixed Up Kid'
'Home Is Where I Want to Be'
'Keep A-Knockin' (Live)
Bonus Tracks:
'Midnight Lady' (Single A side)
'The Debt' (Single B side)
'Downtown' (Single A side)
'Brain Haulage (Whiskey Woman)'
'Growing Man Blues' (Take 10)
'Long Red' (Demo)
'The Ballad of Billy Joe'
'Lay Down (Take 8)'
CD4 ~ Brain Capers (Originally released December 1971)
'Death May Be Your Santa Claus'
'Your Own Backyard'
'Darkness, Darkness'
'The Journey'
'Sweet Angeline'
'Second Love'
'The Moon Upstairs'
'The Wheel of the Quivering Meat Conception'
Bonus Tracks:
'Mental Train (The Moon Upstairs)'
'How Long? (Death May Your Santa Claus)'
'Darkness, Darkness'
'Your Own Backyard (Complete Take)'
'Where Do You All Come From (Backing Track)'
'One of the Boys (Take 2)'
'Movin' On (2 Miles)'
'Black Scorpio (Mommas Little Jewel)'
CD5 ~ The Ballads of Mott The Hoople
'Like a Rolling Stone (Fragment)'
'No Wheels to Ride (1st House)'
'Angel Of 8th Avenue (Tape 816)'
'The Journey'
'Blue Broken Tears (Tape 816)'
'Black Hills (Full Ralph's Version)'
'Can You Sing the Song That I Sing (Full Take)'
'Till I'm Gone (2 Miles)'
'The Original Mixed Up Kid' (BBC Session)
'Ill Wind Blowing (2 Miles)'
'I'm A River' (Vocal Rehearsal)
'Ride on The Sun (Sea Diver)' (2 Miles)
CD6 ~ It's Live And Live Only
'Rock and Roll Queen'
'Ohio'
'No Wheels to Ride / Hey Jude'
'Thunderbuck Ram
'Keep A-Knockin'
'You Really Got Me'
'The Moon Upstairs'
'Whiskey Women'
'Your Own Backyard'
'Darkness, Darkness 10'
'The Journey'
'Death May Be Your Santa Claus
(Tracks 1 – 7: Fairfield Hall, Croydon, 13 September 1970)
(Tracks 8 to 12: Paris Theatre, London, BBC Radio One, In Concert, 30 December 1971)
Format:
UK English