Documentary Starring Buffy Sainte-Marie Begins Production
The film is described as a 'cinematic, poetic and musically-infused journey, blending an extraordinary collection of archival material, some never seen before, with present-day footage of Buffy.'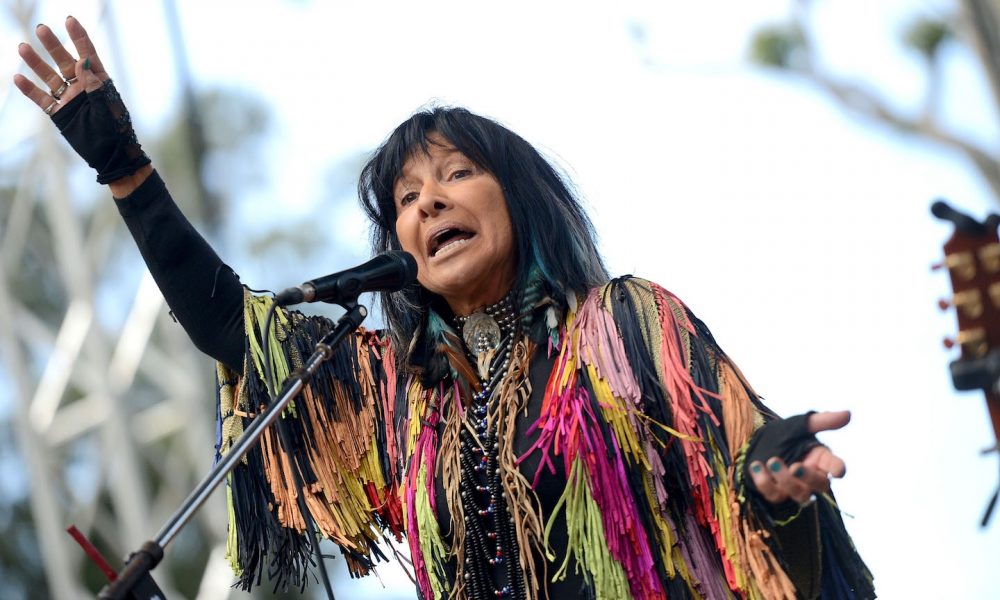 Variety has reported that a new documentary film about Buffy Sainte-Marie, the first and only Indigenous person to win an Academy Award, has begun production and will be helmed by director Madison Thomas.
Titled Buffy Sainte-Marie: Carry It On, the feature will be an in-depth look at the life of the activist and musician, described as a "cinematic, poetic and musically-infused journey, blending an extraordinary collection of archival material, some never seen before, with present-day footage of Buffy performing and interviews with her bandmates, colleagues and Buffy herself."
"To turn one's life story over to a documentary production is a leap of faith, but with White Pine Pictures and Eagle Vision, the process is feeling natural to me," Sainte-Marie said in an exclusive statement to Variety. "I look forward to experiencing the story of my life as told through their lens and sharing that story with the world."
Sainte-Marie is celebrated for an extraordinary body of work, highlighted by her 1969 masterpiece Illuminations. The album was the pioneering sixth studio album from the Academy Award–winning singer-songwriter.
Throughout her long career, Sainte-Marie has been a trailblazer and a tireless advocate, an innovative artist and a disruptor of the status quo. No exception to her career, Illuminations broke ground as one of the very first electronic vocal albums. A departure from her previous work, Illuminations incorporates vocals and acoustic guitar along with early electronic synthesizers to create an experimental sound that is wholly unique, even entering avant-garde gothic territory.
The album was re-released during Record Store Day's 2019 Black Friday event. For its 50th anniversary, the album—which includes psychedelic masterpieces "Poppies" and "God Is Alive, Magic Is Afoot" — has been remastered from its original analog master by Kevin Gray at Cohearent Audio and pressed on 180g opaque yellow vinyl at QRP. Housed in an old-school-style tip-on jacket, this special reissue was limited to 2,000 copies worldwide.
Listen to the best of Buffy Sainte-Marie on Apple Music and Spotify.