Butcher Brown Discuss Their Jazz Influences On 'Shoplifting'
'Craft Recordings Presents: Shoplifting' captures artists and tastemakers as they raid the acclaimed reissue label's vinyl bins.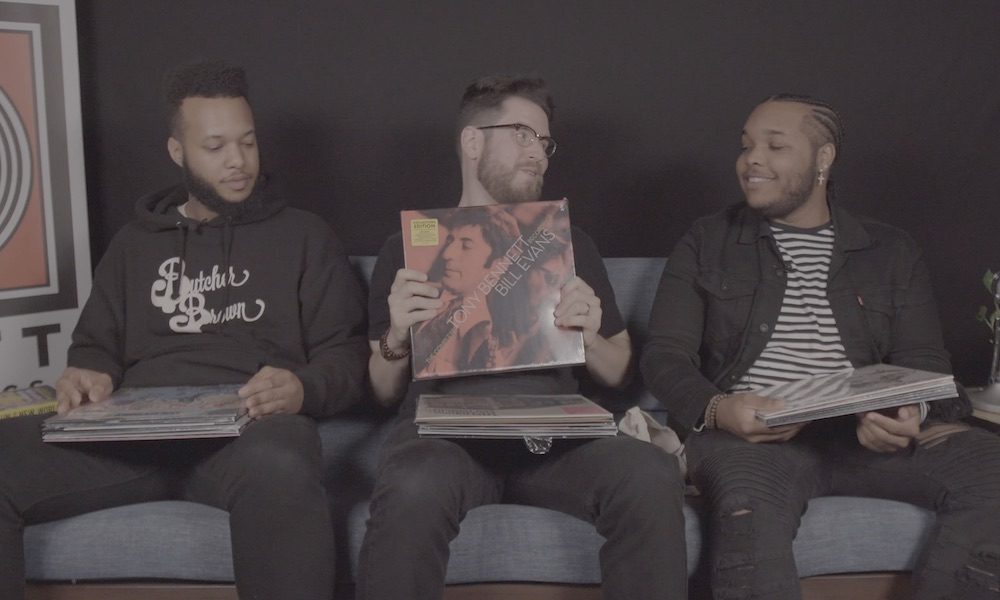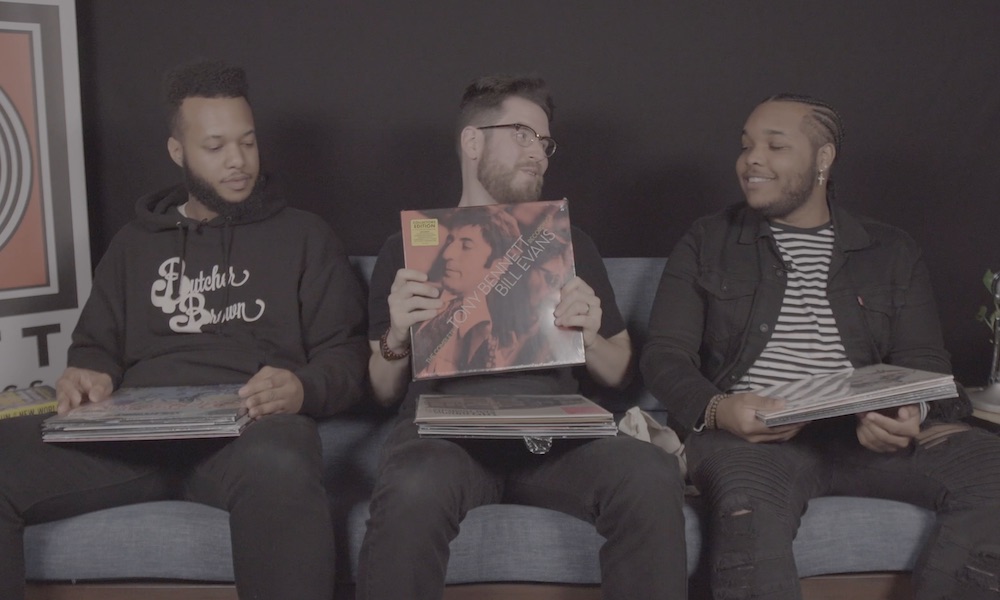 Corey Fonville, Andrew Randazzo, and Morgan Burrs of Butcher Brown talk about their influences in the latest edition of Shoplifting. Presented by Craft Recordings, the video series captures artists and tastemakers as they raid the acclaimed reissue label's vinyl bins.
Hailing from Richmond, VA, Butcher Brown, which also includes members Tennishu and DJ Harrison, blends jazz with hip hop, funk, rap, rock, and soul for an eclectic and supremely modern sound. Their album picks at Craft's Los Angeles headquarters primarily honored their jazz roots.
Shoplifting with Butcher Brown Ep 15
Morgan, the group's guitarist, fittingly picked out several titles from legendary guitarists, including Joe Pass' Chops, and The Wes Montgomery Trio's self-titled 1959 album. "Wes is definitely the blueprint for any jazz guitarist," he proclaimed. He also grabbed a copy of the Vince Guaraldi Trio's timeless soundtrack to A Charlie Brown Christmas. Grinning ear-to-ear, he said "I'll listen to this any time of year. All of Vince Guaraldi's stuff is killer…This is a classic record."
Bassist Andrew was thrilled to snag a copy of In Session, a classic, 1983 live recording by Albert King with Stevie Ray Vaughan. "These dudes are just, sort of, G.O.A.T.s," he exclaimed. He also grabbed a copy of John Coltrane's Lush Life, adding that the session's bassist, Paul Chambers was one of his favorites. "The stuff that Paul Chambers plays on Lush Life…it goes very hard."
Corey, who helms drums in Butcher Brown, grabbed a classic, 1962 Bill Evans Trio album, Waltz for Debby. He noted that "Paul Motion is a great drummer and extremely tasteful." He also picked up a copy of Workin' with the Miles Davis Quintet. He called Philly Joe Jones "one of the baddest drummers of all time."
The band members also grabbed the Zombies' Odessey and Oracle, the Pharcyde's classic 1995 LP, Labcabincalifornia, Stax compilation Soul Explosion, and the 4-LP Complete Tony Bennett/Bill Evans Recordings. "Once I heard this, it just changed my whole scene up," recalled Andrew of the famous pairing.
Weeks ago, Butcher Brown released their latest album, #KingButch on Concord Jazz. AllMusic praised that the band "consolidate their known powers and reveal new ones" on their eighth studio album. The outlet added that the musicians in the group "are fluent to a scholarly extent in jazz-funk, and reconstitute the form with a hip-hop perspective [while] they can also play firebolt fusion with punk intensity."
The quintet can also be heard on ESPN performing Monday Night Football's new theme song – a rousing cover of Little Richard's "Rip it Up."
To watch all episodes of Craft Recordings Presents: Shoplifting, visit YouTube.