Miles Davis' Prestige Sessions: 'They're Like The Holy Grail' Of Jazz
Recorded in a burst of creativity, the Miles Davis Quintet's Prestige Sessions found the trumpeter running "a masterclass in working the tunes."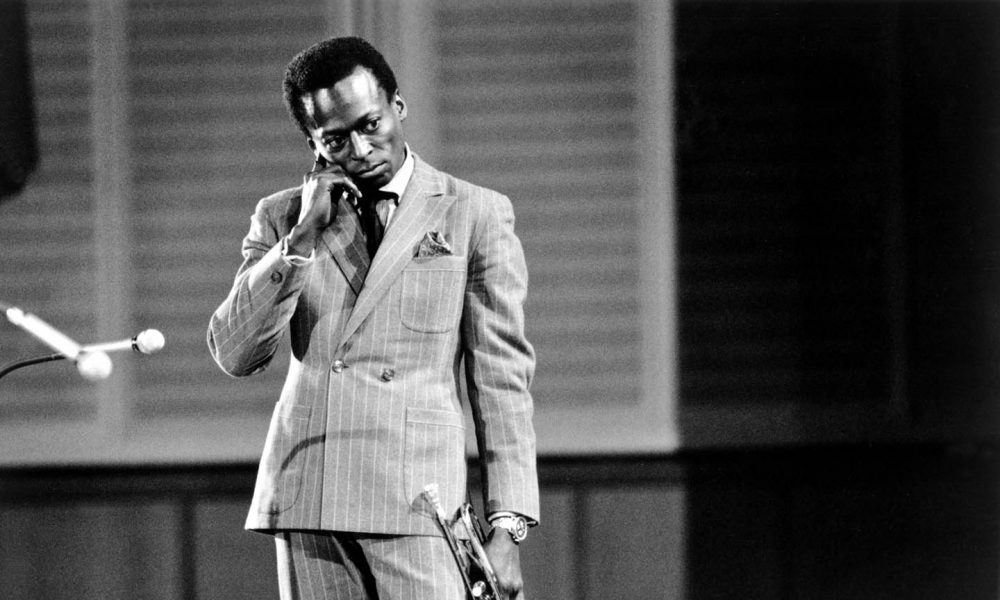 Some of the most spectacular jazz of the 50s (or of any era, for that matter) appears on The Legendary Prestige Quintet Sessions. It is a 6 LP compilation that brings together all of the sides recorded for Bob Weinstock's jazz indie label by Miles Davis and his groundbreaking young group. When the quintet formed in July 1955, saxophonist John Coltrane, pianist Red Garland, bassist Paul Chambers, and drummer Philly Joe Jones were all relatively unknown to the music-buying public, but that situation would quickly change. Indeed, they would quickly become revered by jazz fans as gods.
"That was some great music we made"
During his Prestige tenure, Davis recorded in several different settings, from quartets and all-star sextets to septets. Nevertheless, his best music for the label resulted from a brand new quintet he assembled in the summer of 1955. It came in the aftermath of a game-changing appearance at the 1955 Newport Jazz Festival. Davis' mesmerizing performance there caught the ear of Columbia producer George Avakian, who said he would sign the trumpeter if he could put together a steady working band to showcase his music. Miles obliged by recruiting Garland, Chambers, and Jones, along with saxophonist Sonny Rollins. When Rollins left in September 1955, John Coltrane came in as a replacement, and one of the greatest and most influential jazz groups of the 50s was born.
Before signing with Columbia, Davis had to fulfill his contractual obligations to Prestige. After recording Miles: The New Miles Davis Quintet, the group's debut for the label, on November 16, 1955, he went into Rudy Van Gelder's Hackensack studio twice more: for two marathon recording sessions, held on May 11 and October 26, 1956, respectively.
There was little preparation beforehand. Miles treated both sessions as if he were playing a gig, calling out the song titles and counting in the band. They quickly went from one song to another without any fuss or second takes. What resulted was eventually sequenced by Weinstock into four different albums: Cookin', Relaxin', Workin', and Steamin'. They not only helped to establish Miles Davis as an intrepid jazz pathfinder, but also established his quintet as one of the most significant small groups in jazz. As he wrote in his 1989 memoir, Miles: The Autobiography: "That was some great music we made at both those sessions, and I'm really proud of it today. But this ended my contract with Prestige. I was ready to move on."
If I Were A Bell (Rudy Van Gelder Remaster)
"He had an idea set in his mind"
"These sessions for Prestige are what I'm really most proud of him for," said the trumpeter's son and former percussionist, Erin Davis, in a 2019 interview. "The music he did wasn't intended to be legendary but was what he just wanted to get done. He had an idea set in his mind, and he knew that bringing in the right musicians would make that happen. He was like: 'Let's go to the studio and call the tunes. We don't need to talk about arrangements or solos, let's just feel it.'"
"They just got together and called out the tunes," added Erin's cousin, Vince Wilburn, a drummer with Miles Davis' band in the 80s. "Uncle Miles liked to get it done on the first take. That way you get the synergy of the band. Both Erin and I can attest that he didn't like to go beyond one or two takes in any music he made. He loved spontaneity. You had to be on your toes to capture what he wanted. I can only imagine what it was like when you had Coltrane and these guys in the studio."
On The Legendary Prestige Quintet Sessions, all the tracks are presented in chronological order, rather than how Bob Weinstock sequenced them for release. It gives the impression of hearing a live concert in the studio. Said Erin Davis: "In Stanley Nelson's documentary on my dad, Birth Of The Cool, the writer Jack Chambers talks about how these albums are gems of spontaneous music in the way that they recorded them. So I think a lot of people like these particular sessions because Miles and his band were working in a free environment when they were recording.
The Miles Davis Quintet - The Legendary Prestige Quintet Sessions
"You can feel the camaraderie and pride"
Miles Davis expressed his enthusiasm for the group in this passage from his autobiography: "By the beginning of 1956, I was really enjoying playing with this group and enjoying listening to them plays as individuals." His son Erin confirmed that his father was immensely fond of his first quintet. "This was one of the bands that he used to talk to me about," he explained. "He didn't talk about the music very much, but I remember he used to tell us about Philly Joe all the time. He would tell Vincent and me stories about stuff that happened on the road – but a lot of it I'd be a little reticent to repeat!"
Wilburn: "He didn't talk about his old music very much, but he would always be telling jokes about Philly Joe. The camaraderie, the friendships, the seriousness of the music, and the pride of musicians are the things that you can feel on those Prestige dates. To call off those songs in the studio and make records consecutively like that and put them out was incredible."
The first album in the box set came from a November 16 session in 1955, which resulted in the group's debut album, Miles: The New Miles Davis Quintet. Miles often used a muted horn, which brought a sense of vulnerability to his sound. Erin: "The mute gave him a human sound, like a voice, and it's very compelling. His romanticism came through his music on ballads."
"He would always pick guys you never expected"
Miles' lean, lyrical style, compared to Coltrane's dense, robust yet rhapsodic solos, made the saxophonist – who was then largely unknown – the trumpeter's perfect foil. "They complemented each other," explained Erin Davis. "You could hear in what he was playing that there was something special in Coltrane. My dad would always pick guys that you never expected him to take. He could hear something in someone's playing and wanted to have them join his band."
With Garland providing delicately sparkling piano and Chambers and Jones establishing an ESP-like rapport with their bass and drums, the group immediately established itself as one of jazz's leading small ensembles. "It's like the all-star team of the greats," said Vince Wilburn. "That band was like a masterclass."
Highlights from Miles: The New Miles Davis Quintet ranged from the beautifully mellow swinger "Just Squeeze Me," to the moodier but more energetic "S'posin'" and "Stablemates," both archetypal slices of classic 50s hard bop. The album also featured the Miles Davis-penned "The Theme," which the trumpeter would use to close his live sets for many years.
The quintet's second Prestige album, Cookin' With The Miles Davis Quintet – whose highlights included "My Funny Valentine" and "Airegin" – was recorded on October 26, 1956, but by the time it came, out in July 1957, Miles' group had released their first Columbia album, 'Round About Midnight.
My Funny Valentine (Rudy Van Gelder Remaster 2007)
"A masterclass in working the tunes"
Rather than saturate the market, Bob Weinstock had decided to stagger the release of Davis' remaining Prestige albums over several years. Relaxin' With The Miles Davis Quintet appeared in March 1958, drawn from both of the trumpeter's marathon final sessions for Prestige, two years earlier. The album's killer cuts were a scintillating version of "If I Were A Bell" and a dynamic reconfiguration of Sonny Rollins' "Oleo."
Prestige released Workin' With The Miles Davis Quintet in December 1959. By that time, Miles Davis was a jazz superstar having just released the immortal Kind Of Blue for Columbia several months earlier. Like Relaxin', Workin' was drawn from the May and October 1956 sessions, and featured "Trane's Blues," "Four" (a Miles-penned tune that became a jazz standard) and the hauntingly beautiful "It Never Entered My Mind." The latter was a song that Miles had recorded for Blue Note two years earlier.
The band's final Prestige album was Steamin' With The Miles Davis Quintet. That, too, was sourced from the same sessions as the Cookin', Relaxin', and Workin' albums, and, like those, is a consistently engaging set characterized by potent individual and collective performances. It contains excellent versions of Thelonious Monk's "Well, You Needn't," Dizzy Gillespie's "Salt Peanuts" (showcasing the firecracker trap work of Philly Joe Jones), and the lesser-known Rodgers and Hammerstein tune "The Surrey With The Fringe On Top," which pianist Ahmad Jamal popularized in the early 50s.
Surrey With The Fringe On Top
"They're like the Holy Grail"
The sixth and final disc in The Legendary Prestige Quintet Sessions features some rare bonus material, including essential recordings that capture Davis' group performing live. There are four songs from New York's Café Bohemia – the venue where the quintet honed their craft – two from Philadelphia's Blue Note Club and a couple the group performed on the popular TV show Tonight Starring Steve Allen. They give a taste of what this magnificent band sounded like playing in front of an audience.
Vince Wilburn first became acquainted with his uncle's classic Prestige albums as a youngster. "I grew up on the south side of Chicago, and my parents used to play all these records in the basement," he explained. "I remember just lying in bed listening to them."
Erin Davis went to live with his father when he was 14, but said there were none of his old records in the house. It was only after Miles passed away, in 1991, that Erin began discovering how extensive and varied his father's back catalog was. "To be honest, after he died, I was looking to fill that hole, and I listened to a lot of his music. I just took it upon myself to explore his catalogue and started deep-diving into music from so many different periods. When I put the Prestige sessions on, it's just a masterclass in working the tunes."
Decades on, the world is still talking about the Miles Davis Quintet's Prestige recordings. "These are gems to me," explained Vince Wilburn. "They're like the Holy Grail."
The 6 LP The Legendary Prestige Quintet Sessions box set is out now.