Elton John, Stevie Wonder Capture Heartfelt Memories In 'Finish Line' Music Video
The track appears on Elton John's latest record 'The Lockdown Sessions.'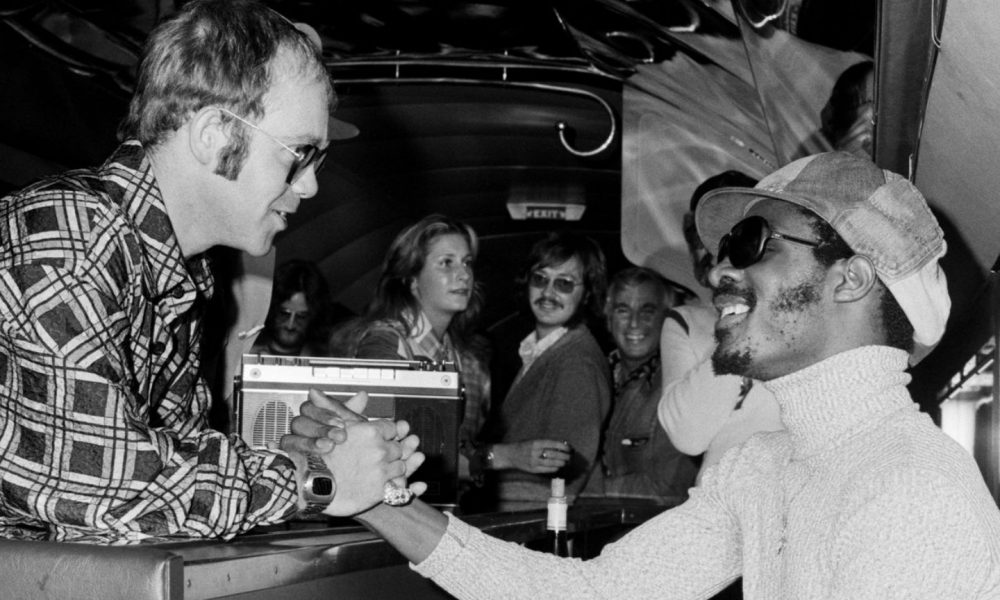 In the heartfelt music video for their first collaboration "Finish Line," Elton John and Stevie Wonder are celebrating life's most pivotal moments captured on film. Throughout the video visualized by Zach Sekuler, a montage of footage captures the progression of life through the lens of multiple people, ranging from birth and childhood milestones through graduation, marriage, and retirement.
Elton John, Stevie Wonder - Finish Line (Official Video)
In the midst of the emotional timeline presented on "Finish Line," images appear of John and Wonder's decades-long companion and showmanship. Speaking to Jimmy Fallon of the long-awaited collaboration, John shared: "It's a dream come true for me because you know, not only do I love him as a musician and worship him as a songwriter, but he's one of my favorite people in the whole wide world. So this was a very exciting thing for me."
"Finish Line" appeared on John's 32nd studio album The Lockdown Sessions, released in 2021 and recorded remotely with a host of collaborators during the COVID-19 pandemic lockdown. The Wonder-assisted track is the third official single from the record, joining "After All" with Charlie Puth and "Cold Heart (Pnau Remix)" with Dua Lipa.
"I put the electric piano down. He came and played acoustic piano and then did the harmonica solo. Then we put the Kanye West choir on, which really made the difference. And then Stevie put his vocal on. I haven't heard Stevie sound so young since he was about 19, just before he did Talking Book; it's an "Uptight" Stevie," John told Apple Music of the "Finish Line" last year. "I'm the Ernie Wise to him on that record, because I'm just the straight man. You just listen to what he does vocally and instrumentally, and you think, 'Oh, my god, this is a true genius.' I'm obviously a huge fan of his, and he's still younger than me, which I loathe. On this track that we did, he produced something very special that Stevie Wonder fans haven't heard for a long time."