Elvis Costello Joins Elton John On 'Rocket Hour' To Discuss 'The Boy Named If'
The radio show, which is also available on demand, streams live Saturdays on Apple Music 1.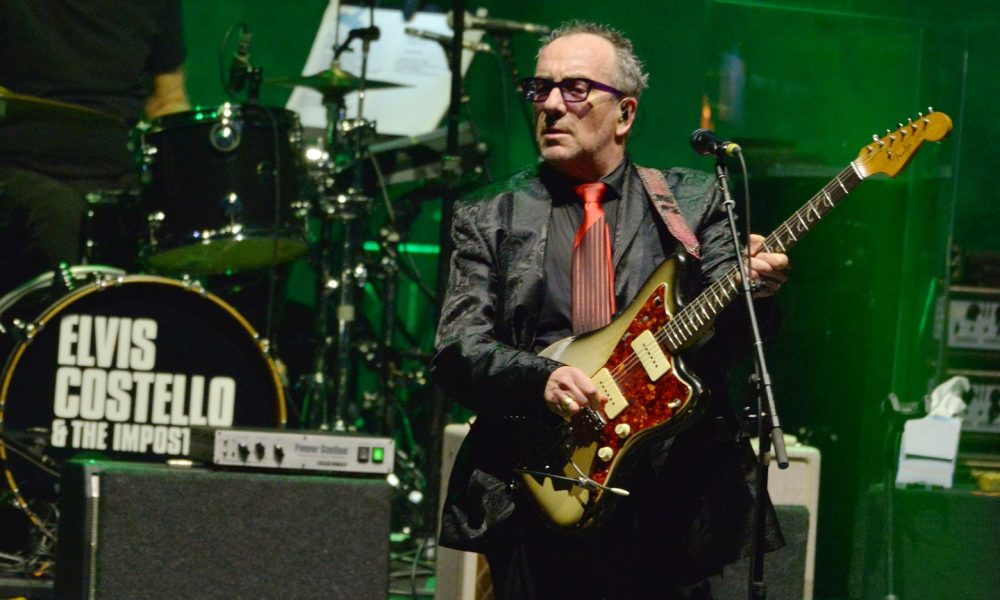 On this weekend's Rocket Hour, Elvis Costello joins host Elton John on the Apple Music 1 radio program to discuss the latest Elvis Costello and the Imposters album, The Boy Named If. The album, released on January 14 via EMI/Capitol Records, was recorded remotely and marks the musician's 32nd studio effort.
Over the course of their conversation, Costello opens up to John about the process of recording The Boy Named If with his band members scattered in location as well as the key role each player contributes to the group, saying: "I think this kind of music really benefited from not being able to see our ugly faces while we were playing. Nothing put us off. I know that Pete won't want me to say that, but there he was down in his basement, as he is every day. You know what drummers are like, they want to keep ready for that call to the stage."
He adds: "He has his old Gretsch kit that he played on the very first record that we did together, this year's model. He installed that in his basement, now his practice kit, and he really couldn't sound any more comfortable. And there is something to be said for the rhythm section of our songs together, being my voice and his drums. I know the bass player is playing his conventional role, but there's something about that lock between my singing and his drums. And because we had that as a starting place, everything else just fell into its right place."
In making the record, Costello says, he challenged himself to not become complacent in light of his longevity as a musician with decades-long working relationships with his bandmates. The result on The Boy Named If, was a presentation of continued artistic growth in the band's lengthy discography. The shift in tone stood out to John, who had become familiar with the record long before it was released to the world thanks to an advanced stream.
He tells Costello: "There's so much energy in this record, which you've made lots of records with lots of energy, but you haven't made a record like this for a long, long time. You're one of the artists that I love because you always try and do something different… And so you're one of these artists that just does what you want to do, but this record is just so supercharged, it's like having an electric shock, for me, and I just love it. I can't stop playing it."
Elton John's Rocket Hour streams live at 9 a.m. PT / 12 p.m. ET / 5 p.m. GMT every Saturday. The show is available to listen back to on demand on Apple Music.
Stream or purchase the latest Elvis Costello & the Imposters album The Boy Named If.