Eminem's 'Music To Be Murdered By: Side B' Debuts On Billboard 200
Eminem's latest landed at No. 3 on the Billboard 200, right behind Taylor Swift's 'Evermore' and Paul McCartney's 'McCartney III.'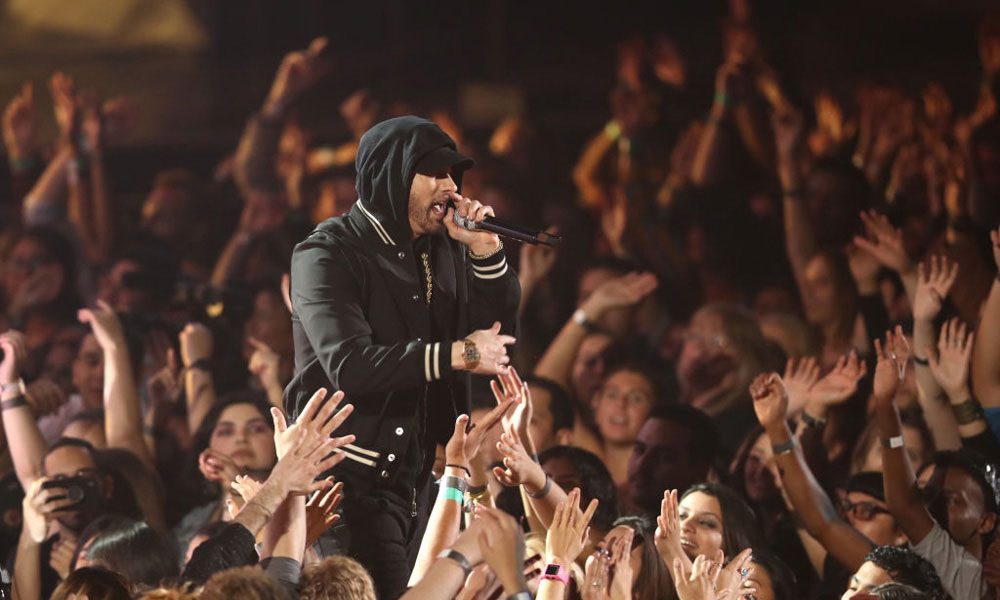 Eminem's Music To Be Murdered By: Side B has landed at No. 3 on the Billboard 200, right behind Taylor Swift's Evermore, which remains atop the chart and Paul McCartney's McCartney III at No. 2.
According to Billboard, the deluxe version of Music To Be Murdered By reeled in roughly 94,000 total album-equivalent units in its opening week. Of that total, SEA units comprise 57,000 (up 761 percent, equaling 82.01 million on-demand streams of the 36 tracks), album sales comprise 33,000 (up 3,401 percent) and TEA units comprise 4,000 (up 3,868 percent).
In addition to the initial 20 tracks, the deluxe Music To Be Murdered By: Side B also boasts 16 additional songs with contributions from DJ Premier, Ty Dolla $ign, Dr. Dre and singer-songwriter Skylar Grey, among others.
Eminem surprised dropped Music To Be Murdered By in January and the project landed at No. 1 on the Billboard 200 the following week with over 279,000 total album-equivalent units sold.
Although the superstar rapper tried to blindside his fans again with Side B, rumors of the project started to swirl a few days prior to its arrival. Excitement for another helping of Shady tracks reached fever pitch when producer and Dr. Dre affiliate Dem Jointz inadvertently revealed the cover art in an Instagram post.
Eminem's last 10 albums have debuted at No. 1 on the chart, a Billboard record. The rapper is the only MC in music history with two diamond-certified albums. The Marshall Mathers LP and 2002's The Eminem Show were both certified diamond by the Recording Industry Association of America (RIAA) after selling 10 million copies each.
In the week leading to Christmas, it was revealed that the music video for Eminem's "Godzilla" (feat. Juice WRLD) was one of the UK's 10 most-watched music videos of the year. Hip-hop dominated the list, accounting for eight entries. The lyrics for 'Godzilla' were also among the most-Googled for the year as well.
Music To Be Murdered By: Side B is out now and can be bought here.