Watch '1992: The Freddie Mercury Tribute Concert', Episode 40 Of Queen's 'The Greatest' Series
This week's episode revisits the phenomenal, star-studded Freddie Mercury tribute concert of April 1992.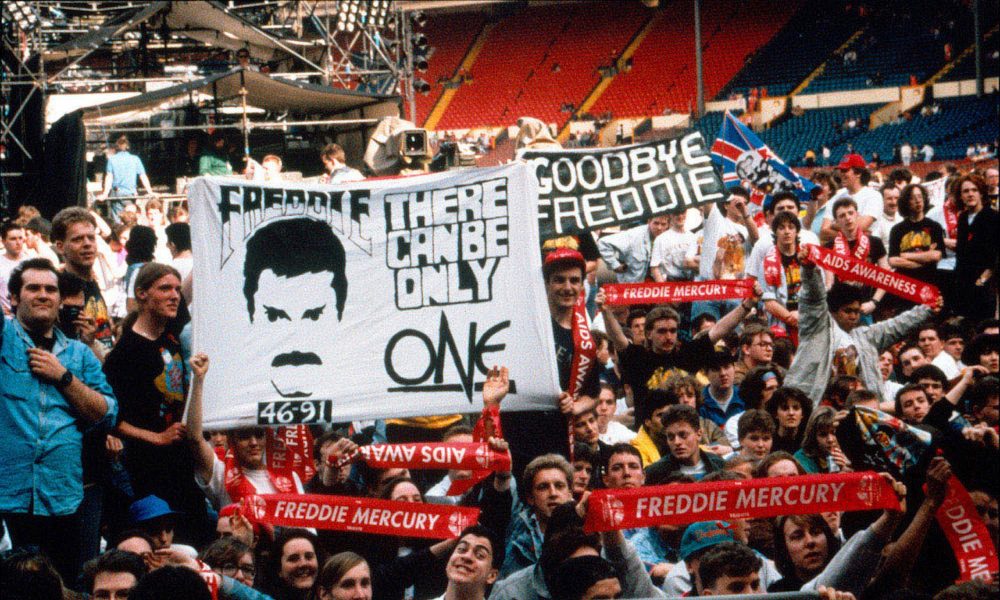 Remembering an event that wasn't just one of the greatest and most significant in the history of Queen, but also in the entire history of rock music, this week's episode of Queen 'The Greatest' revisits The Freddie Mercury Tribute Concert of April 20, 1992.
The episode sees Roger Taylor and Brian May reflect on the making of that historic day, joined by Joe Elliott and Taylor Hawkins recollecting appearing on stage in front of 80,000 people and live on radio and TV to a billion people in 76 countries around the world. You can watch it in full below.
The overwhelming outpouring of love that followed the tragic passing of Freddie convinced Roger, Brian, John and manager Jim Beach, that there needed to be some kind of event to celebrate the life and achievements of their best friend.
The Freddie Mercury Tribute concert idea was conceived on the night Freddie lost his fight for life. Brian, Roger and John gathered at Roger's house and decided they would organise some kind of tribute to Freddie, the exact form of which would take shape over the coming months, with the concert formally announced on February 12 at the BRIT Awards ceremony where Roger and Brian collected an award on Queen's behalf for their Outstanding Contribution to Music.
Roger Taylor: "We drew up a list of people that we'd like to be on the show."
Brian May: "Roger got the ball rolling, Roger got up one morning and said, 'Look, we're doing this right' and made a few phone calls."
Roger Taylor: "And Brian said, 'Well, if you can get that lot, I'll go, I'll come'."
Every artist they approached accepted their invitation to perform alongside them at London's Wembley Stadium, a veritable who's who of rock and pop paying tribute to Freddie.
Brian May: "So suddenly, we're performing with David Bowie and Robert Plant. You know, you look around and who is this, you know, Tony Iommi's beside me, who's a lifelong friend, you know, the most amazing artists of our lives."
Joe Elliott: "I was the first person to sing with Queen after Fred died. Doing it on stage in front of 80,000 people and a billion people on TV. Holy s_t. You'd never think it would be possible to get one person to stand in Fred's shoes because there's no way I could have done anything other than, say, the rock stuff. With the Freddie Mercury Tribute Show, you needed 20 characters to even come close to pulling on his coattails."
Brian May: "The task of finding one person who could do everything that Freddie could do, would have been pretty much impossible. The whole range of Queen songs is considerable. It's a very, very colorful catalogue with all kinds of different sorts of vocal approaches needed."
Roger Taylor: "It did bring home the fact that Freddie was so incredibly talented on so many levels and how hard it was for anybody to cover as much ground as Freddie covered."
Taylor Hawkins: "I don't think anyone thought they were going to show up and be the next Freddie Mercury. It ain't easy, man."
The show was packed with countless, extraordinary moments that live long in the memory – but just as memorable is the message of AIDS awareness that from that moment became inextricably linked to Freddie's name.
Queen: 1992 - The Freddie Mercury Tribute Concert (Episode 40)
Roger Taylor: "Obviously, losing Freddie has brought it home to us. You know, in a big way. And many other people that I know, I mean, as time goes on, it becomes more, more of a threat and the threat is growing, I think. I don't think the awareness is growing. So this seems like, especially for us, a good time to do this."
As the emotional, yet triumphant night drew to a close, everybody watching hoped this would not be the last they would see and hear of Queen.
Brian May: "It's done. And Joe Elliott was next to me as we walked off and he just grabbed my arm and he said, 'Brian, look at that'."
Joe Elliott: "I said, 'You need to stand here and look at this because you will never, ever see this again. If this is the end, what a way to go'."
Brian May: "And for the first time, I looked out and I thought, 'Ah, how amazing' this amount of love got poured out to our friend."
Roger Taylor: "Goodnight Freddie. We love you."
Brian May: "In a way, the concert is quite important for us because it's our way of saying goodbye to Freddie as well. And I think we need to do that before our minds can really move on. It's something which we had in our minds, right from the point where he did die. And it's very hard to think on after that, isn't it?"
Roger Taylor: "That's right. Yeah."
Brian May: "That's the only thing I can focus on at this moment is that day. When it's over, there's a new world out there in some way."
Thanks to the Mercury Phoenix Trust, the fight against AIDS is part of Freddie's everlasting legacy, and as the series of Queen The Greatest continues, we shall see how this wasn't the end for Queen or their music, but in fact the beginning of a thrilling new chapter.
Liza Minnelli: "Thanks Freddie. We just wanted to let you know we were thinking about you. Stay safe!"
Watch every episode of 'The Greatest' on Queen's official YouTube channel.