The Biggest Benefit Concerts In History
Staged for causes as disparate as famine relief, racism and AIDS awareness, the biggest benefit concerts have been unforgettable global events.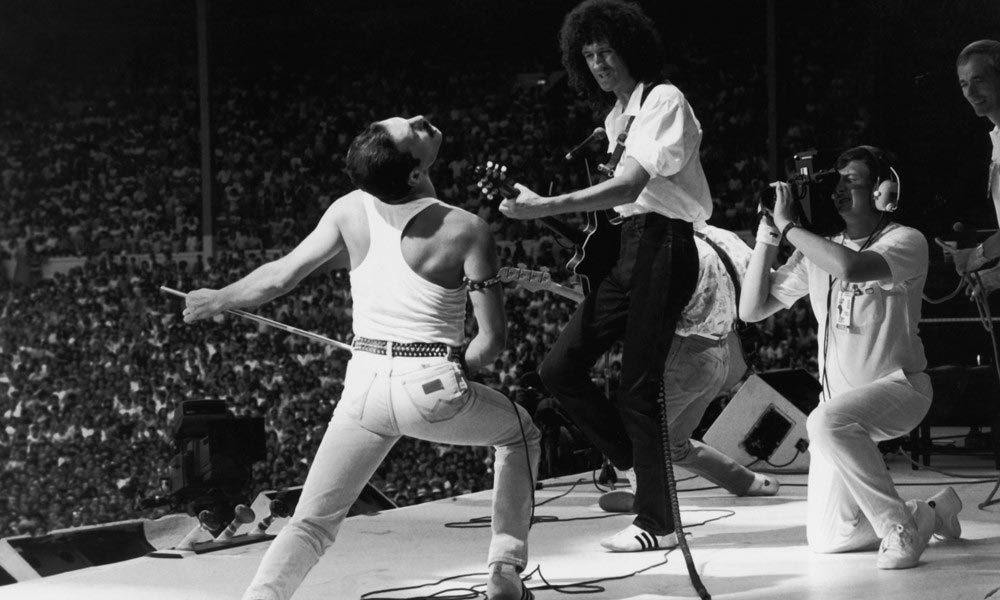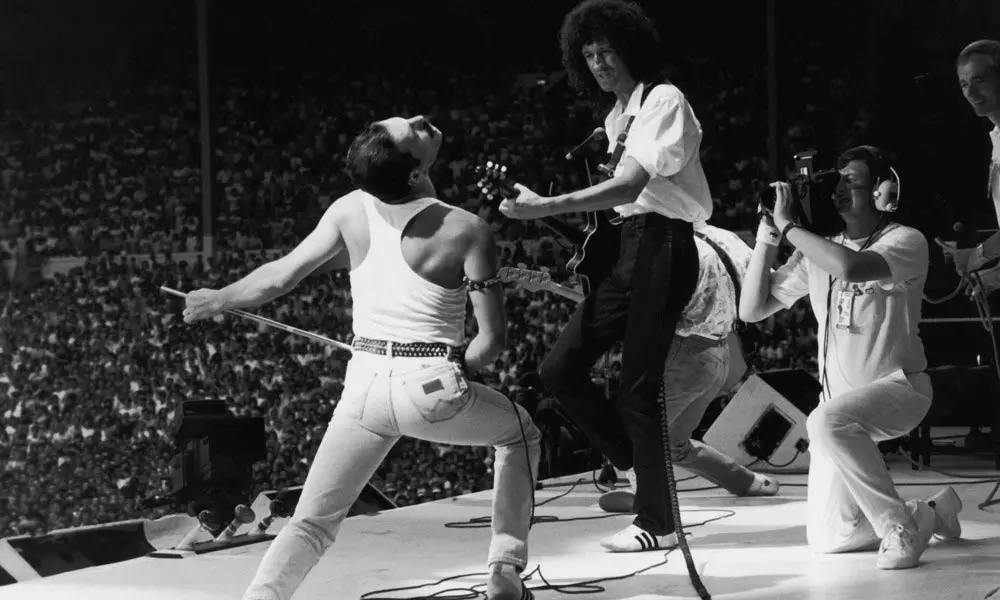 Considering how long music and politics have gone hand in hand, it's surprising it took so long for musicians to realize that they could make a difference by doing what they did best – performing. But after George Harrison staged The Concert For Bangladesh, in 1971, the idea of charity concerts began to take hold. The biggest benefit concerts have since raised global awareness for everything from famine relief to AIDS awareness, and have become an incredibly effective tool at the politically conscious musician's disposal.
Here are 10 of the biggest benefit concerts of all time.
Concert For Bangladesh: Madison Square Gardens, New York City (1971)
When sitar maestro Ravi Shankar learned of the fast-escalating humanitarian crisis facing the displaced natives of East Pakistan during the early months of 1971, he confided his worries to his close friend, George Harrison. Shankar originally planned to host a benefit concert of his own, but once the power of an ex-Beatle was harnessed, a partnership with UNICEF established, and Madison Square Gardens booked, the world's first large-scale benefit gig was underway.
As the line-up was revealed, excitement grew to feverish levels. Not only did The Concert For Bangladesh (actually two shows on the same day) mark Harrison's first major performance of a solo career that had got off to a flier with All Things Must Pass (and with a backing band featuring the likes of Eric Clapton, Billy Preston, Leon Russell, and Ringo Starr, no less), but it would also feature Bob Dylan's first show since the 1969 Isle Of Wight Festival.
The concerts took place on Sunday, August 1, at 2:30 p.m. and 8 p.m., and were a resounding success – not only in raising funds for the cause, but in heightening global awareness. And they set a precedent for the biggest benefit concerts that followed, with Harrison passing his expertise on to Bob Geldof for 1985's Live Aid. The resulting Concert For Bangladesh album remains a thrilling document, too.
The Secret Policeman's Ball (1976-2008)
This series of benefit shows to raise funds for the human rights charity Amnesty International started in 1976 with A Poke In The Eye (With A Sharp Stick), featuring top comic talent including Peter Cook, the Monty Python team, and The Goodies. But it was only when The Who's Pete Townshend appeared at the 1979 show that musicians began to do their bit.
Since then, those who offered their services have included Joan Armatrading, Kate Bush, Duran Duran, Morrissey, Sting, and U2. Plus the unforgettable moment, in 1991, when rock gods Spinal Tap were joined by David Gilmour.
Rock Against Racism Carnival, Victoria Park, London (1978)
Proving that the biggest benefit concerts can make a huge difference without relying on star organizers, April 30, 1978's Rock Against Racism was the culmination of a two-year grass-roots campaign of anti-racist gigs, zine distribution, and meetings aiming to halt both the rise of racism in society and The National Front in UK politics.
Organizers had hoped 20,000 people might attend the event. When roughly half that number had gathered in Trafalgar Square, London, by 7 a.m., ready to march just over four miles together to East London's Victoria Park for the concert, expectations were hastily revised. In the end, it's estimated that 100,000 poured into the park for a bill including The Clash, Tom Robinson, Steel Pulse, X-Ray Spex, and Sham 69.
The success of RAR led to more gigs, increased awareness of the cause, and, significantly, made ordinary people feel they could make a difference. While support for the National Front, now thoroughly publicly discredited, fell sharply, Rock Against Racism lived on.
Concerts For The People Of Kampuchea, London, December (1979)
From 1975-79, the Khmer Rouge regime, headed by Pol Pot, was responsible for untold suffering and up to two million deaths in Cambodia (known as Kampuchea during this period). In late December 1978, Vietnam launched an invasion of Cambodia with the intention of displacing the leader, which led to increased awareness of the extent of the horrors that the country, closed off from the world, had endured.
The then UN Secretary-General, Kurt Waldheim, enlisted the help of Paul McCartney and UNICEF to arrange a series of concerts that took place at London's Hammersmith Odeon, between December 26-29, 1979, to raise money for the war-ravaged people of Kampuchea. McCartney's connections stood him in good stead: performers included Queen, The Who, The Clash, Elvis Costello & The Attractions, Pretenders and, closing proceedings, Wings' last-ever gig.
Live Aid, Wembley Stadium, London / JFK Stadium, Philadelphia (1985)
"Do They Know It's Christmas?," Bob Geldof and Midge Ure's 1984 single, recorded to benefit victims of the 1984 famine in Ethiopia, had been an enormous success, featuring the cream of UK pop and staying at the top of the UK chart for five weeks. But the impact of the song was greater than its fund-raising success: it seeped into the national consciousness. This was evident at the end of Culture Club's run of Christmas shows that year, when an impromptu rendition of the song left singer Boy George overwhelmed; there was a suggestion that a concert ought to build on the song's momentum.
Bob Geldof stepped up. One of the biggest benefit concerts in history would actually be two massive events, held on July 13, on both sides of the Atlantic, with line-ups staggered to minimize downtime and maximize TV audiences. And he pulled it off. Live Aid was an enormous success and captured the imagination of the world. David Bowie, Queen, U2, Elton John, Paul McCartney, Black Sabbath, Madonna, a Led Zeppelin reunion… and that's just scratching the surface. Live Aid eventually raised $127 million dollars in famine aid and helped persuade Western nations to donate surplus grain supplies to impoverished nations.
Queen - Radio GaGa - Live Aid : Wembley London 1985
Farm Aid, Memorial Stadium, Champaign, Illinois (1985)
Never one to mince his words, when Bob Dylan took the stage at the Philadelphia leg of Live Aid, as part of a ramshackle trio with Keith Richards and Ronnie Wood, he suggested that disadvantaged US farmers were also in need of help. Despite the furor that followed, plenty thought he had a point – including Willie Nelson, who was watching the event on his tour bus.
Nelson began researching the crisis that was plaguing the US agriculture industry at the time. Thanks to a farm bill that favored corporate agriculture, family farmers were struggling, with increasing numbers filing for bankruptcy. Joining forces with John Mellancamp and Neil Young, Nelson staged the first Farm Aid event on September 22, 1985, putting together a line-up that read like a Rock And Roll Hall Of Fame guestlist: The Beach Boys, Johnny Cash, Dylan, Emmylou Harris, B.B. King, Roy Orbison, Lou Reed and plenty more, including sets from the organizers themselves.
Thirty-three years later, Farm Aid still remains one of the biggest benefit concerts going, having done untold amounts of good aiding farmers and funding an infrastructure to support sustainable agriculture. Everything from emergency relief to counseling hotlines are funded by the reliably huge crowds Farm Aid draws.
The Freddie Mercury Tribute Concert For AIDS Awareness, Wembley Stadium, London (1992)
When Queen singer Freddie Mercury died from complications arising from a long battle with AIDS, his bandmates quickly decided the best way of honoring him would be with a concert to raise money for AIDS research. The tribute was fitting, perhaps, given that, seven years earlier, Mercury had delivered the performance of his life at Live Aid.
Following an announcement at the 1992 Brit Awards, all 72,000 tickets for the event sold out, despite a newly frontman-less Queen being the only confirmed draw. Once April 20 came around, however, those early birds were not disappointed.
The first half of the concert saw stellar acts including Metallica, Def Leppard, and Guns N' Roses perform short sets, warming the crowd up nicely before the main event – a charged greatest-hits set from Queen featuring a remarkable cast of stand-in singers. The likes of David Bowie, Robert Plant, Elton John, Annie Lennox, and Axl Rose stepped up, but it was George Michael who seized the day with a passionate, thrilling performance of "Somebody To Love." One of the biggest benefit concerts of all time, The Freddie Mercury Tribute Concert For AIDS Awareness was broadcast in 76 countries, and it was estimated that one billion people tuned in worldwide, with all proceeds donated going to a specially created AIDS charity organization. Mercury would no doubt have approved.
Tibetan Freedom Concert, Golden Gate Park, San Francisco (1996)
When Beastie Boy Adam Yauch met activist Erin Potts in Kathmandu, Nepal, he was given a crash course on the plight of Tibetan exiles from China and the work Potts was doing to help them. They stayed in touch over the next few years, Potts keeping Yauch informed as to developments in the activist community, until it was decided to stage a benefit concert to help the cause.
The inaugural Tibetan Freedom Concert was one of the biggest benefit concerts of the 90s: a massive event with 100,000 people packing San Francisco's Golden Gate Park over two days to see Björk, A Tribe Called Quest, Rage Against The Machine, John Lee Hooker, Fugees, Pavement and the Beasties themselves. But Potts and Yauch made sure that the message wasn't lost on the music lovers, with speeches from Tibetan exiles and experts on the region's history being integral to the bill. Tibetan Freedom Concerts continued until 2003, raising both awareness worldwide and huge amounts for the cause.
The Concert For New York City, Madison Square Garden, New York City (2001)
It was perhaps inevitable that an event such as 9/11 would lead to one of the biggest benefit concerts the US has ever seen. An attempt to salvage some pride from the devastation caused by the bombings, The Concert For New York City, held on October 20, 2001, was a benefit to honor police and firefighters who had acted as first responders in the tragedy, and those involved in the rescue and recovery operations that had taken place since.
Paul McCartney organized a bill that mixed classic rock acts with contemporary US pop stars: Mick Jagger and Keith Richards, Bowie, Elton John, and James Taylor rubbed shoulders with Destiny's Child, Backstreet Boys, and Jay-Z. But the biggest reaction was caused by the visceral, emotional performance from The Who. Their short set left such a lasting impression that, in December 2008, surviving members Roger Daltrey and Pete Townshend were awarded Kennedy Center Honors.
One Love Manchester, Old Trafford Cricket Ground, Manchester (2017)
Nobody would have blamed Ariana Grande if she had retreated from the limelight following the bombing that occurred during her concert at Manchester Arena on May 22, 2017. Instead, the singer showed remarkable bravery and tenacity, organizing a concert to benefit victims of the attack, held just over two weeks after that horrific evening.
Pop and rock royalty turned out to offer their support to the victims of the bombing, including star turns from some of Manchester's very own in the shape of Take That and Liam Gallagher. Really, however, all eyes were on Grande, and she somehow made it through not only one of the biggest benefit concerts of all time, but arguably the biggest concert of her life to that point. For many, the most memorable moment of the night was her Coldplay-assisted rendition of "Don't Look Back In Anger," the song that had become a unifying balm for the city over the previous few weeks.
Highlights from Queen's Live Aid performance are on the Bohemian Rhapsody biopic soundtrack. Buy it here.