Phil Collins, Tony Banks, And Mike Rutherford Play Final Genesis Show
'After tonight, we'll all have to get real jobs,' Collins told an emotionally-charged audience.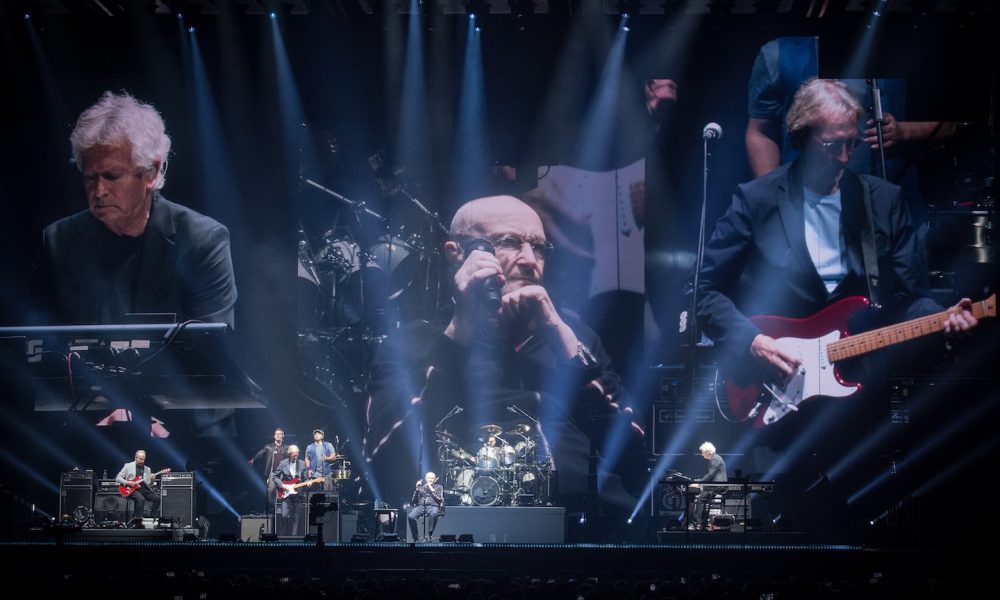 Phil Collins, Tony Banks, and Mike Rutherford played together on stage as Genesis for the last time at an emotionally-charged O2 Arena in London on Saturday night (26). Former frontman Peter Gabriel was in the audience as The Last Domino? tour came to its final show.
"Tonight is a very special night," Collins told the audience. "It's the last stop of our tour, and it's the last show for Genesis. After tonight, we'll all have to get real jobs." Revealing that Gabriel was in the crowd, he joked: ""Maybe he's the one shouting for 'Supper's Ready,' I don't know." The official Twitter page for the WorldofGenesis.com fan site posted a backstage photo featuring Gabriel, Collins, and longtime friend and former Genesis tour manager Richard McPhail.
Genesis - The Last Domino? North American Fall Tour 2021 (Trailer)
Phil's daughter, actor Lily Collins, wrote on Instagram: "Tonite marks the end of an era. To have witnessed this last show was truly the memory of a lifetime and an event I shall hold in my heart forever. Endlessly grateful doesn't begin to do it justice. So much love was left on that O2 stage and an even bigger amount shared between an audience who didn't want it to end.
"Thank you @genesis_band for the memories, thank you dad for being such an inspiration and thank you @nic_collins for making me the proudest sister there is. 50 years of songs later and still generations more to celebrate you long after this tour has finished…"
The show began with "Behind the Lines/Duke's End" followed by the hits "Turn It On Again," "Mama," and "Land of Confusion." The 23-song set touched on Gabriel-era highlights such as "The Lamb Lies Down on Broadway" and "I Know What I Like (In Your Wardrobe)" before a closing salvo of hits in "Throwing It All Away," "Tonight Tonight Tonight," and "Invisible Touch." The band returned for an encore featuring "I Can't Dance." "Dancing With the Moonlight Knight," and "Carpet Crawlers."
Listen to the best of Genesis on Apple Music and Spotify.