Listen To Guns N' Roses New Studio Recording, 'ABSUЯD'
The ferocious new track is a radical reworking of a 'Chinese Democracy' outtake called 'Silkworms'.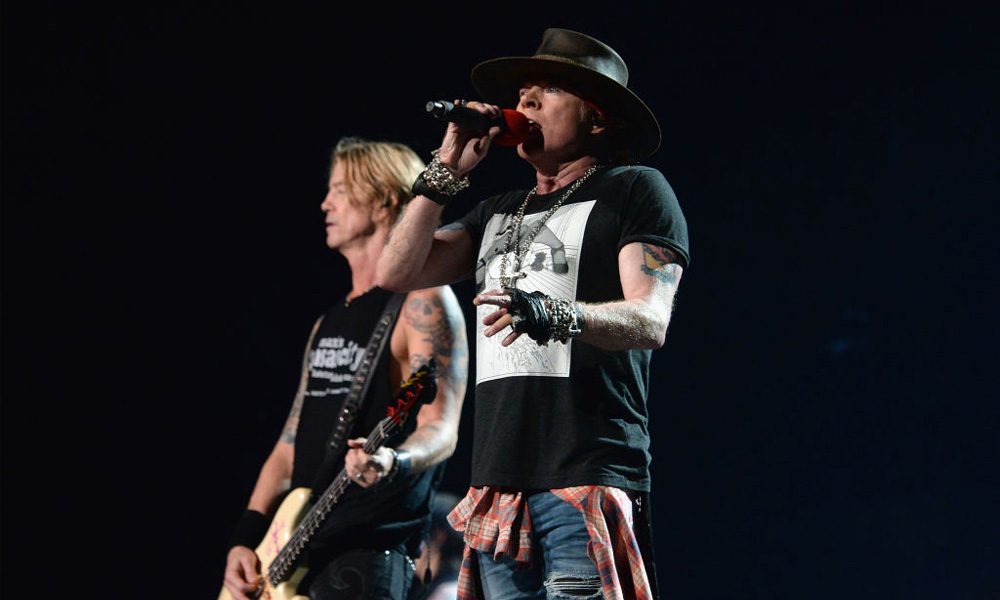 Guns N' Roses have released a new studio recording, "ABSUЯD." The release comes days after they performed the song – originally a Chinese Democracy outtake called "Silkworms" – at their show at Boston's Fenway Park, the second date of their 'We're F'N Back!' tour. The band also performed "ABSUЯD" at the MetLife Stadium in East Rutherford, New Jersey, last night. You can check the song out below.
"Silkworms" was originally written during the sessions for Chinese Democracy by keyboardists Chris Pitman and Dizzy Reed. The song was first performed by the band two decades ago during a New Year show at the Hard Rock Hotel in Las Vegas, and reprised a couple of weeks later at the Rock In Rio festival.
It's also been recorded as a demo previously by the band, with the Guns N' Roses fan wiki listing several versions including the "2006 Bumblefoot Version" the "2000 Demo Version", the "2010 Evader's Version" and the "2013 Catcher In The Rye Version."
The latest version is produced by Axl Rose, while other credits include Caram Costanzo (producer, studio personnel, mixer) – who worked with the band on Chinese Democracy – Brain (associated performer, drums), while the composer/lyricist is listed as Guns N' Roses.
The revived "ABSUЯD" removes many of the industrial elements that featured in the original, with a churning Slash riff and a furious vocal from Axl Rose suggesting that the Guns N' Roses of 2021 probably have more in common with the original line-up than the one that produced Chinese Democracy.
Guns N' Roses kicked off their summer 2021 tour on July 31 at Hersheypark Stadium in Hershey, Pennsylvania. Dubbed 'We're F'N Back!', this trek comes on the heels of the 'Not In This Lifetime' run that began in April 2016 and became the No. 3 highest-grossing tour in the history of Billboard Boxscore.
As was the case with 'Not In This Lifetime', the current Guns N' Roses tour features classic-lineup members Slash (guitar), Duff McKagan (bass) and Rose backed by guitarist Richard Fortus, drummer Frank Ferrer, keyboardist Dizzy Reed and second keyboardist Melissa Reese.
The massive touring production will make stops in Detroit, Los Angeles, Dallas, Chicago, and more before wrapping up with two shows in Hollywood, Florida, at the Hard Rock Live Arena on October 2 and 3, 2021.
Listen to the best of Guns N' Roses on Apple Music and Spotify.