Haim Joins A 1950s Social Club In Video For New Song 'Lost Track'
The sisters joined forces with frequent collaborator Paul Thomas Anderson on the new visuals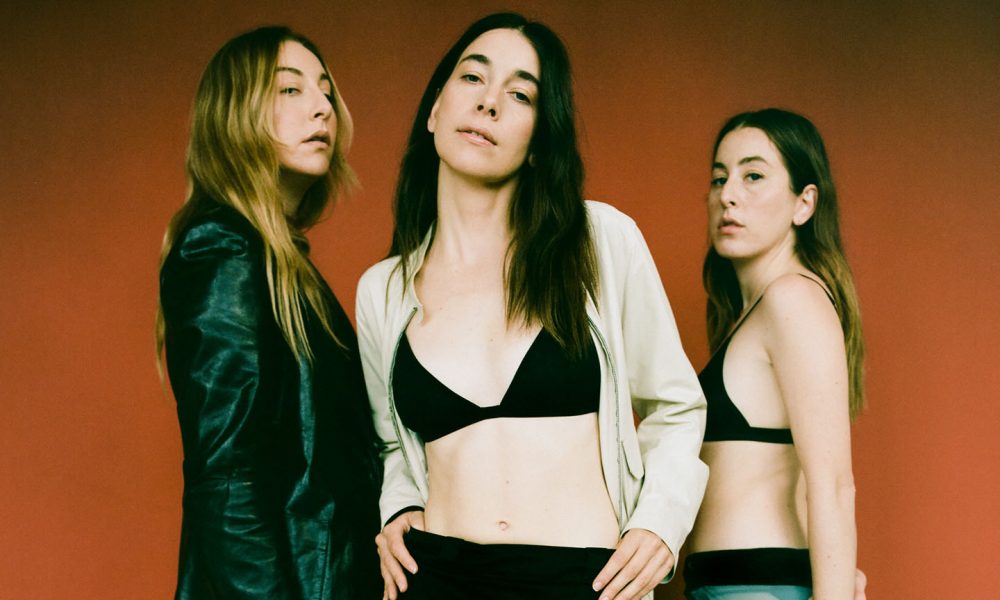 Haim has shared a video directed by Paul Thomas Anderson for its new single "Lost Track," which finds the band joining a 1950s social club.
The song is the group's first release since it made its movie debut, appearing in Anderson's Licorice Pizza last year. Alana Haim took on a starring role in the film, playing Alana Kane, while Este and Danielle – and the sisters' parents – also featured in some scenes.
Anderson has previously directed videos for Haim for the tracks "Night So Long," "Right Now," and "Little Of Your Love." For the "Lost Track" video, the musicians enter the world of 50s social clubs, turning into ladies who lunch alongside friends and family of the acclaimed film director.
"Meeting you caused a chain reaction/I'd take the smallest crumb/But I'll never get back what I lost track of," Danielle sings on the soft chorus of "Lost Track." In an Instagram post, the trio explained the inspiration for the song, noting they had the last line of the chorus written "for the last year but could never figure out what to do with it."
"We kept writing it down, not knowing where it should live," they wrote. "Cut to PTA shooting the director's cut issue for @wmag with our baby sister on the cover! An opportunity arose to do a quick music component while shooting the story. Paul mentioned having the book "Appointment in Samarra" as a possible direction. So we did some digging around the book and were inspired by the scene where the main character throws a drink in someone's face at a country club.
"We were inspired by the idea of someone doing something so drastic to get out of a situation they felt uncomfortable in – just to feel something. We finally remembered that lyric and wrote and recorded the song and shot the whole thing in a few days! Anyway, felt fun to do something very collaborative/ off the cuff." You can watch the video here.
Alana Haim has been praised for her performance in Anderson's Licorice Pizza, and has earned Golden Globe and BAFTA nominations for her role. Star Wars director JJ Abrams called Haim and Cooper Hoffman's turns in the movie "truly incredible debut performances", while actor John C Reilly also applauded Haim during a chat with her for Interview magazine.
"You know the phrase, 'You can't take your eyes off her?' I've experienced that feeling before, watching a fireplace or a baby, but rarely with adults," Reilly said. "When I visited the set, I remember sitting there and being glued to the monitor, even between takes. I turned to Paul, and I was like, 'You can't take your f_king eyes off her.' He looked at me like, 'Right?'
"The only other actor who makes me feel that way is Joaquin Phoenix. Watching him is like watching a raccoon rummage through garbage cans. What is he gonna do now? Why look at anything else, while this is going on? It's hard to keep that energy on camera, Alana. Take it from an old clown like me."
Haim, meanwhile, will embark on a huge North American tour next month in support of its 2020 album Women In Music Part III. The tour will kick off in Las Vegas, Nevada on April 24 and conclude in Bend, Oregon on June 14. Along the way, the band will perform at iconic venues including New York's Madison Square Garden and LA's Hollywood Bowl.
Listen to the best of Haim on Apple Music and Spotify.