I'll Take Mine Strait: Mark Knopfler Launches Limited Edition Gin
The latest in Portobello Road Gin's Local Heroes series, it ties in with the 'Local Hero' musical for which Knopfler has written the music.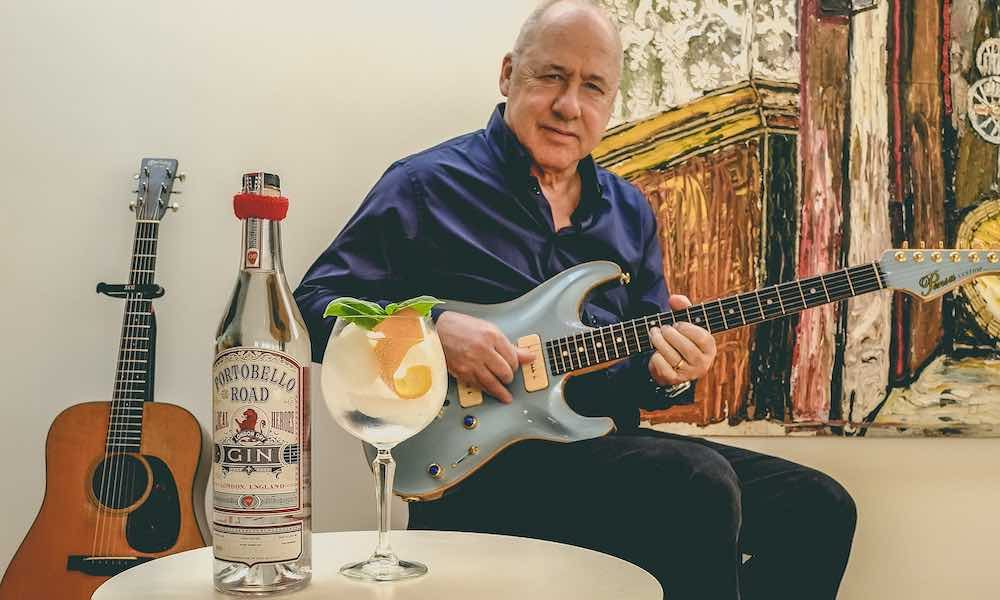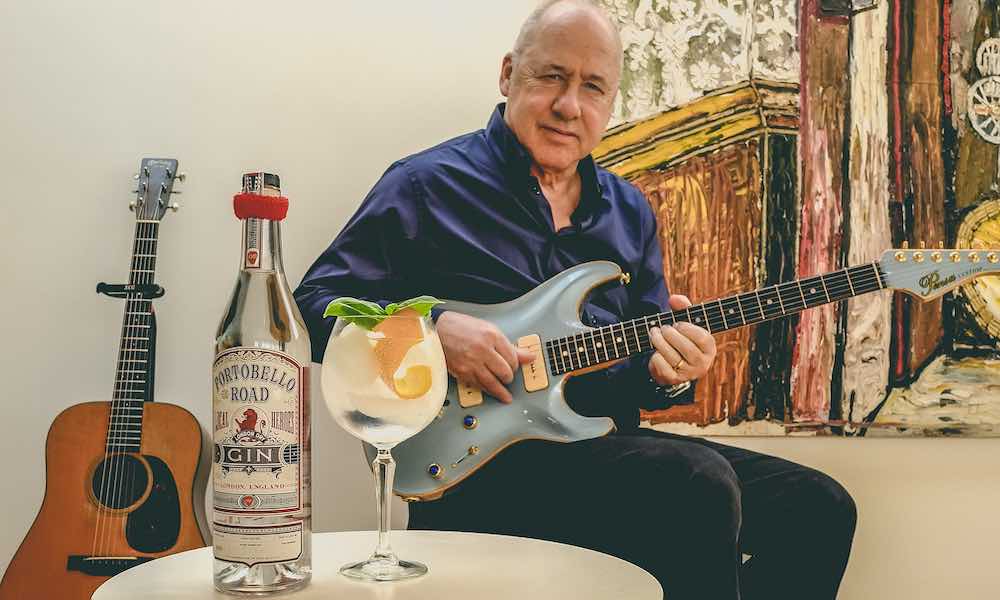 Mark Knopfler has launched his own limited edition line of gin, in collaboration with leading, west London-based independent manufacturer Portobello Road.
The drink is the third in the company's Local Heroes series of bottlings developed with notable public figures and chefs. The association came into being when Knopfler was composing the music for the musical stage version of Local Hero, the 1983 Bill Forsyth film for which he wrote the first of his many soundtracks. The musical is currently running, until early May, at the Lyceum in Edinburgh, with plans under way to bring it to London next year.
Local Heroes No. 3 features Knopfler's famous 1937 National guitar on the neck of the bottle, as made world-famous when it was featured on the cover of Dire Straits' 30 million-plus-selling Brothers In Arms album in 1985. In another reference to Knopfler's days as a rock frontman, the bottle neck also has a small red headband around it. The gin retails at £40 from the Portobello Road website.
Knopfler once lived in Notting Hill, where the gin manufacturer is based, and his spinoff band from Dire Straits in 1990 were named the Notting Hillbillies. He was introduced to Portobello Road by his friend Brett Graham, the celebrated chef at the Ledbury restaurant in Notting Hill, and then visited the gin company and met co-owner Jake Burger.
"Portobello Road had made some lovely gin for Brett's restaurant, and they're a great company," Knopfler told this writer. "So I went down there, Jake made me a gin and tonic and it knocked my socks off. It was really beautiful and I learned a lot. You can make gin, but if you're going to make good gin, it's not as easy as it looks.
"I ended up going down there and doing these tastings. They're a lovely crowd of people, and I learned a bit more. I thought 'Nothing's going to happen' and then suddenly two bottles came through the door to try. I had another pretty well known gin there, and this just blew it away. I chose one, which was a clear and easy winner."
The gin combines the company's signature botanicals with lime zest, cucumber peel and olive oil. A limited run of individually numbered bottles was produced at the company's own The Distillery on its copper pot gin still, named King Henry. "There'll probably be a few fans who want to have a bottle just to collect," says the writer-guitarist. "Coinciding with the musical, it seems like a cool thing to do."   

The project has put Knopfler in mind of a song on his Kill To Get Crimson album of 2007. "I actually did write a song called 'Madame Geneva's' about that sort of Hogarthian time," he says, "about a balladeer who lived and worked in Covent Garden [in Gin Lane], and you could get 'Drunk for a penny, dead drunk for tuppence.'"
The typically vivid narrative included the lines "Then you'll find me in Madame Geneva's/Keepin' the demons at bay/There's nothin' like gin for drownin' them in/But they'll always be back on a hangin' day."
Explore our Mark Knopfler Artist Page.
Format:
UK English