James Taylor And Carole King Share New Clip From 2010 Troubadour Show
The sweet b-roll footage was captured for the 2011 documentary, 'Troubadours: Carole King/James Taylor & the Rise of the Singer/Songwriter.'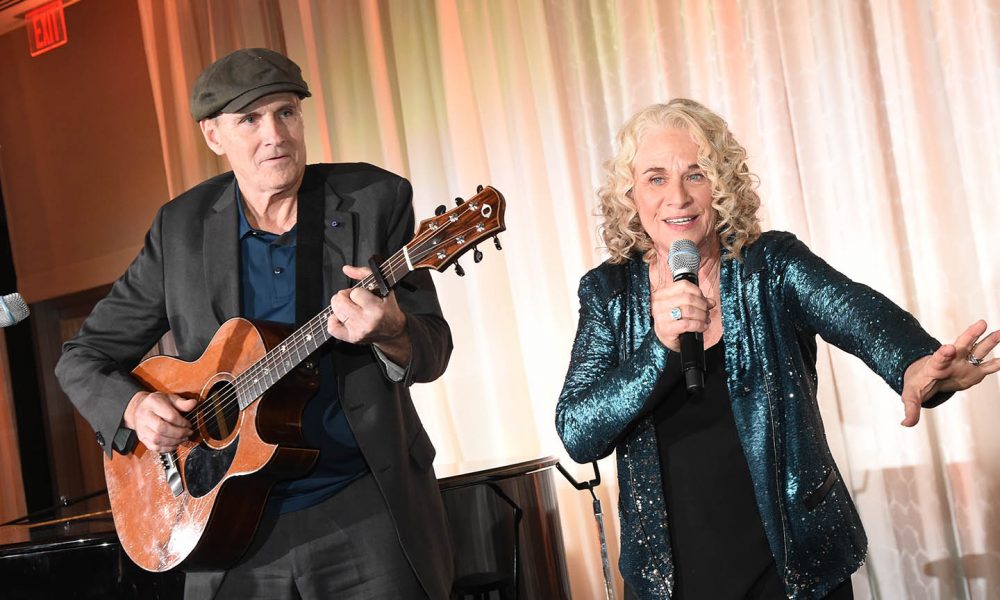 Longtime friends and collaborators James Taylor and Carole King have released new outtakes from the 2011 documentary, Troubadours: Carole King/James Taylor & the Rise of the Singer/Songwriter. The b-roll footage, recorded by the award-winning director Morgan Neville in 2010, was captured at Los Angeles' storied Troubadour theater on Taylor's 62nd birthday. At the time, the duo had been in the midst of their record-breaking Troubadour Reunion Tour, an extensive world tour, which featured their original backing band (Danny Kortchmar, Leland Sklar, Russ Kunkel) from their legendary performance at the West Hollywood venue in November 1970.
The sweet clip, soundtracked by Taylor's "Sunny Skies," offers candid, behind-the-scenes footage of the two friends letting loose, ahead of the show.
Troubadours: Carole King/James Taylor & the Rise of the Singer/Songwriter documented the rise of the 70s singer-songwriter movement, with a special focus on Taylor and King, as well as the role that the Troubadour played in the scene. In addition to Taylor and King, the documentary also offered insight from such notable figures as Elton John, David Crosby, and Jackson Browne.
Last month, the Rock and Roll Hall of Famers were the subject of another documentary, Carole King & James Taylor: Just Call Out My Name, which aired on CNN and, later, HBO Max. Directed and produced by Frank Marshall, the film centers around the Troubadour Reunion Tour, which found the duo playing to sold-out arenas in North America, Australia, New Zealand and Japan.
Taylor and King were initially inspired to launch the tour, following the success of 2010's Live at the Troubadour LP. In addition to garnering broad acclaim, the gold-certified title debuted at No. 4 on the Billboard 200, marking King's first Top 10 appearance on the chart since 1976. Late last year, the double LP was reissued by Craft Recordings on 180 gram vinyl.
In an earlier statement, King reflected upon her longstanding creative partnership with Taylor. "We had a musical language in common," she explained. "It was like we had been playing together our entire lives."
Buy James Taylor and Carole King's Live at the Troubadour here.