Classic John Hiatt A&M Albums Set For 30th-Anniversary Vinyl Reissues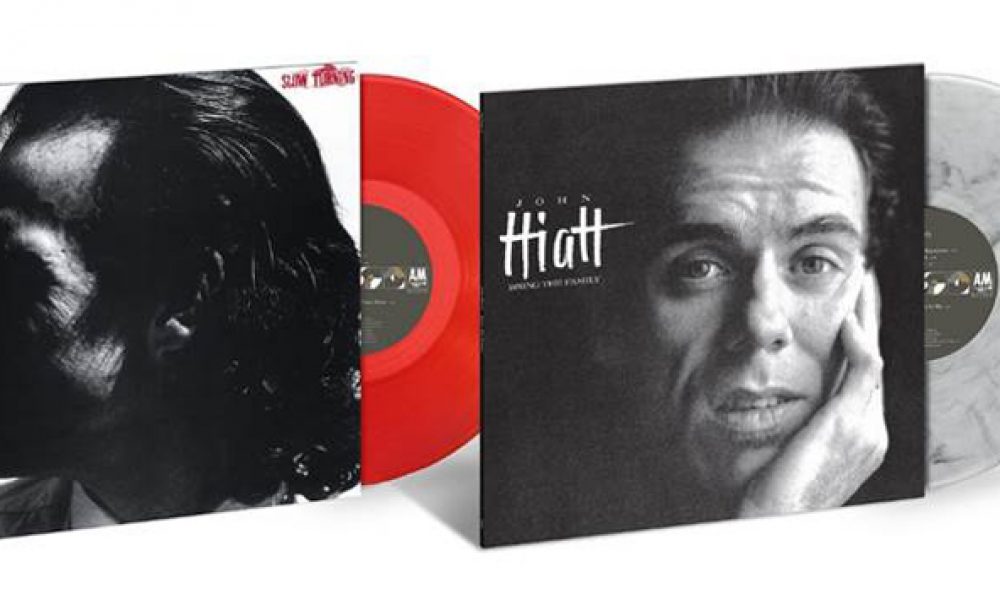 Two highly-acclaimed albums by US singer/songwriter John Hiatt, 1987's album Bring The Family and its 1988 follow-up, Slow Turning, are receiving special 30th-anniversary vinyl reissues. Both titles are out now though A&M Records/UMein the US, and are available for pre-order elsewhere, with a release date of 23 March.
These newly-remastered vinyl editions mark the first time these two critically-hailed albums have been available on vinyl for the first time since their original release. The long out-of-print records will be pressed on high-quality 180g black vinyl, along with a special limited-edition colored vinyl variant of each. Bring The Family will be released on clear with grey smoke 180g vinyl, while Slow Turning will be on translucent red 180g vinyl. The colored vinyl editions, limited to 500 each, will be available exclusively at The Sound Of Vinyl and on Hiatt's upcoming tour.
Bring the Family, Hiatt's eighth album of original songs, marked a mainstream breakthrough for the artist after years as a critical and cult favorite, becoming his first release to appear on the Billboard album chart. Recorded on a shoestring budget at a time when Hiatt didn't have a record deal, in a hastily-arranged four-day session with the all-star studio combo of Ry Cooder on guitar, Nick Lowe on bass and session veteran Jim Keltner on drums, the album quickly won attention for its rootsy, melodically infectious song craft and its resonant lyrical insights on love, parenthood and family life.
 Bring the Family has also become a popular source of cover material for a wide variety of artists. Within wo years of the album's release, Bonnie Raitt would have a hit single with her version of Hiatt's 'Thing Called Love,' while Bring the Family's opening track 'Memphis in the Meantime' was successfully covered by Gregg Allman and Carl Perkins. Meanwhile, 'Have a Little Faith in Me' has been recorded by an array of acts, including Joe Cocker, Jewel, Mandy Moore, Bill Frisell, Delbert McClinton and Bon Jovi.
When Bring the Family's studio band (which would later reunite as Little Village) was unable to tour behind the album, Hiatt recruited an equally impressive combo, The Goners, featuring renowned slide guitarist Sonny Landreth, bassist David Ranson and drummer Ken Blevins, and hit the road. The Goners proved such an impressive unit that Hiatt called upon them again for his next studio effort, Slow Turning.
Often regarded as a sequel to Bring The Family for its lyrical subject matter and raw, spare sound, Slow Turning (produced by seasoned studio pro Glyn Johns, renowned for his work with The Beatles, The Rolling Stones, The Who and Led Zeppelin) continued Hiatt's introspective explorations of home and family, and produced his biggest airplay hit in the album's catchy title track, which reached #8 on Billboard's Mainstream Rock Tracks chart.
As with its predecessor, Slow Turning's songs would attract the interest of other artists. Blues icon Buddy Guy covered 'Feels Like Rain' and made it the title cut of his 1993 album, while 'Drive South' became a country hit for Suzy Bogguss, and Emmylou Harris recorded a well-received version of 'Icy Blue Heart.' 'Tennessee Plates,' as covered by Charlie Sexton, was featured in the iconic barroom scene of the film Thelma and Louise.
To celebrate the upcoming 30th anniversary of Slow Turning, Hiatt has reassembled The Goners, for a special tour where they will perform the album in its entirety followed by a second set of songs from through Hiatt's long and illustrious career. The tour kicked off in Lafayette, La. On 11 January and continues through the end of March, wrapping with a date at The Castle Theater in Bloomington, Indiana on 31 March.
Bring The Family and Slow Turning can be ordered here.
Format:
UK English