Lady Gaga And Tony Bennett Perform 'Anything Goes' From 'Cheek To Cheek' For 'The Late Show'
The performance was filmed earlier this year at Radio City Music Hall.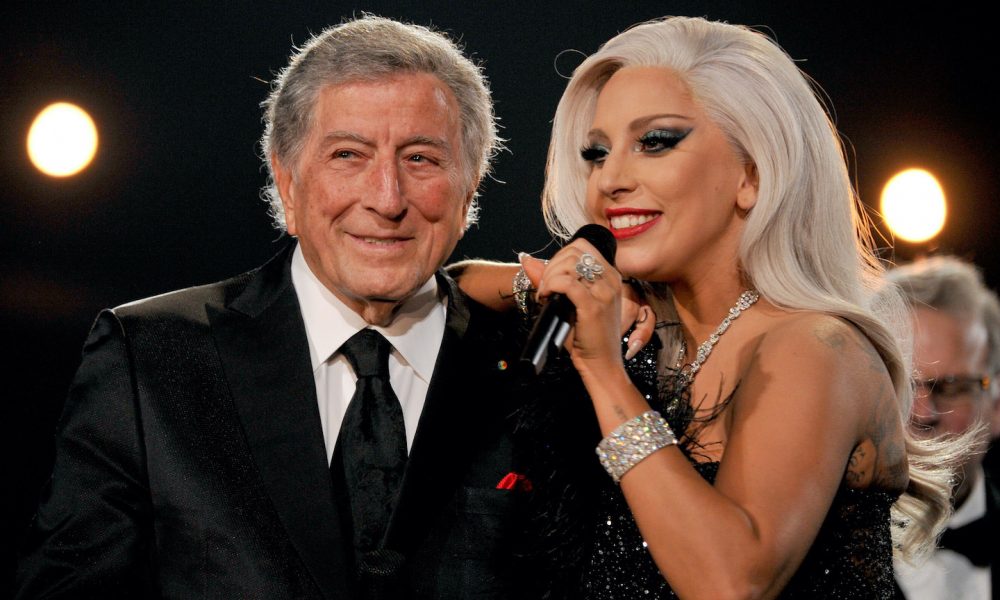 Lady Gaga and Tony Bennett have shared a performance of Cole Porter's "Anything Goes" from Cheek To Cheek for The Late Show With Stephen Colbert filmed earlier this year at Radio City Music Hall. Gaga also spoke with Colbert about her collaborative work with Bennett during an interview to pair with the performance.
"Watching him begin his journey with Alzheimer's years ago, I remember I wanted to make good on a promise I made to him," she explained. "Our album 'Cheek to Cheek' went Number One and I called him and said, 'Hey Tone, we're number one all over the world with a jazz record'. And he goes, 'hey Lady' – that's what he calls me – 'we need to make a Cole porter record, all Cole Porter songs, all love songs.'"
The pair's appearance at Radio City came as part of a two-night run that ultimately became Bennett's final live performances before retiring at the suggestion of his medical team following a diagnosis with Alzheimer's Disease.
"A couple years later, his Alzheimer's just started to set on, and I said 'let's go into the studio now'… When I tell you that when jazz begins, this man lights up in a way that is such magic," Gaga said. "It just reminded me that anybody that has a family member or someone they love that's suffering from Alzheimer's or Dementia, music is magic. Music is a miracle."
"Anything Goes" is the opening track on Cheek To Cheek, the first collaborative album between Gaga and Bennett shared in 2014. It marked the first official full-length release between the pair and won a Grammy Award for Best Traditional Pop Vocal Album in 2015.
Earlier this week, the pair's follow-up album, Love For Sale, received Grammy nominations for Album of the Year, Best Traditional Pop Vocal Album, and Best Engineered Album, Non-Classical ahead of the 64th Annual Grammy Awards. The album single "I Get a Kick Out of You" is nominated for Record of the Year, Best Pop Duo/Group Performance, and Best Music Video.