Limited Edition 'Eric Clapton Live History' Book Charts His Career On Stage
Images depict Clapton's live career from the age of 19 with the Yardbirds to the present day.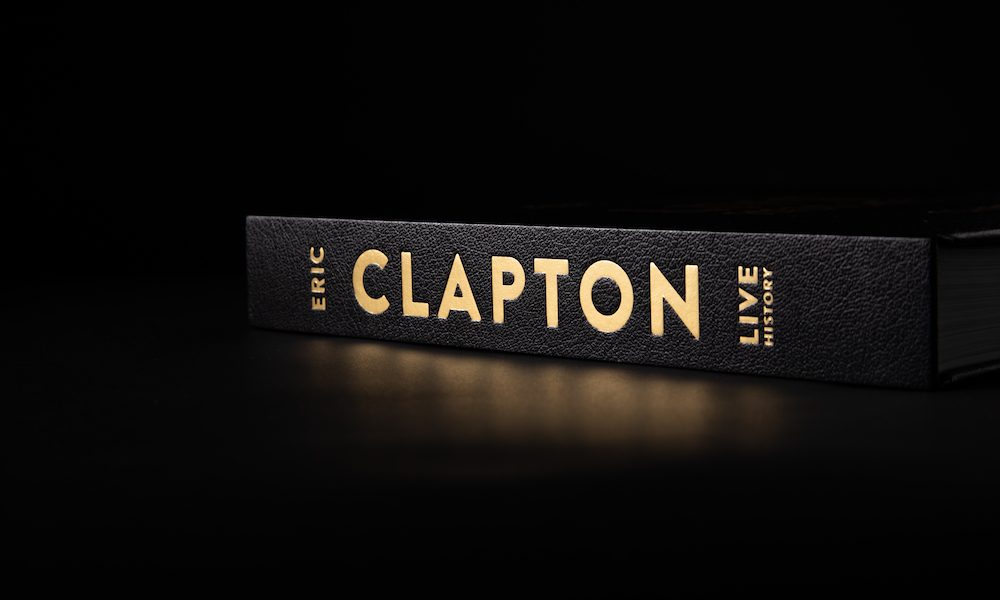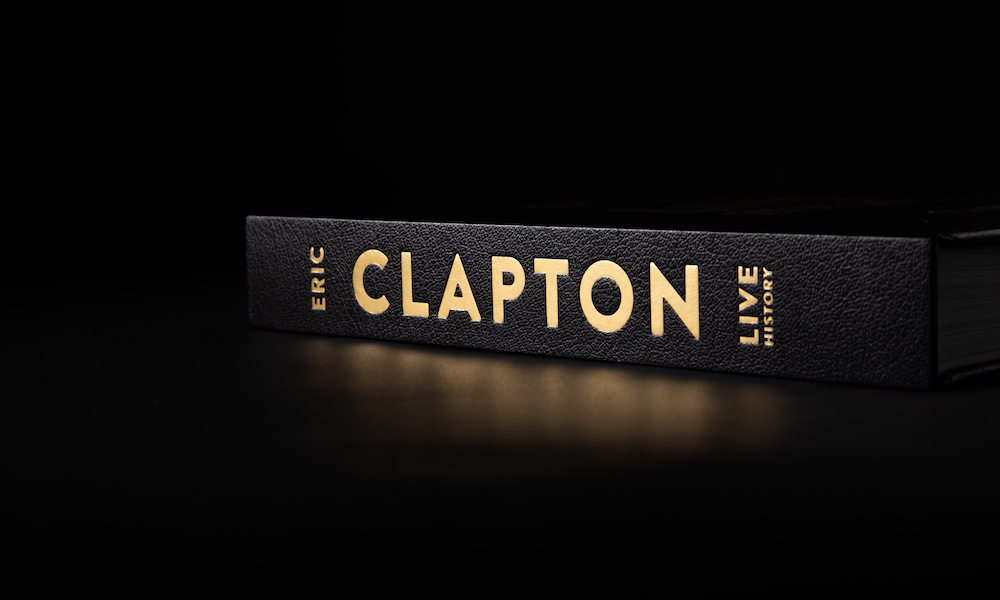 The deluxe, limited edition book Eric Clapton Live History has been published by C. Larsen & Sons. It's available in three formats in a total print run of 2500 copies, each of them numbered, and contains no fewer than 275 photographs across 360 pages, documenting the master guitarist's entire career as a live performer.
Printing the Clapton Live History Photographic Book
Eighty-five percent of the photographs have never been published, and they include some remarkable vintage discoveries. The accompanying text of 11,000 words is by Christian Larsen and Clapton authority, music historian and author Marc Roberty. The volumes are printed on archival 150 gram Fedrigoni Tatami White paper by high-end Danish book printers Narayana Press. The foreword is by Bobby Whitlock of Derek & the Dominos.
Speaking exclusively to uDiscover Music, Larsen says: "The project began in 2015, when I saw Eric at the Albert Hall for his 70th birthday concerts, and thought that he was about to retire. Then I contemplated the notion that he deserved a proper tribute book that covered his live career, as this is where he has always been the best, and then in this internet day and age where photos are widely available, to make a real effort to unearth unseen content, to make it as interesting to the Eric Clapton fans as possible."
The images within Eric Clapton Live History span 55 years, from a studio image of the artist at the age of 19 to a live show in Germany in June 2019. There are shots by such celebrated photographers as Jim Marshall, Amalie Rothschild, Terry O'Neill, Ed Caraeff, Chuck Boyd, Chris Walter, Bent Rej and Ken Settle. During four years of research, Larsen discovered the work of many other photographers who have taken pictures of Clapton, most of them professionally and some as fans.
The unpublished images include some mouthwatering material for Clapton devotees, going back to his early days in the Yardbirds in 1964, with photos by Clay Perry that had never been processed or seen until this publication. From a trove of over 100, Larsen used around 20, including shots of the 19-year-old Clapton and the rest of the group fooling around in a train yard in Sheffield. Another shows Eric backstage at Granada Studios in Manchester, looking at his reflection in a mirror.
Also published for the first time in the book are photos from a vast, unseen collection of Clapton images by British lensman Max Browne. As Larsen recounts, Browne's archive stretched from 1967 to 1992, and had never been shared. Among those images are Cream performing at the Ricky Tick in Hounslow, London in 1967 and Clapton at the National Jazz & Blues Festival (also known as the Sunbury Festival) at Kempton Park Racecourse on 10 August 1968, where he played a jam session with Ginger Baker and Phil Seaman.
Larsen and Roberty's meticulous pursuit of unseen material also led them to the home of John Hollihand, who had the only four known prints from the storied Derek & the Dominos show with Duane Allman at Curtis Hixon Hall in Tampa, Florida on 1 December 1970.
With Hollihand's consent, Larsen had the shots removed from their frames, scanned at a photographic lab and restored digitally, to be featured prominently in Live History. Other depicted locations include a soundcheck with Delaney & Bonnie & Friends and various Derek & the Dominos gigs in Brighton, Croydon, Buffalo and at the Fillmore East in New York City.
The Journeyman edition of the book, numbered 301-800, has a 35x29cm photographic print suitable for framing; buyers can choose between images of Clapton in 1974 or 1992. It also contains a bonus double vinyl LP of one of the official Clapton live albums Just One Night, Dominos in Concert or EC Was Here + The Rainbow Concert.
The Fool edition, numbered from 1 to 300, is hand bound with an image of the famous Fool guitar, the 1964 Gibson SG that was hand-painted for Clapton, imprinted on cognac leather. This edition also contains a 35x29cm print of "Slowhand" playing the Fool guitar in London in 1967, plus a double vinyl LP of the officially released Live Cream and Live Cream Vol. II albums, all housed in custom packaging.
The "regular" version of the book, numbered from 801-2500, costs €159 (£137/US$178), while the Journeyman edition is €340 (£292/US$380) and the Fool edition €650 (£559/US$725). C. Larsen & Sons donates 46.1% of its profits to charity — think of the 461 Ocean Boulevard album for the significance of the figure — and specifically Clapton's Crossroads Centre in Antigua. Eric Clapton Live History is available only from this dedicated website.
"What has made this project special," says Larsen, "is that I am of course an Eric Clapton fan, and I think that one of the premises of making such an extensive book has to be that you need real passion for the musician you're portraying. Otherwise you won't be able to singlehandedly keep the enthusiasm, or be aware of the small details that are needed to finish a book like this in the correct way."
Listen to the best of Eric Clapton on Apple Music and Spotify.
Format:
UK English