Madison Cunningham Releases 'All I've Ever Known' Vevo Session
Cunningham recently released the Remi Wolf-featuring 'Hospital (One Man Down).'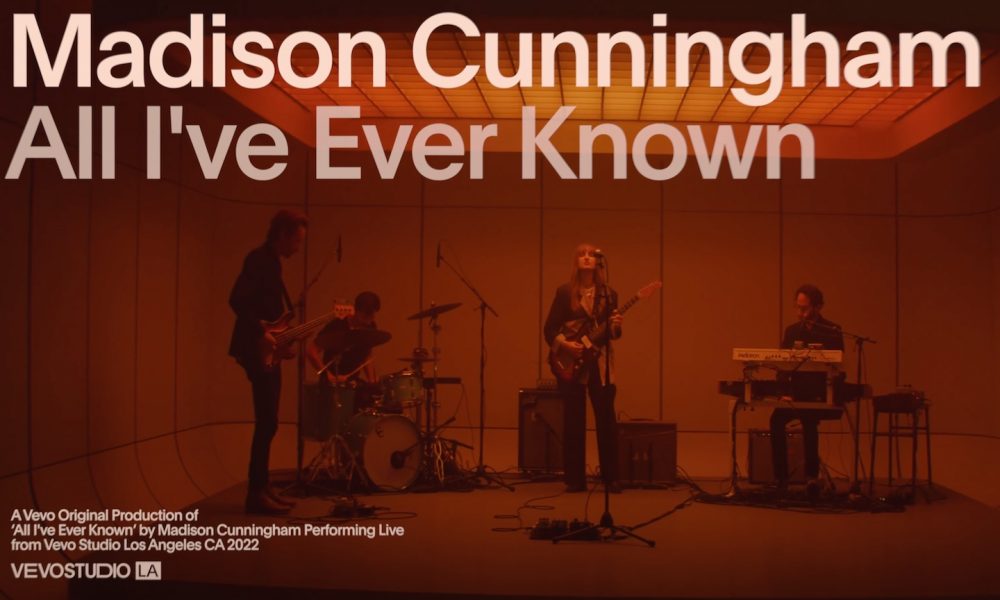 Grammy-award winning artist Madison Cunningham has released a Vevo Session performance of her song "All I've Ever Known."
The enchanting live band performance features Cunningham and her performers backlit with orange filters that give the visual a charming effect.
Madison Cunningham - All I've Ever Known (Live Performance) | Vevo
Last month, Cunningham hit the studio with singer-songwriter and producer Remi Wolf for "Hospital (One Man Down)," which is also out now. The track is produced by Ethan Gruska (Phoebe Bridgers, Marcus Mumford) who is a frequent collaborator of both Cunningham and Wolf.
The release was much anticipated ever since the duo performed together on The Late Late Show with James Corden in early-February.
Of the collaboration, Madison recalls, "'Hospital' has always had this underlying feeling of wanting to fall apart at the seams and then actively restraining itself. Though that was a purposeful decision initially, I wanted to make a version that knew zero restraint and hinges off completely. Being a major fan of Remi's, I knew she would be the voice to help me cross that line. And then of course, I've adored Ethan Gruska and his brilliant mind for ages, and couldn't picture anyone else to execute it braver than he could. It was honestly the most fun two days I've had recording in a long time. It felt like immediate understanding!"
Cunningham recently took home the award for Best Folk Album at the 65th Annual Grammy Awards for her latest album Revealer. She performed "Life According to Raechel" from the album during the premiere ceremony.
Revealer is out now on Verve Forecast and continues to receive critical praise. The album has garnered extensive Best of 2022 year-end coverage from NPR Music, The New York Times, Consequence, SPIN, Paste, Premier Guitar, and many other outlets.
Best Folk Album is Cunningham's first Grammy win. She was also nominated for Best American Roots Performance for "Life According To Raechel," as well as having previously earned nods for Best Folk Album for Wednesday (Extended Edition) and Best Americana Album for Who Are You Now.