McCartney's Cilla Demo Sells For £18,000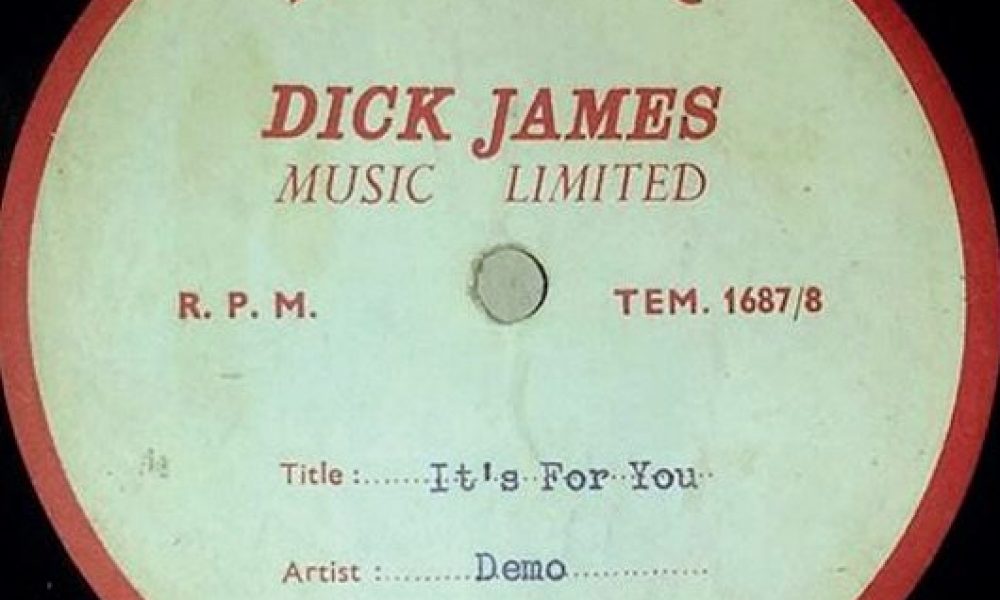 A super-rare demo recording by Paul McCartney of 'It's For You,' the top ten hit  that he and John Lennon wrote for Cilla Black, has been sold at auction today (27) for £18,000.
The recording features McCartney singing the song that became the third consecutive UK top ten hit for their friend Black, when it reached No. 7 in September 1964. The demo disc was discovered by Cilla's nephew, Simon White, having been given to his father by the singer, his sister, when he was 18 (disc photo credit: Stephen Bailey).
He had assumed the record — which as you can see, features a publisher credit and the song title, but does not list an artist — was simply a copy of Black's hit version, rather than the demo, which she was given at the London Palladium in that same year of 1964.
The record was auctioned at today's 25th Beatles Memorabilia Auction, organised by The Beatles Shop, at the Unity Theatre in Liverpool. It was sold to an unknown buyer for £18,000, a figure that will rise to £21,060 with commission. You can hear the first 20 seconds of the recording, and learn more about the auction, here.
Beatles Shop manager Stephen Bailey, an expert on their history, said that when he first heard the disc, "I was shaking with excitement and speechless. I realised that this was the long-lost Beatles demo disc from 1964 and I was probably one of the few people to have seen and heard it in over 50 years. What I had in my was probably the only copy in existence."
Simon White explained some of the background to the discovery in a letter with which he presented the disc: "When we found out that Sir Paul had not retained his own copy of the recording, as a courtesy and gesture of respect we agreed it would be only right that, of all people, he be allowed to make a copy of the recording for himself for the sole use of adding it to his personal archive. Other than the single copy of the recording that he now has, we know of no other."
Explore our dedicated Beatles Artist Page
Format:
UK English