Metallica Announce Exclusive 'Intimate' Concert in Hollywood, Florida
The show, at the city's Seminole Hard Rock Hotel & Casino, will be for an audience of 7,000 fans.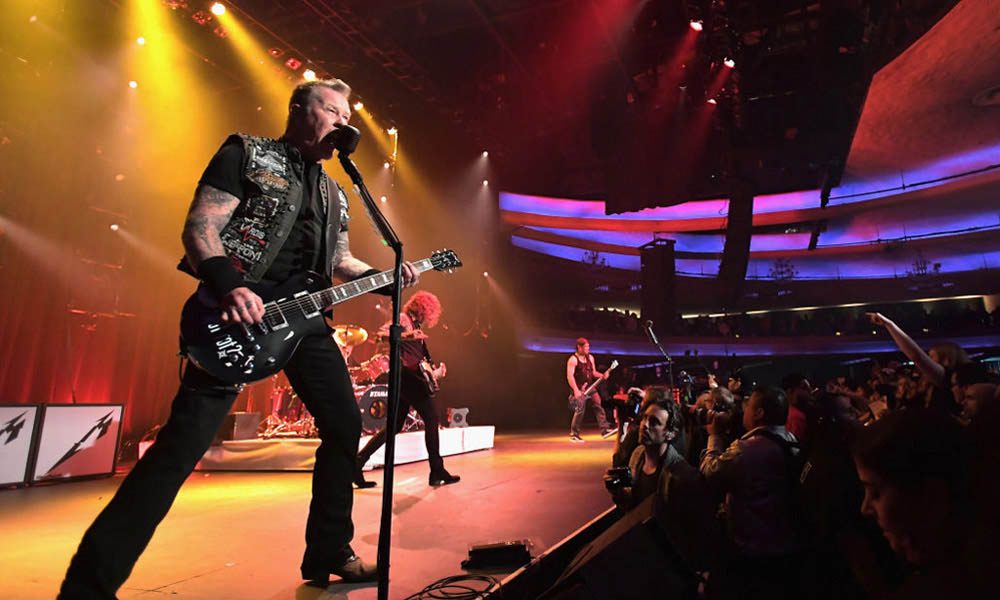 Metallica will play an "intimate" concert on November 4 at Hard Rock Live at Seminole Hard Rock Hotel & Casino in Hollywood, Florida.
Tickets for the 7,000-seat-theater show go on sale Friday, July 30 at 10 a.m. EDT, but members of Metallica's fan club (also known as Fifth Members) can get theirs early with a special presale starting Wednesday, July 28 at 10 a.m. EDT.
Metallica said in a statement: "We're excited to add one more night to the tour calendar this fall. It feels so great to be making plans to hit the road and we can't wait to see all of you out there in Florida. Keep watching this space… we have a few more shows in the works!!!"
Earlier in the month, Metallica announced details of its massive 40th-birthday celebration. The band will mark this milestone by inviting the worldwide Metallica family to join them in their hometown of San Francisco for two unique live shows featuring two different setlists December 17 and 19 at Chase Center. Tickets for these shows will be available only to registered members of Metallica's Fifth Member fan club.
The 40th-anniversary shows see Metallica return to Chase Center for the first time since the September 2019 "S&M²" concerts that also served as the venue's grand opening. It was impossible not to notice that fans from more than 60 countries traveled to the City by the Bay and completely took over San Francisco for "S&M²" weekend.
That outpouring of positive vibes from around the world inspired Metallica to invite those Fifth Members back — and this time, in addition to the two shows at Chase Center, the metal titans will be curating other live music and comedy events, Blackened Whiskey tastings, and so much more all around the city during the long four-day weekend of celebrations starting on Thursday, December 16.
Formed in 1981 by drummer Lars Ulrich and guitarist/vocalist James Hetfield, Metallica has become one of the most influential and successful rock bands in history, having sold nearly 120 million albums worldwide and generating more than 2.5 billion streams while playing to millions of fans on literally all seven continents.
The band's several multi-platinum albums include Kill 'Em All, Ride The Lightning, Master Of Puppets, … And Justice For All, Metallica (commonly referred to as The Black Album), and their most recent studio set, "Hardwired… To Self-Destruct", released in November 2016 and a No. 1 hit in 32 countries.