Metallica Shares Video For '72 Seasons' Title Song
The song's Tim Saccenti-directed clip was filmed in Los Angeles this February.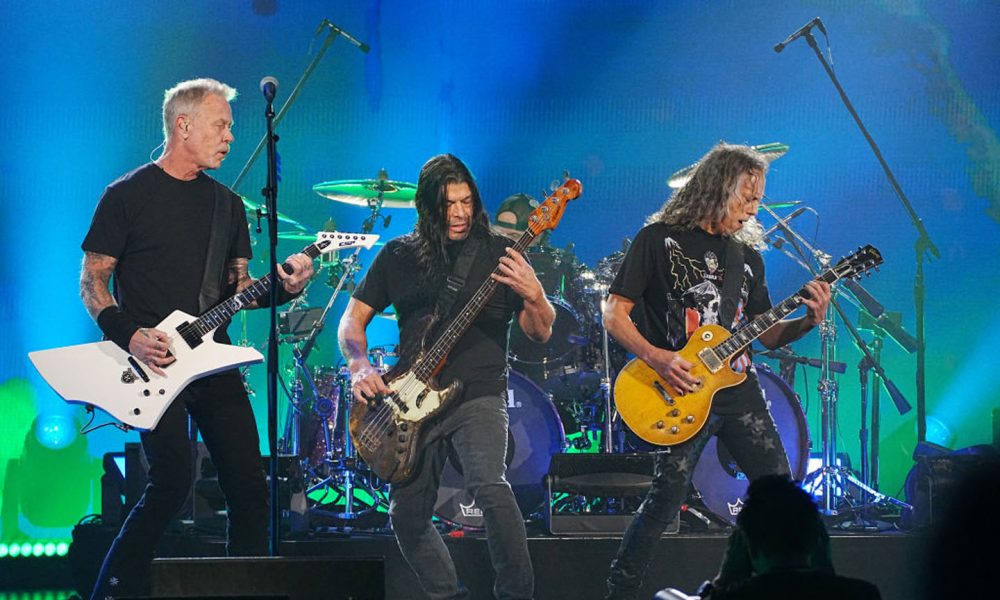 Metallica has shared the official music video for the title track of the band's 12th studio album, 72 Seasons. The Tim Saccenti-directed clip, which was filmed in Los Angeles, California on February 12, can be seen below.
The 72 Seasons album will be released April 14 via the band's own Blackened Recordings. Produced by Greg Fidelman with guitarist/vocalist James Hetfield and drummer Lars Ulrich, and clocking in at over 77 minutes, the 12-track "72 Seasons" is Metallica's first full-length collection of new material since 2016's Hardwired…To Self-Destruct. The album will be released in formats, including 2LP 140g black vinyl and limited-edition variants, CD and digital.
Metallica: 72 Seasons (Official Music Video)
Metallica and Trafalgar Releasing will hold a worldwide 72 Seasons listening party. For one night only on Thursday, April 13, the album will be played in full in pummeling surround sound, exclusively for cinema audiences worldwide — with every one of the new songs featuring its own music video and exclusive commentary from the band. The result will offer fans an unforgettable night as they experience 72 Seasons first and fully on the eve of its April 14 release date.
The global premiere sees Metallica and Trafalgar joining forces once more, having previously worked together on the October 2019 worldwide cinematic release of S&M², which documented Metallica and San Francisco Symphony reuniting to celebrate the 20th anniversary of their original S&M (Symphony & Metallica) concerts and releases.
In a recently released behind-the-scenes look at the making of "72 Seasons", Hetfield stated about the LP's first single, "Lux Æterna": "'Lux Æterna' is an upbeat, kind of fast and joyous song, I would say — really indicative of New Wave Of British [Heavy] Metal stuff, so kind of a harkening-back-to-'80s kind of riff. It's just fun and makes me move. It was fun making the video, fun recording a song that comes out really easy, that was a real easy song to write and to perform, like I said, very much like the early '80s for us."
As for the inspiration for the 72 Seasons album title, Hetfield said: "'72 Seasons' came out of a book I was reading about childhood, basically, and sorting out childhood as an adult. And 72 seasons is basically the first 18 years of your life. How do you evolve and grow and mature and develop your own ideas and identity of self after those first 72 seasons? Some things are more difficult than others — you know, some things you can't unsee and they're with you for the rest of your life, and other things you're able to rewind the tape and make a new tape in your life. So that's the real interesting part for me, is how you're able to address those situations as an adult and mature."